11 Kid-Friendly Coffee Shops in NYC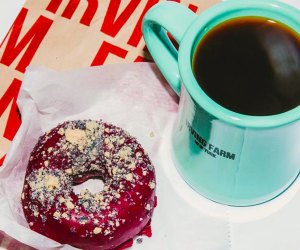 1/20/23
- By
Rosalind Muggeridge
There are excellent coffee shops in NYC where you can grab a cup of joe and watch the world go by. When you have kids in tow, however, the list of the best coffee shops in NYC gets a bit shorter. With that in mind, we've rounded up 11 kid-friendly coffee shops in NYC where you'll find plenty of space, tasty non-caffeinated options, and kid-approved eats—all without sacrificing the quality of your coffee or the aesthetics of the space.
A couple of our picks are now local mini-chains but they all started with one great coffee shop location in NYC and grew from there. So grab a seat and enjoy a hot or cold-pressed beverage and a tasty snack–for you and your little ones—at one of these kid-friendly coffee shops in NYC. Find more kid-friendly places to nosh in our Guide to Family-Friendly Restaurants in NYC.
Subscribe to our newsletters to get stories like this delivered directly to your inbox.
Best Coffee Shops in NYC for Families
A neighborhood institution in Park Slope, this local spot has become a favorite for families, with good reason. A super friendly and welcoming staff, tasty snacks like smoothies, pastries, and sandwiches, and a quality cup of coffee make this the go-to spot in the area. Even though the inside space is a little tight for strollers (you'll have to leave them outside), outdoor tables are available year-round. A bonus: 100% of your tips go to nonprofit groups that serve those in need in the local community and further afield.
2. Lark Cafe – Flatbush, Brooklyn
Beyond serving a stellar hot brew, this cafe operates as a gathering place for its community, many of whom are parents and kids. The menu is full of local goodies including Dough doughnuts and Ovenly scones and there is plenty of space to park a stroller next to your table. Call ahead to check the schedule for storytimes and sing-alongs, which take place in a separate playroom.
RELATED: Play Cafes in Brooklyn and Queens Where Families Can Nosh and Play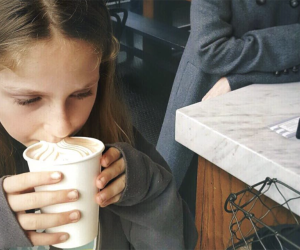 Get a delicious hot chocolate at Manhattanville Coffee.
Located a little off the beaten path, this gem recently opened its second location inside the Harlem Collective at Amsterdam Avenue near 151st Street. The original space has a super cozy vibe with comfy couches as well as a large communal table in the middle. Plenty of space to maneuver makes it a good spot to meet up for the stroller crowd. It gets quite crowded on the weekends, so stick to a weekday visit if possible.
4. Sweetleaf – Multiple Locations
First opened in Long Island City, this mini-chain has since added two other locations in Queens plus a roaster cafe in Greenpoint. It carries plenty of standard and unique drink options, including maple lattes and herbal teas, but has developed a cult-like following for its rocket fuel cold brew, which you can purchase to-go...in a growler! Also on offer are delectable pastries and various gluten-free options.
RELATED: Best Places for High Tea in NYC to Enjoy a Cup with Kids

B Cup Cafe's charm entices visitors to stay and relax on one of its comfy couches.
A local favorite for years, this art-filled cafe represents the lively spirit for which its home neighborhood is known. A tasty menu includes sandwiches, wraps, salads, eggs, and bagels. There are plenty of vegetarian options. There's also a large selection of cookies and desserts including vegan and gluten-free sweets.
This coffee house, complete with a dedicated kids' corner, caters to the many families in the neighborhood. Friendly owners, high-quality coffee, and proximity to the Brooklyn Botanic Garden make it the perfect pit stop to refuel with kids.
RELATED: 18 Family-Friendly Food Halls in NYC for an Easy, Delicious Meal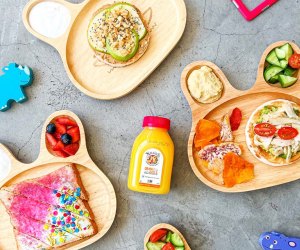 Give your toddler a fun meal at The Well Coffee complete with a babyccino or orange juice!
The chill, kid-friendly design of this cafe ticks all the boxes. The interior is bright and airy and there's a separate playroom for kids that is well-stocked with toys. Note: There is a 60-minute time limit in the playroom. The Well kids' menu includes grilled cheese, angel toast, and Sweet Milk—a Hong Kong café classic consisting of thick-cut milk bread soaked in sweetened condensed milk.
8. Maman – Multiple Locations
With a name like Maman—French for mother—this local micro chain has got to be family-friendly. We love the shabby chic decor and long communal tables that are a mainstay at Maman, not to mention its tasty treats, savory specials, and enchanting blue-and-white china. One thing you won't find a Maman: Wifi or laptops, and we kind of like it that way.
RELATED: NYC's Best Gluten-Free Bakeries for Kids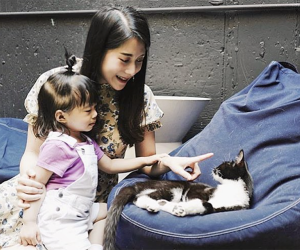 Cat lovers will delight in a visit to Koneko Cat Cafe.
If you have any cat lovers in your family, this is the place for you. Grab a beverage and sit inside or on the outdoor patio where you and the cats can catch a nice breeze. A "guide" is be on hand to orient guests regarding the different personalities and preferences of the specific cats. If communing with the kitties becomes too much (probably not recommended for the toddler set), you can avoid the cattery altogether and sit in the cat-free part of the cafe where you can still view the felines in action. There is a $20 per person admission fee.
This popular mini-chain is known for its house blends which are brewed on the owners' Hudson Valley farm, but it also serves sandwiches, soups, cookies, cakes, and decaffeinated beverages kids love. At the original location on Irving Place, visitors can snag a round table near the (non-working) fireplace, or sit on the bench outside to commune with all the dogs passing by to visit nearby Gramercy Park.
RELATED: The 18 Most Insane, Must-Try NYC Desserts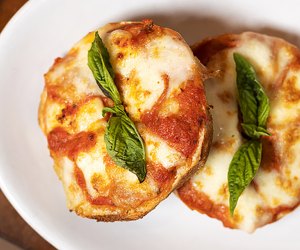 Pizza Bagels are a big hit at the local favorite Vineapple.
11. Vineapple – Brooklyn Heights
The go-to for parents in the neighborhood after the morning school drop-off, this spot also has lots of seating and space to maneuver strollers when the kids aren't in school. Chow down on treats like Cinnamon Crunch French Toast, pizza bagels, and crispy bread topped with the cafe's famous tomato jam.
Unless noted, all photos courtesy of the venues