Magic of Lights Drive-thru Dazzles in New Jersey
The Magic of Lights returns to New Jersey's PNC Bank Arts Center on Friday, November 19, and runs through the holiday season until January 2, 2022.
Desperate for some pandemic-era holiday merriment, my family tried out the Magic of Lights drive-thru in Holmdel for the first time last year. Naturally, our young kids (all under age 8) were antsy on the 40-minute drive south on the Garden State Parkway. But –– upon reaching the gates of this outdoor, drive-thru holiday village, they were beyond thrilled and dazzled by the seemingly millions of lights, dancing elves, cheery Santa figures, blinking holiday trees, sweet illuminated scenes, and the eye-popping tunnel of lights.
Find more seasonal fun in our Christmas and Holiday Guide for New Jersey Kids.
Early reviews suggested the line (and traffic) would be brutal during a year when millions of other families also sought out covid-safe holiday options, such as drive-thrus, but we breezed through it on a weekday. Strongly suggest trying to visit on a weekday, or at least avoiding holidays if you can!



A trip through this sparkling holiday wonderland is practically guaranteed to put a smile on little faces.
What is Magic of Lights?
The Magic of Lights experience is an outdoor display featuring millions of lights, including beloved characters, animals and other festive creatures, and plenty of displays. It is run in several locations across the country, including at New Jersey's PNC Bank Arts Center. Purchase your tickets online for a small savings (and time savings!)—it's one price for your carload, not a per person charge—and then just load up the car.
OUR LATEST VIDEOS
You'll enter the parking lot, and cruise a large loop around the entertainment center with your radio tuned to a station playing tunes just for the Magic of Lights show. Various characters and lights are set up along either side of the road, hanging from trees, atop a hill, and over the road, too. Go slow to soak it all up. You'll pass through a candy cane lane, see Mr. Potato Head, and peek through the skylight at gorgeous holiday lights hanging from above and across the road. There was lots of oohing and ahhing coming from the backseat, especially as we rolled through the tunnel of lights where the LED holiday colors blink and dance from all directions!
RELATED: Top Holiday and Christmas Events in NJ for Kids in 2021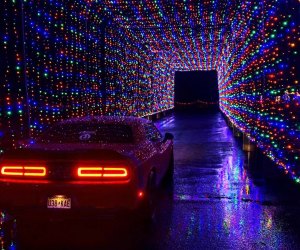 The Tunnel of Lights is a twinkling highlight of the Magic of Lights Drive-thru.
The whole ride takes about 30 minutes, which seemed just about long enough for us. You can pick up some concessions at the start of the route without ever leaving your car. We enjoyed popcorn and hot chocolate, and there were some holiday accessories that you could spring for, too, such as Santa hats and Christmas light necklaces. Portable toilet facilities are also available before hitting the road again.
In years past, another operator hosted a Christmas lights show at the arts center, along with a walk-thru village that sometimes included Santa visits, a petting zoo, and even an ice rink. The experience in 2021 is limited to the car-only drive-thru experience, but honestly, my kids had a blast. It was a great way to see a whole bunch of lights all at once, and all in all, it's a pretty inexpensive holiday ticket that works for all ages. We will definitely be back for a visit to this magical holiday show in 2021!
This is not the only drive-thru Christmas lights show in New Jersey, so be sure to check out some of the other holiday fun going on around the Garden State with our list of the top 20+ seasonal events for kids, which includes several other drive-thrus and walk-thru villages, too.
RELATED: 20+ Christmas Towns and Santa's Villages That Absolutely Sparkle

Wind your way past tons of twinkling lights during your trip to the Magic of Lights Drive-thru.
Tickets for Magic of Lights New Jersey
Tickets to the Magic of Lights Drive-thru can be purchased online.
Ticket prices in 2021 are as follows: $25 weekdays until Wednesday, December 1 when it increases to $30 per carload; $30 for an "any day ticket" until Wednesday, December 1 when it increases to $35.
The Magic of Lights Drive-thru runs Friday, November 19, 2021, through Sunday, January 2, 2022, nightly, kicking off at 5pm each day.
Photos courtesy of the Magic of Lights