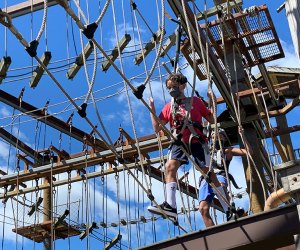 Obstacle Courses, Rock Walls, and Ninja Warrior Training for LI Kids
Are your kids doing backflips off of the couch? Climbing the bookshelves? Mattress sledding down the stairs? There are several spots in Nassau and Suffolk counties that offer obstacle training, where your little ninja can test his or her balance, vaulting, tumbling, and more. So go ahead and let that daredevil of yours try out one of these classes or courses that will keep your walls scuff mark-free.
There's much more outdoor entertainment on Long Island, and you can find even more adventurous fun in our rundowns of Long Island theme parks, arcades and other indoor play spaces. Or use items from around your home to build your own indoor obstacle course. Of course, sign up for our FREE newsletters to get posts like this delivered to your inbox.
Obstacle Courses, Rock Climbing Walls, and More in Nassau
Freeport
Co-owned and operated by three-time American Ninja Warrior champion, Drew Drechsel, this gym coaches students through similar obstacles as seen on the grueling television show, including jumping, speed, climbing, ropes, agility, and more. Kids between the ages of 5-15 are welcome to join the gym on a membership basis, but the academy also offers classes for teens and adults.
Wantagh
The Jones Beach location (park at field 4) boasts three rope/bridge/tunnel courses, a 700-foot long zip line (minimum age 7) and a 40-foot perch jump. The minimum age for all rope courses is 5. The Classic Course includes three levels of adventure with zip lines and aerial games, while the the Extreme Course has the highest zip lines and aerial games. Guests must be at least 4-feet, 8-inches tall to attempt either. The Kids Course is appropriate for children who are at least 3-feet-9.
OUR LATEST VIDEOS
Jericho
Are you looking for the ultimate challenge? The drop-in ninja warrior course is packed with obstacles that will test your balance, coordination, strength, and agility. You can even push the buzzer to stop the timer when done, Beat the Clock-style. Traditional floor-based sports won't cut it here. Try Aeroball, which is basketball mixed with volleyball—on a trampoline.
RELATED: Sports Centers and Fun Zones for LI Kids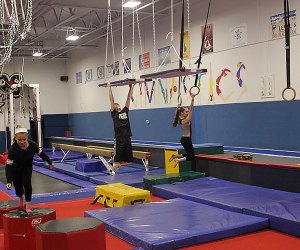 Gymnasts and wannabe warriors can flip, hang, and land at All Star Gymnastics in Levittown.
Levittown
The Warrior Training program uses gymnastics skills and obstacles to emphasize core strength, agility, speed, reaction time, and balance. Warriors learn to connect movements so they will be able to flip, hang, and land in flowing combinations. Class offerings begin at age 3.
RELATED: Bounce Houses and Trampoline Parks for LI Kids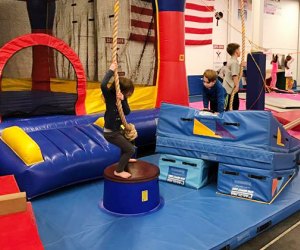 Enjoy the slack-line bridge, rope swings, and more at Beyond Epic Athletics in Freeport.
Freeport
Balance on the slack-line bridge or swing like a monkey from rope to rope on this challenging course. The Ninja Warrior classes encourage quick thinking, creativity, and problem-solving while boosting confidence, core strength, and cardiovascular endurance.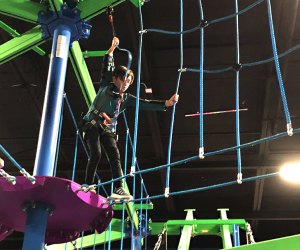 Attempt the indoor aerial ropes course at Bounce! Photo by the author
Syosset
After bouncing in the trampoline park, head over to the Adventure Zone that boasts a zip line and two elevated ropes courses; one for heights of 42 inches-plus and another 48-plus. Race to the top of the rock wall and press the buzzer or scale the four-sided climbing wall.
East Rockaway
Get fit while having fun at this ultimate sports center. Designed by a three-time American Ninja Warrior competitor, this ninja class offers variations for all ages and abilities. Scale the warped wall, clink up the double salmon ladder, bob or weave down cannonball alley. Kick your way to its parkour class that teaches the art of moving over, through, under, or around obstacles, using the natural movements of the body with freestyle and/or gymnastics-style techniques.

Take on the high wire at I.FLY Trapeze. Photo by the author
East Meadow
Learn the timing and the technique of trapeze flying, as well as a back-flip dismount into the net. An I.FLY instructor is there the entire time to guide and catch you. If you fall, don't fear: There's a springy net to catch you. This is best for ages 8 and older. Sign up for summer camp and learn flying trapeze, aerial trapeze (as well as lyra and silks), juggling, ground acrobatics, and circus comedy. It also offers after-school circus school through October.
Plainview
For family bonding time that really rocks, try Island Rock. This state-of-the-art indoor climbing facility offers the closest thing to real rock you can find. Island Rock has walls for first-time climbers and experienced expert climbers. Justin Conway, professional ninja and owner of Ninja Sport, runs a 12-week ninja training program suitable for ages 7-15 at Island Rock. Learn to jump, swing, and lache like the pros on a variety of obstacles, including trapeze bars, peg board, and a salmon ladder. It also offers Boy and Girl Scout merit badge opportunities.
Bayville
Test your skill and endurance just as the attraction's namesake, Bradley Bay, the very first mayor of Bayville did at Bayville Adventure Park. Scale the four-sided wall in a safety harness and attempt to make it to the summit. At the multitiered Treetop Adventure, you're harnessed in for some challenging rope course navigation. Note that the minimum height requirement is 40 inches.
Suffolk
Wheatley Heights
This Long Island course bills itself as a "forest climbing park," where visitors can climb and zip among the trees. The focus is on discovery. Guides are available and are happy to assist, but you're encouraged to explore what interests you after your safety orientation. Aerial "trails" stretch from tree to tree, and each provides a new type of challenge. There are 26 zip lines, 14 trails, and more than 100 "challenge bridges." Everyone in your group can pursue appropriate activities because there are five color-coded levels of difficulty. Suitable for ages 7 and older.
Lake Ronkonkoma
Free to Fly offers Kid Ninja, tricking and parkour classes, and even some drop-in events. It focuses on teaching the sport, but also creating a mentally strong and physically healthy child, using gymnastics, tricking, parkour, and cheerleading as tools. All are aimed at creating healthy and sustainable exercise habits, as well as problem-solving skills.
Medford
Modeled after American Ninja Warrior courses on TV, this program is designed to physically and mentally challenge your athlete as he or she swings, climbs, jumps, flips, and rolls to fitness. Looking for more high-flying fun? Check out its aerial hoop class, Lyra, where gymnasts hang from a hoop while attempting dangling acrobatics. Programs are suitable for ages 5-13.
RELATED: Awesome Arcades for Kids on Long Island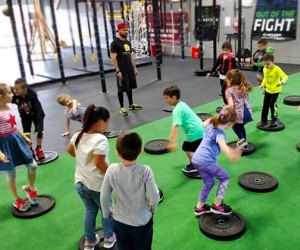 Ninja classes at Obstacle Athletics in Deer Park emphasize strength, power, speed, and balance.
Deer Park
Hone your skills for ninja warrior, parkour, obstacle course races, and more at this indoor training facility. Built like a custom obstacle course playground, kids work on their strength, speed, endurance, agility, and balance—all the while having high-flying fun. Enjoy pay-as-you-go, drop-in classes or sign up for Mini or Junior Warriors, ninja skills sessions; suited for two-year age groupings. It also hosts competitions for wee warriors to show off their capabilities.
RELATED: Great Laser Tag Locations for Kids on Long Island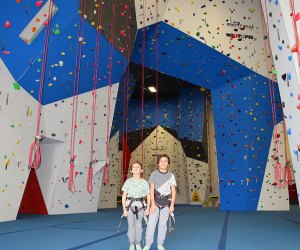 Challenge yourself at more than 100 climbing stations at The Gravity Vault in Melville. Photo by the author
Melville
Explore more than 20,000 square feet of indoor rock climbing space at The Gravity Vault in Melville. From easy beginner courses to rough terrain, your family can tackle more than 100 climbing stations. You can rent all the gear you need, and a guide can help you learn the ropes.

The Eye Opener. Photo by the author
Riverhead
The massive treehouse-like outdoor exhibit at the Long Island Aquarium stands 60 feet tall and has five levels for visitors to explore. This experiential tree activity boasts five levels of activities, suspension rope bridges, cargo and climbing nets, and 13- and 18-foot-tall enclosed spiral slides. Children 45 inches or taller can roam the Eye Opener solo, but those under 45 inches must be accompanied by an adult. The separate admission fee also includes four climbs on the rock wall, which is adjacent to this exhibit.
Unless noted, photos courtesy of the venues