I.Fly Trapeze Offers High-Flying Fun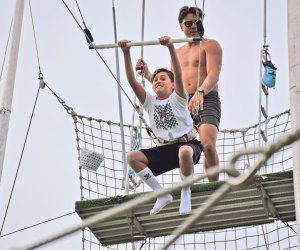 Step right up to I.Fly Trapeze for some high-flying fun, where adults and kids can channel their inner Cirque du Soleil performer. The outdoor setup at Eisenhower Park in East Meadow boasts flying trapeze classes, circus camps, and performances.
There's much more outdoor entertainment on Long Island, and you can find even more adventurous fun in our rundowns of Long Island ninja courses, theme parks, and water parks. Of course, sign up for our FREE newsletters to get posts like this delivered to your inbox.
Brothers Marco and Anthony Rosamilia opened Long Island's first flying trapeze and circus arts school in 2006. They also operate a location in Arizona. With nearly two decades of circus experience himself, Anthony is full of positive vibes and encouragement for each flyer.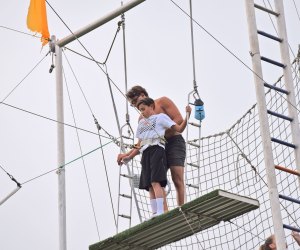 Surprisingly, there is no experience necessary for the trapeze. However, if you have back or shoulder issues be advised this is a highly physical activity. After being outfitted with a safety belt and a explanation of some trapeze jargon and a demonstration of basic maneuvers, my 10-year-old son and I felt semi-confident. Of course, that was with our feet planted safely below the 32-foot-high metal rig. The ascent involved ladder climbing before being hooked up to wired harnesses on a platform by an experienced trapeze artist. After chalking your hands like the pros do, dangle your tippy toes off the platform, reach for the trapeze bar and leap — gulp! Don't worry, there is a super soft cargo net below.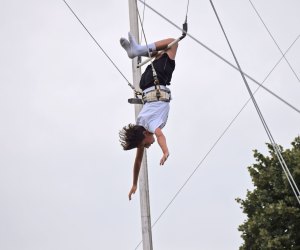 We were instructed step-by-step from below to perform some tricks and flips. Somehow, our bodies contorted and complied. Albeit not on the first try, but each of the eight participants in our group were able to perform each skill. And we each had five turns during the hourlong session. Instructors told us they build on these skills in additional classes, including a catch-and-release. My son is uber-eager for his next session.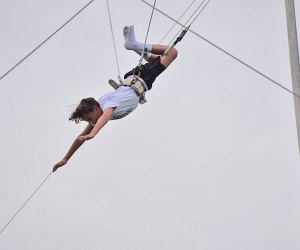 Kids as young as 7 can experience the thrill of this circus-esque performance. Feeling extra ambitious? It also offers private classes in aerials such as silks, ropes, straps, Spanish web, etc., as well as birthday parties, group outings, summer circus camps, one-day workshops, and more. There are picnic tables on-site and restrooms nearby. This fall I.Fly Trapeze is scheduling some outdoor theatrical performances as well. Keep an eye out in our calendar!
Photos by the author