Top New Amusement Parks and Rides Opening This Summer
The summer family vacation season is right around the corner, so it's never too early to start dreaming of your escape. Amusement parks, of course, are always top of mind for the kids come summer, so we've trekked up and down the eastern seaboard (virtually, anyway) to find the coolest new theme park attractions set to open this spring and summer.
There's a brand-new thrill ride at Six Flags New England, a pint-sized coaster at Sesame Place, a whole new Toy Story Land in Orlando, and Thomas Town opens near Pittsburgh with plenty of locomotive fun. Read on for more than a dozen new top attractions we're looking forward to checking out at amusement parks spanning from Massachusetts to Florida this summer.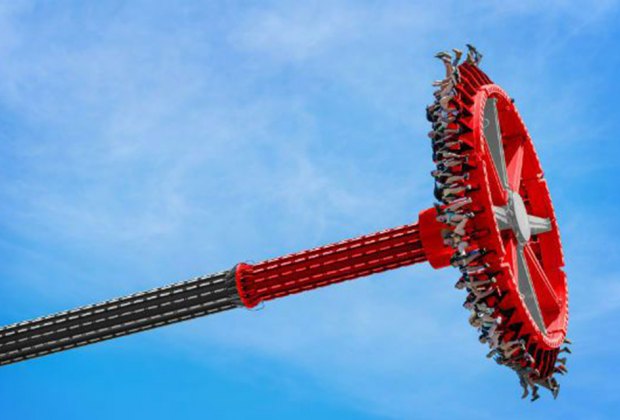 Harley Quinn's Spinsanity is a colossal swing ride that will send guests screaming to new heights.
Massachusetts
Harley Quinn's Spinsanity – Six Flags New England
Opening Date: April 7
Height Requirement: 52 inches
This giant pendulum swing lifts visitors more than 15 stories above the Six Flags grounds, sending guests back and forth all the while spinning seats in a counterclockwise motion. You'll move more than 70 miles per hour and experience the joy (or terror?) of weightlessness for several seconds.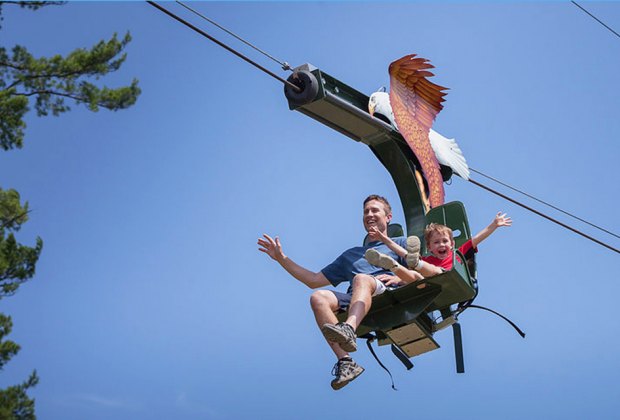 Soar high above Diggerland on the new Soaring Eagle Zip Line.
New Jersey
Diggerland USA Expansion – Diggerland USA
Opening date: March 17 (Soaring Eagle, March 24)
Diggerland USA is opening not one, not two ... but five new attractions this season. The New Jersey park underwent a multimillion-dollar expansion in the off-season, adding more than 7 acres of attractions to the construction-themed wonderland. Look for the Soaring Eagle Zip Line, which lifts riders (more than 42 inches tall) high above the park, carrying pairs of parkgoers along a 700-foot-long span. Another attraction for those unafraid of heights is the Elevation Station (36-inch requirement to ride with an adult; 42 inches to ride alone), which reinvents a scissor lift as an amusement attraction. It takes visitors about 60 feet in the air and even allows a glimpse of the Philadelphia skyline on a clear day. Those who prefer to keep their feet on terra firma can take a turn on a trio of four-wheeled rides. Kubota Tractor Corporation's RTV-900s are featured as Diggerland's Rough Riders, while its B2601 tractors have been dubbed Farm Tractors by the theme park. Guests must be 48 inches tall to drive both; those 42 inches and taller can be passengers in the Rugged Riders and 36 inches-plus can ride on the lap of drivers of the Farm Tractors. The final attraction is a compact, hydrostatic tractor manufactured by Ventrac. Riders must be 36 inches to ride with an adult.
RELATED: 10 Best Indoor Water Parks for Kids in the US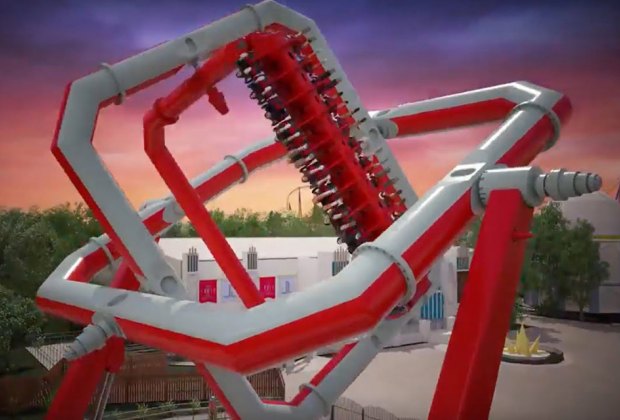 Thrill-seekers, prepare for a ride on the Cyborg Cyber Spin, unlike anything else in America!
Cyborg Cyber Spin – Six Flags Great Adventure
Opening date: TBD (but we'll update as soon as we know)
Height Requirement: 52 inches
This spinning ride lifts thrill seekers seven stories high before twisting and turning them on a terrifying three-axis spin. You'll go upside down, right-side up, and sideways ... sometimes seemingly all at once. The wild ride is guaranteed to leave you staggering toward the exit.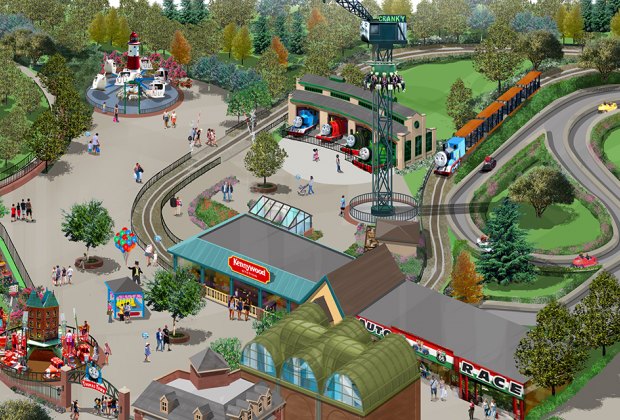 Thomas Town at Kennywood will feature four new family rides.
Pennsylvania
Thomas Town – Kennywood
Opening date: June 2018
The historic Pittsburgh-area amusement park opens the country's second Thomas the Tank Engine theme park this summer with five rides and other attractions for toddlers and preschoolers. (The other Thomas park opened a few years ago in Massachusetts.) Ride the rails aboard Thomas himself, or take to the sky with the Harold's Helicopter Tour. Firefighter fans will love Flynn's Fire Training, an interactive ride that lets kids shoot out water like a pro, while mini thrill seekers might want to test out Cranky's Drop Tower. Kids at least 36 inches tall will be able to hit several of the Thomas rides solo if they like. Beyond the rides, there's expected to be an indoor jungle gym and soft play area offering more playtime for little ones (and a break for mom and dad).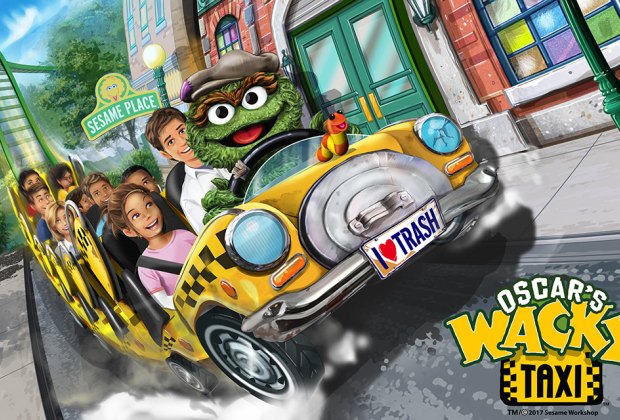 Join Oscar the Grouch for a crazy, curvy taxi ride on Oscar's Wacky Taxi at Sesame Place.
Oscar's Wacky Taxi – Sesame Place
Opening date: Late spring, exact date TBD
Height Requirement: 40 inches; riders under 46 inches must ride with an adult
Sesame Place isn't known for big-time thrills, so as the name promises, Oscar's new ride will be more wacky than wild. The 1,200-foot-long roller coaster track features a just-right-for-preschoolers 40-foot drop at the outset. Oscar leads the way, driving his taxi-yellow car and leading pint-sized thrill seekers up, down, and around this wooden-steel hybrid coaster, only the second roller coaster at the park.
Hersheypark Water Rides – Hersheypark
Opening date: Memorial Day weekend
Hersheypark's waterpark, The Boardwalk, is adding more than 40,000 gallons of water this summer, and accompanying all that H20 are two brand-new attractions. The Breakers Edge Watercoaster is part raft-ride, part waterslide, and part roller coaster. Officially a "hydromagnetic coaster," it takes riders in four-person rafts up, down, and all around flying saucer turns. The Whitecap Racer gives you and five friends a chance to take the plunge down a mat racer. The six-lane slide allows you to go head to head and try to make it to the end of the double-looping slides fastest.
RELATED: Top Family Resorts in the Poconos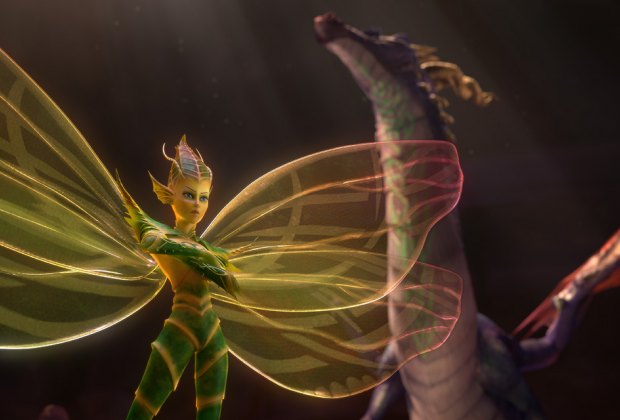 Experience 360 degrees of virtual reality adventure in the new Busch Gardens Williamsburg attraction, Battle for Eire.
Virginia
Battle for Eire – Busch Gardens Williamsburg
Opening date: Spring 2018, exact date TBD
Height Requirements: 42 inches
This new ride features a fierce female character, Addie, leading the way as you help the fairy warrior rescue the Heart of Eire in a unique VR attraction, which marries a motion-based theater with 360-degree virtual reality headsets. The combination of these two pieces of cutting-edge technology immerses guests in the story line in a way never before experienced, delivering a thrilling tale and experience.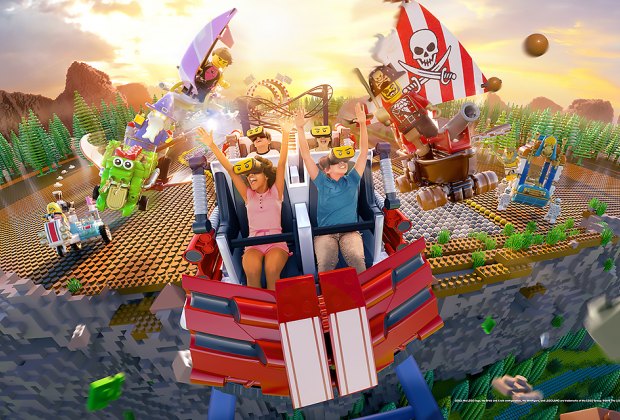 The Great Lego Race combines roller coaster thrills with virtual reality technology.
Florida
The Great Lego Race – Legoland
Opening date: March 23
Height Requirements: 42 inches to ride with a companion at least 14 years old; 48 inches and 6 years to ride with VR headset
In a first for Legoland parks, The Great Lego Race brings not only a new coaster to the Florida theme park, but one that's integrated with VR technology. Experience the thrill of a coaster while simultaneously donning a headset to watch yourself race against a pirate, wizard, surfer, and pharaoh all of whom are driving Lego creations alongside you. Riders will be able to get a 360-degree glimpse into a special Lego world, all the while hurdling through the theme park on a roller coaster. Not immersive enough for the Lego fan in your life? Consider booking a stay at the Legoland Beach Retreat while you're in town.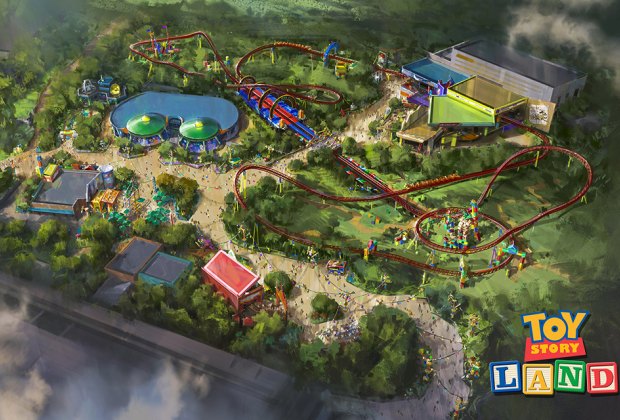 The much-anticipated Toy Story Land opens this summer at Disney's Hollywood Studios.

Toy Story Land – Disney's Hollywood Studios
Opening date: June 30
Forget the one-off rides; Disney is bringing an entire new "land" to life this summer. Join Andy, Woody, Buzz, and all the stars of the Toy Story franchise as you step into this magical world, where larger-than-life figurines give you the sensation of being miniaturized a la the movie's characters. Also part of the 11-acre land will be a brand-new family-friendly coaster, Slinky's Dog Dash, and the Alien Spinning Saucers ride, where "The Claw" makes an appearance. Guests can dine at the all-new Woody's Lunch Box, where old-fashioned soda floats are sure to cool you down from the hot Florida sun. The existing Toy Story Mania carnival midway gets some updates, too, as part of the overhaul.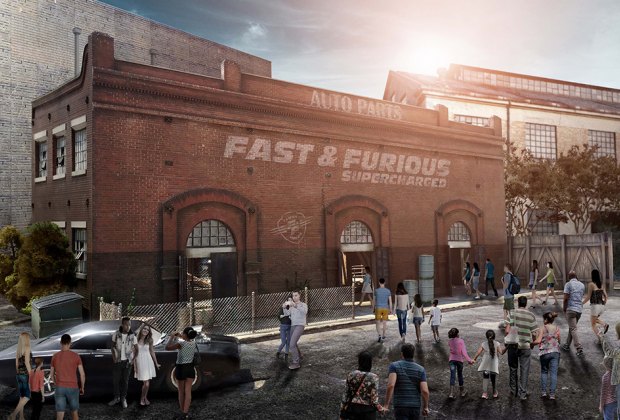 Ride along with the cast from the hit movies on this high-speed chase that exceeds 120 MPH.
Fast & the Furious Super Charged – Universal Orlando
Opening date: Spring 2018, exact date TBD
Height Requirement: TBD
Join your favorite street racers in this action-packed experience, which gives you the feeling of tagging along for the ride as a party bus gets attacked by Owen Shaw. The Fast & Furious cast is your only hope for escape. Like many Universal attractions, there is far more to this one than the ride. You'll get up-close to some of the iconic cars used in the films and see museum-like displays detailing some of its locations before you climb aboard the thrill ride.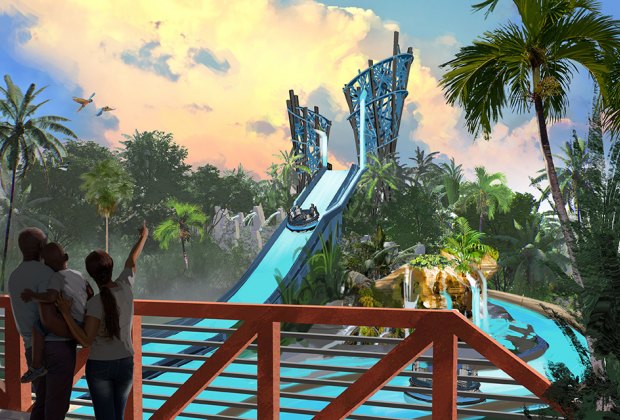 Get the thrill of rafting through the rainforests on Infinity Falls at SeaWorld Orlando.
Infinity Falls – SeaWorld Orlando
Opening date: Summer 2018, exact date TBD
Height Requirements: 42 inches
Inspired by the rainforests of South America, Infinity Falls takes riders on an unbelievable journey meant to simulate a white-water-rafting adventure. Eight-person circular rafts allow families to take on the Class IV rapids together, climbing 40-feet high before a thrilling, and soaking, drop to the rapids. A rainforest canopy surrounds the area outside the ride (ahhhh, shade!), providing a new world dedicated to the wildlife of South America and educating visitors on freshwater conservation efforts on the continent and beyond.
All photos and renderings courtesy of the theme parks