Legoland's New Florida Beach Retreat Resort: Luxury among Legos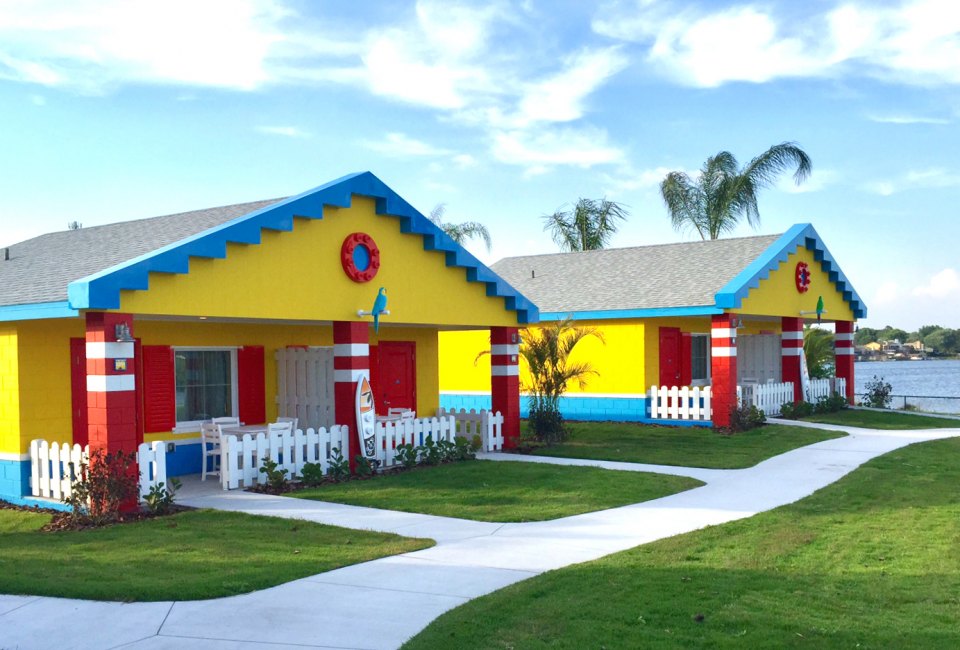 4/8/17
- By
Mandy Carter
New accommodations open this weekend at Legoland's Florida Resort. We had a first look at the Legoland Beach Retreat, and not only can we attest that this new, village-style vacation resort in Central Florida lives up to its promise of fun in the sun; we can even explain how Legoland has created a "beach resort" miles from the sea.
The primary-colored home away from home is located on the shores of Lake Dexter, a fresh water lake in Winter Haven, FL. The extraordinary family vacation experience begins with a drive-through check-in; you receive your room key without even getting out of the car. When you finally do step out of the car, it is to enjoy the beautiful breeze blowing off the lake and onto your private patio, while the kids play on the cove's playground. There is no doubt that this Florida hotel was built for kids with parents in mind. First of its kind among the seven Legoland resorts worldwide, this one is a different experience from the first Legoland Florida hotel.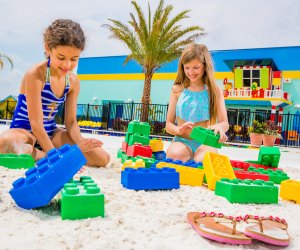 These bricks are too big to lose in the sand!
A Lego-themed beach in Central Florida
The Legoland Beach Retreat is designed to look like larger-than-life Lego sets. There are 83 LEGO bungalows set up as duplexes, offering 166 separate rooms that sleep up to five. Each bungalow room has a king size bed and an area just for kids with a bunk bed, trundle bed, and a privacy curtain. The rooms are colorful and beach themed with plenty of luggage storage. There is a flat screen TV, refrigerator, coffee maker, and safe in each room. And the bungalows are set up in coves, with each cove grouped around its own outdoor play area that can be seen from the bungalow patio. We loved playing cards on the patio while the kids played with our neighbor travelers on the playground.
Sidewalks lead from each cove to The Lighthouse—the dining and recreation area of the resort. Inside the Lighthouse is the restaurant and bar, as well as the retail shop, Palm Tree Traders, which is of course stocked with all things Lego. A beach-like zero-entry pool with a large playground and adjacent sandy area is located outside The Lighthouse. The recreation area is fenced in, providing a great spot for family fun. Volleyball, sand castles, and swimming can all be enjoyed while parents relax on colorful beach chairs. The pool is extremely toddler-friendly: shallow, with three lifeguards on duty and life vests available for use. My kids loved playing with the large Lego blocks that float in the pool. The oversized Legos create hours of creative pool play.
RELATED: 50 Things To Do in Orlando with Kids Other than Theme Parks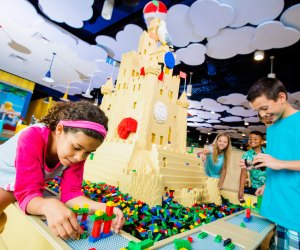 Kids add to the LEGO sand castle at Sandy's Castle Restaurant, instead of squirming at the table.
Family-focused dining at the Legoland Beach Retreat
Sandy's Castle Restaurant provides the onsite dining, where the focus of excitement goes to the giant sand castle made of thousands of Lego bricks. The hands-on Lego building station allows kids to contribute their own original creations to the permanent sand castle. Breakfast, lunch, and dinner are available without reservations, with a menu that aims to please kids and parents alike. Bricks Beach Bar is connected to Sandy's and offers a small, unique menu of made-to-order food, drinks, and cocktails, both poolside and indoors.
RELATED: Stay in a Castle at Legoland San Diego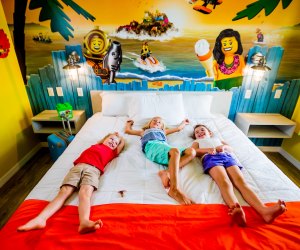 This comfy king-sized bed isn't made out of Legos!
Benefits of staying at the new Legoland Beach Retreat:
1. As a guest of the Legoland Beach Retreat hotel you have early access to the LEGOLAND Florida Theme Park, meaning first in line at some of the most popular attractions, including the all-new Lego Ninjago World and Lego Ninjago The Ride.
2. Start the day off with a complimentary breakfast at Sandy's Castle Restaurant. This expansive breakfast buffet is included for all guests with each night's stay. The buffet includes eggs, bacon, sausage, tater tots, cereal, fruit, pastries—everything you need to fill up before a busy day.
3. Complimentary transportation to the theme park entrance is provided to all hotel guests; or guests who prefer to drive can take advantage of complimentary parking in Legoland Florida Resort's main parking lot.
4. Free Wi-Fi is available throughout the entire property, both indoors and out.
Nightly room rates start at $135 (plus tax and resort fee) and vary by season and availability. Packages that include theme park tickets also are available. To book a stay, visit the website or call (877) 350-5346.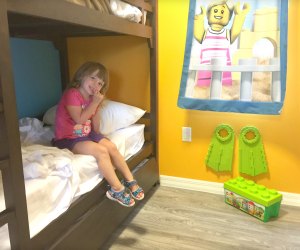 Bunk bed and a box of Legos - what more could a kid need?
Top and bottom photos by Mandy Carter. All others by Chip Litherland / LEGOLAND Florida Resort
Places featured in this article:
t Click Here to Sign Up!