Is the New Legoland Hotel in Florida the World's Most Kid-Friendly Hotel?
5/23/15
- By
Anna Fader
For kids obsessed with Legos, there's no place more incredible than Legoland. And with the opening of the new Legoland Hotel, the Florida amusement park is even more fun to visit. A destination in itself, the Legoland Hotel is the most kid-centric hotel ever. Besides being just 130 child steps from the park's entrance, the Legoland Hotel offers special experiences Lego-loving kids will not want to miss.
My son and I got a sneak peek of the new hotel right before its grand opening last week. It was amazing to see my kid, Mr. Cool, light up with delight at all the awesomeness on hand. Every detail of the hotel is designed to spark a child's imagination and inspire play, from the smoke-breathing Lego dragon out front to the over-the-top themed rooms. Plus, hotel guests enjoy exclusive access and experiences. Here's the inside scoop on the new Legoland Hotel in Florida.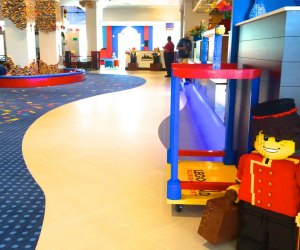 The fun starts the moment you step into the hotel; the lobby is like a massive play space! Kids will make a beeline for the giant Lego pit where they can build away and place their creations on a trophy shelf. Unless of course they notice the enormous Lego castle with the LEGO ogre, drawbridge and play area, first. The castle and Lego pit can be seen from the Skyline Lounge, so parents can relax while children play in view. This is one hotel where no one will shush your kids.
RELATED: 50 Things to Do in Orlando Besides Theme Parks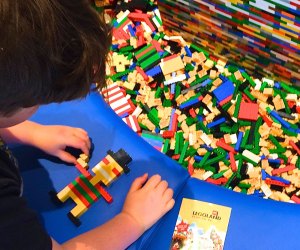 To get to your room, you ride in a disco elevator, complete with flashing colored lights and music. Each floor has a dedicated Pirate, Adventure, Kingdom or Lego Friends theme, which is evident everywhere, from the carpeting to the more than 2,000 Lego models on display, including at least eight in every room. Guests can book themed or premium themed rooms.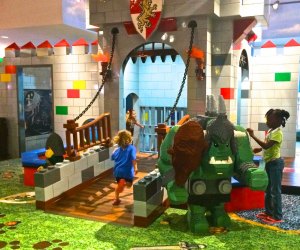 All of the rooms are basically the same, with a children's area featuring a bunk bed and trundle that sleeps up to three kids, slightly separated from the master bedroom. The only difference is that premium themed rooms have more decorations in the adult sleeping area. Personally, I prefer the regular rooms as the themes are pretty busy, but boy, do the kids love it!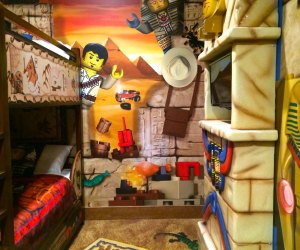 When my son stepped inside, he exclaimed that it was the most awesome hotel room he'd ever seen, and proceeded to explore the Lego models, children's area and other amenities. One big highlight is that each room contains a treasure chest but you must go on a scavenger hunt in order to open the lock. And yes, there's some real treasure inside.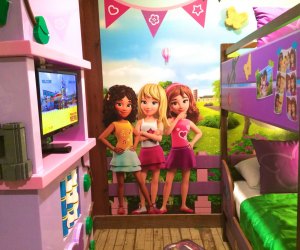 Families who stay in the hotel enjoy some exclusive benefits, including early access to the amusement park and complimentary Master Builder Workshops. Kids staying at the hotel get to work side by side with a pro to learn special techniques and create a model to keep. Guests can also enjoy the hotel pool, Lego character visits in the lobby, storytimes and screenings.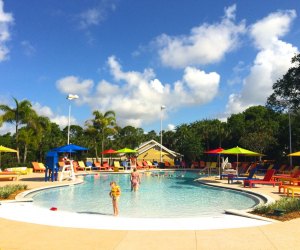 The hotel has four themed VIP suites that sleep seven in two separate bedrooms, and include a kitchenette, living room with pull-out couch and a screened patio with an outdoor dining area. You can only book a VIP suite as part of a VIP experience package, which comes with a tour guide for the park, priority ride entry, access to the Master Builder Studio and a private Master Builder Workshop, a goody bag and more. The Legoland Hotel in Florida has the first LEGO Friends suite in the world.
Video Tour of the Lego Friends VIP Suite:
Bricks Family Restaurant
The hotel restaurant, Bricks, is a buffet-style family eatery serving typical cafeteria-type food. The specialty is smoked meats, which are prepared on-site and are excellent. Unfortunately, there was very little in the way of vegetables, fresh or otherwise, which chef James Boheim acknowledged and said he was working on. He also noted that the staff can prepare special meals for guests with food allergies or dietary restrictions upon request.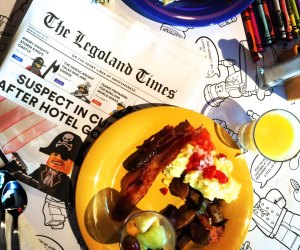 What's the best age for Legoland?
Legoland is recommended for children ages 2 to 12 and I basically agree with that. Obviously, a lot of it will be too mature for a 2-year-old, but some things are perfect for toddlers. My 11-year-old loved it because he loves Legos, but he admitted that he was on the old side. I think children in elementary school, ages 5 to 10, will get the most out of the experience.
How to get there and how to book
Legoland​ Florida is located between Orlando and Tampa, about an hour from either airport. The Legoland shuttle bus is only $5 per person, but it leaves from the Orlando outlet mall once a day at 9am, so it really only works if you are adding Legoland to an Orlando trip. Otherwise, you'll have to rent a car and drive.
For more information about the Legoland​ Hotel in Florida, visit LEGOLAND.com. The hotel only has 152 rooms and is apparently already 40% booked through the end of the year, so make sure to reserve well in advance, especially if you have your heart set on a certain theme.