The Adventures of Tortoise & Hare The Next Generation
The Sheen Center

The Very Hungry Caterpillar Show
DR2 Theatre

NYC Easter Brunch Cruise 2023
Event Cruises NYC
Sign up for our free newsletters.
Can You Visit Legoland on a Disney World Orlando Vacation?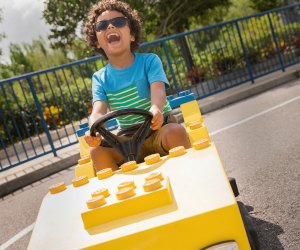 3/17/18
- By
Mandy Carter
Planning a theme park vacation in Orlando, Florida? Disney World and Universal are the common highlights of an Orlando trip, but there are several other tempting theme parks in the area. If your family has Lego lovers—especially if they're between the ages of 2 and 12—Legoland Florida is a great add-on to an Orlando vacation. But with only so much time and a limited budget, the big question is, "Is it possible to go to Legoland and Disney World on one trip to Orlando?"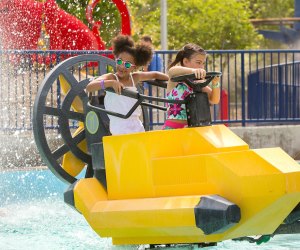 Dodge water cannons and splash your friends in the Aquazone Wave Racers.
Where is Legoland Florida?
Let's dispel a common misconception right away: Legoland Florida is not in Orlando.
The Legoland address is One Legoland Way in Winter Haven, Florida, which is actually 45 minutes from the gates of the Magic Kingdom. So if you want to include Legoland in your Orlando vacation, you will need to do some creative planning to maximize your time and get the most out of your ticket cost. Speaking of ticket costs, I highly recommend buying Legoland tickets in advance, online. With more than seven days in advance, you can save a significant amount per ticket.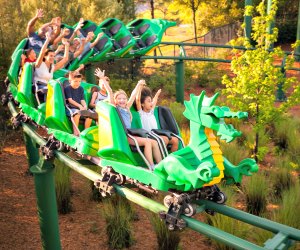 The Dragon Rollercoaster is all about fun with nothing to fear!
Is Legoland worth the visit from Disney World?
This is a popular question! Considering the distance from Orlando and the ticket cost, there is no denying it is a splurge for this add-on day trip.
I truly believe it is worth it, but you need to plan to visit when your kids are at the right age to really enjoy it. Legoland mainly targets kids up to age 12. Even the roller coasters with the highest height requirement are considered pretty tame when compared to other Florida theme parks. Legoland is much more laid back than any of the Disney World parks, making for a more relaxing day (even if it is a busy day to pull off). Besides the rides and the shows, there are lots of play areas scattered throughout Legoland, allowing little ones to burn off energy and parents to enjoy some beautiful downtime. Because of the slightly smaller crowds, it is reasonable to expect that you can see and ride everything at Legoland with just a one-day visit, making a trip from Orlando well worth the effort.
RELATED: Our Favorite Family Travel Destinations of the Last Year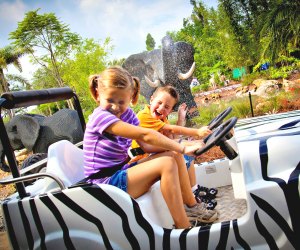 Jump in a jeep and steer through a safari of Lego animals.
Take the Orlando Shuttle to Legoland
If you're vacationing in Orlando but do not plan to rent a car, round-trip transportation is available between the parks. Use the Legoland Shuttle to get there. The pick-up location is at I-Drive 360, 8401 International Drive, Orlando, Florida 32819. It saves money; it's simple, and it makes getting to Legoland a hassle-free experience. The shuttle pick up is outside the parking deck near the back entrance of the Coca-Cola Orlando Eye. It is recommended to arrive 30 minutes prior to departure. The Legoland Shuttle does require a reservation, so book early to make sure to get seats. The bus ride is quite pleasant; the driver hands out maps to the theme park, so riders can start planning en route. A welcome video and Lego cartoons play on TVs for entertainment, and the bus itself is comfortable with foot steps at each seat, and even a clean bathroom.
DRIVING TIP: If you are driving your own car, you can save $2 per car per day when you buy parking online. Any savings add up when you are traveling with a family.
Legoland Shuttle Details:
Round-trip transportation to Legoland Florida.
Shuttle departure time is 9am.
Catch the shuttle back at scheduled park close.
Must book by 11am to reserve a seat for the following day
I-Drive 360 parking garage is FREE!
$5 per person (plus tax)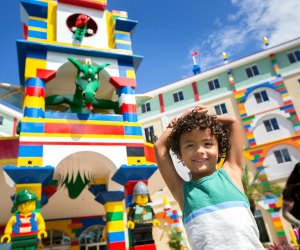 Maximize the Legoland experience with a hotel stay
You can have a great trip at Legoland Florida in one day, but I must say that if you can plan it out to be a two or three day trip with an overnight stay at the Legoland Beach Retreat Hotel or the Legoland Hotel, it's even better! This allows for time to not only ride everything a few times, but also walk through the beautiful gardens, take in all the shows, soak up the sun at the water park, and also enjoy all the Lego activities at the hotel.
Find more great lcoal destinations in our Florida Family Travel Guide.
Photos courtesy of Legoland Florida