12 Play Cafes and Indoor Playgrounds in New Jersey With Perks for Parents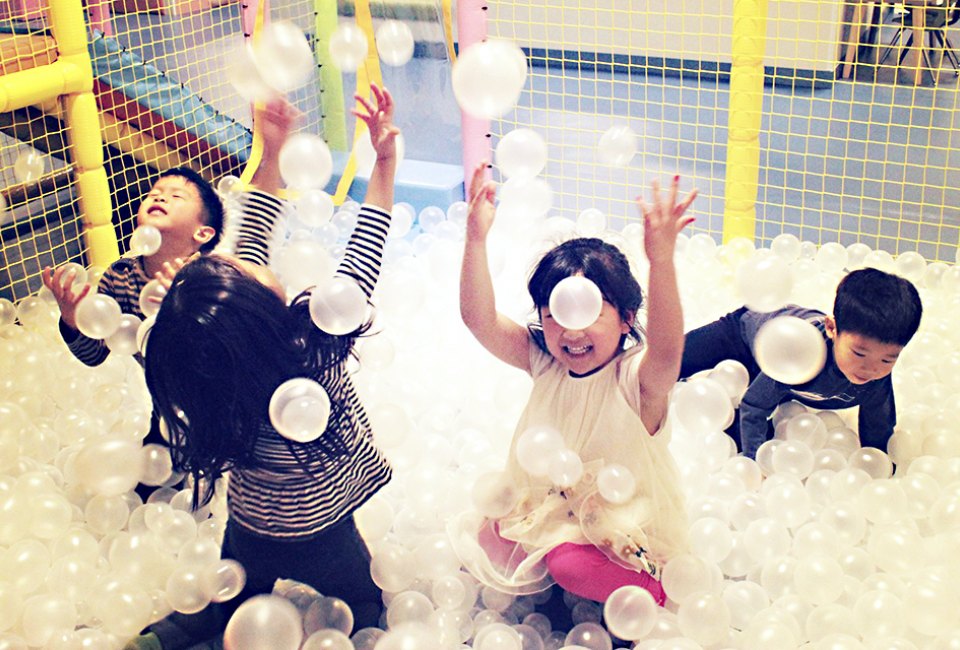 4/17/22
- By
Danielle Halibey
These play cafes and indoor playgrounds in New Jersey cater to kids and their caretakers, offering fun places to play plus grown-up amenities like free Wi-Fi, comfortable seating, and snacks and sips that go way beyond basic vending-machine munchies.
Read on for 12 of the best spots for indoor play, parental perks, and more. Because at the end of the day, if the little ones love it, it's well worth the cost of admission; if mom and dad get something out of it, too, then that's grounds for a repeat trip. You can find more fun kids' play spaces in our Guide to Indoor Play Spaces in New Jersey for Kids.
Subscribe to our newsletters to get stories like this delivered directly to your inbox.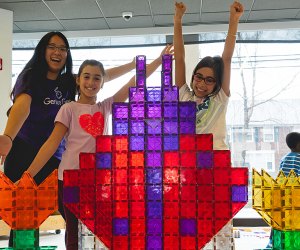 Genius Gems has offers a light and bright play space where hands-on fun takes center stage.
Indoor Playgrounds and Play Cafes in North Jersey
For any parents who've braved the bounce house circuit and romped around in some of the loudest, most hectic play gyms, heading to Genius Gems for the day feels like a vacation (and one that you come back from feeling relaxed and re-energized). Not only do kids ages 4-12—and their baby to teenaged siblings—enjoy a hands-on museum/learning-type center in Genius Gems, but parents can get in on the fun or choose to hang back on the sidelines and let their STEM-obsessed kiddos have a blast on their own. Moms and dads can cue up their laptops (with complimentary Wi-Fi), grab a freshly-brewed cup of coffee (prepared vegan-style, if you prefer), and nosh on a heavenly hummus cup while the kids take tap their creative sides. There's outdoor seating overlooking the main play space through large glass windows.
This sweet indoor playground and play cafe is the perfect place for kids ages 12 and under to climb, build, pretend, and explore. While they're climbing, floating around in the bubble ball pools, sifting through the sandpit, and playing pretend, you can pull up a chair nearby and enjoy a front-row seat to their adventures. For moms and dads who worry about bringing their tinies to play spaces because of germs, you can find comfort in the fact that Lily & Liam takes sanitizing its facility very seriously. That attention to cleanliness makes the FREE Wi-Fi and brewed coffee go down a whole lot more smoothly! As does the delicious and nut-free range of food offerings. From corn dogs and chicken nuggets to rice balls and ham and cheese paninis, the fare is great for full-on mommy/daddy-and-me lunch dates!
RELATED: Free Indoor Play Spots in New Jersey for Kids

The wide-open space at Kid & Caboodle allows for parents and caregivers to monitor kids but with enough distance to enjoy a chat and coffee.
This must-see indoor playground reinvents playtime for parents and their kids. Kid & Caboodle is creative and convenient, offering imaginative, sensory, and physical play for children up to 8 years old. The expansive space is clean, and the staff is ultra-friendly. Visibility was one of the main priorities for veteran mommies, Ashley and Megan, when they laid out the space—so parents and caregivers can be comfortable and confident while taking a moment to have a cup of (gourmet) coffee or respond to an email (and with FREE Wi-Fi and a charging station, the tech situation is top-notch for moms and dads who work from home). In addition to an indoor playground, there's a shop, cafe, and party room. Its shop offers unique children's toys and gifts as well as modern conveniences and accessories for adults. Don't worry about feeding or entertaining your kiddos; the cafe is stocked with oodles of healthy snacks, juice, and other hydrating sips, and the party space is ready for Pinterest-worthy celebrations.
Since opening in May 2019, this super clean, creative, and modern indoor play space in Bergen County has been bringing smiles and then some to local families. From the organic grocery store to the animal hospital, the vignettes that make up this kid-envisioned municipality are engaging, enriching, and packed with fun. Open play is held daily, and if you don't have time to swing by the drive-thru Dunkin' Donuts or Starbucks, don't worry! Tay + Te serves aroma-rich Intelligentsia coffee and a sampling of healthy snacks. Classes and workshops are also offered periodically and promoted on Tay + Te's social media channels.
The Great Story – Ridgefield, South Hackensack
The Great Story offers a large indoor playground with a huge jungle gym, fishing zone, racing zone, trampoline, ball pool, cube area, sand play zone, toddler zone, kitchen, and more. When it's time for a break, head to the cafe where you'll find some pretty unique options like rice burgers, bubble tea, panini, and dumplings, in addition to the old favorites.
It "takes a village" to get through each day as a parent, but with fun places like The Village Play Cafe to keep kids occupied and nourished, it can be done (and well, at that!). Intended for ages 5 and under, this bright and open, fully-padded indoor playground features a need-to-visit village (complete with a supermarket, vet clinic, fire station, and playhouse), castle, book nook, climbers of every kind, and an amazing infant area that parents with the youngest squad members can spend a latte of time in. While the little ones toddle around, parents can sit back, enjoy a cup of joe (all gourmet; anything can be made in decaf, so nursing or pregnant mamas can get their faux fix), and nibble on noms from morning to afternoon and beyond. There are freshly baked doughnuts, muffins, and Danishes for breakfast; fresh salads, sandwiches, and wraps for lunch.
Bring your energetic kids to this indoor playground, and then sit back with a gourmet snack and coffee from the cafe and supervise. There's a large play structure, a ropes course, rock-climbing wall, trampoline, ninja zone, and more.
RELATED: Top 12 Indoor Play Spaces in New Jersey for Kids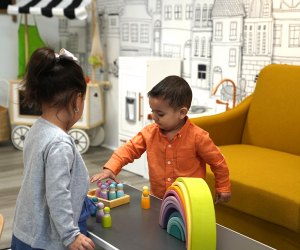 The Village's founders created an environment that is as appealing to adults and caretakers as it is to their kids.
Walking into this Wi-Fi-enabled play cafe feels like you've walked into some of Instagram's craftiest, most ingenious mommy bloggers and taste makers' feeds. Like many of the other mompreneurs on this list, The Village's founders were conscious of creating an environment that was as appealing to adults and caretakers as it was to kids. As trained baristas, Dana and Neha pride themselves on their cafe menu—La Colombe coffee is the caffeine of choice here. Dairy and non-dairy milk and creamer options (like soy, almond, and oat milk) are always available, as is an assortment of fresh baked goods from a local bakery, and all-natural delights like raw, cold-pressed juices, gluten-free parfaits, macaroons, and cookies. The Village works to maintain an eco-friendly play space with wooden toys and plant-based clays for kids to play with. Currently, play is by private reservation at this time.
Play Cafes and Indoor Playgrounds in Central Jersey
Kid Empire – Watchung, Woodbridge
This play space has a huge indoor jungle gym, and it's fabulous. Slide, climb, and even play soccer at this enormous indoor playground. For the littlest fun-seekers, there's a dedicated toddler zone. There are also tons of tables and chairs for adults to sit back and watch. Grab a snack or coffee at the cafe and let the hours roll by.
Magic Sky boasts a bright, open layout, and creative activities that are perfectly suited to a young child's imagination. There are eight large play structures in this indoor playground, including a huge treehouse with a twisting slide, a climbing cargo net, and lookout points. A "sandbox" filled with plastic pellets lets tiny construction workers dig in. There's even a separate toddler area with its own mini-gym. There are two tables and several high chairs in the lounge where families can come together to share a packed lunch or snack. If you're more inclined to "bring in" than buy, then you can prepare ahead of time and avoid having to leave the venue (how many times has that happened?). Just remember to keep your eats nut-free!
RELATED: Indoor Birthday Party Spots with Mega Playgrounds in NJ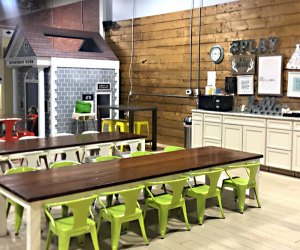 Get a little work done or listen to a podcast in the workspace while the kids play at Princeton Playspace.
Imagine an impressive play space for your peanuts (ages 0-10) and a clean, crisp, city-esque co-working space for you and your partner or colleagues; you'll get them both at this trendy and blissfully play-focused facility, where children are free to play, learn, imagine, socialize, and explore as much as possible. Parents are welcome to sit, mingle, do work (with FREE Wi-Fi), and supervise their children in this indoor playground from anywhere they sit. There are also magazines and newspapers nearby if you need some reading material to peruse while kids play. Currently, extra seating is set up outside for snack time; there's no eating indoors.
Indoor Playgrounds on the Jersey Shore
This safe and clean environment where parents can relax while their children play is everything that an indoor playground needs to be. In addition to free play hours, LDPC offers educational classes for parents and children (the family that learns together, stays together!) and birthday parties. The play area is gated in and constantly cleaned throughout the day with nontoxic cleaning products. There is seating both inside the play area and outside in the café area, so the main play arena is highly visible. Pre-registration is currently required for playtime and the charming on-site cafe is closed due to COVID regulations.
Photos courtesy of the cafes/play spaces.
This post was published in 2019 and has been updated since.
Sign up for the Mommy Poppins Newsletter today!