NJ Doughnut Crawl: These 10 Shops Are Tops for a Family Treat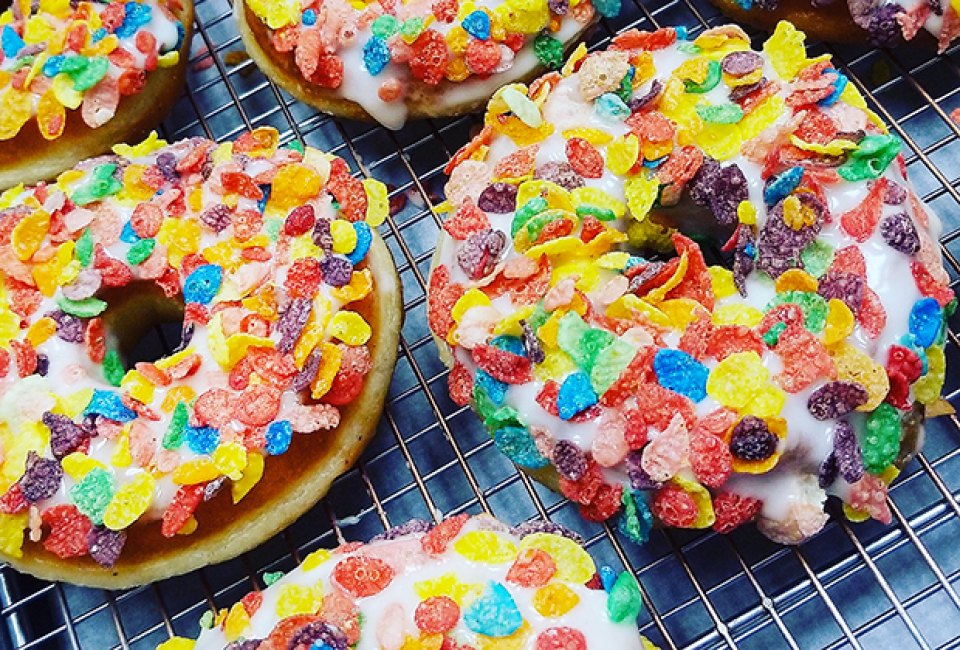 10/25/17
- By
Margaret Hargrove
After a long week, there's no better treat for a lazy, never get-out-of-your-pajamas weekend morning than a box of fresh, hot doughnuts. Luckily, New Jersey is chock-full of out-of-this-world doughy wonders. We (gladly) did the tireless research of combing the state's doughnut shops and bakeries for the best doughnuts for kids of all ages.
These 10 spots have taken fried dough to a whole new level. From shops selling candy-covered delights to brunch food–inspired delicacies—plus doughnuts featuring local ingredients and flavors—here's where you can score delectable doughnuts that will delight everyone in the family.
If you're looking for more sweet treats, check out our roundups of fun ice cream joints, sweet shops, and spots where kids can make their own candy and sweets.
North Jersey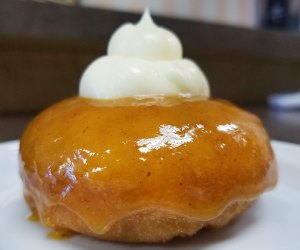 Enjoy a taste of fall with Beignets' Pumpkin Cheesecake doughnut.
Beignets — Denville
With a name like Beignets, we bet this bakery knows a little something about delicious doughnuts. Made to order and served warm, the creative concoctions here include the kid-friendly CinnaBun doughnut and the sweet-and-savory Maple Bacon. If you're feeling creative, make your own doughnut from a list of glazes and toppings. And yes, there are beignets, covered in powdered sugar, just like you'd find in New Orleans. Kids' meals pair a doughnut with milk or juice, and you can grab a cup of coffee or an espresso to go with your pick and call it breakfast. Don't worry—it'll be our little secret!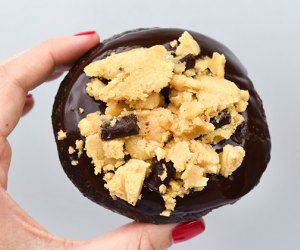 All you need with Glaze Donuts' Chocolate Chip Cookie Dough is a glass of cold milk.
Glaze Donuts — New Milford, Paramus, West Caldwell
Glaze is quickly becoming a New Jersey institution, recently expanding to two new locations in Paramus and West Caldwell. It doesn't get any more Jersey than the chain's Italian Rainbow Doughnut, an Instagram-worthy, triple-layered delight that looks just like the traditional pink, yellow, and green cookie. It's only available Fridays, Saturdays, and Sundays, so plan accordingly. The eclectic mix of flavors and toppings—including mini M&Ms and Fruity Pebbles—at this artisan bakery are what keeps customers coming back for more.
RELATED: Amazing Birthday Cakes for Kids in Northern New Jersey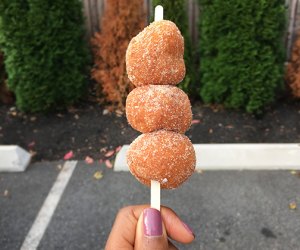 Montclair Bread Company's apple cider doughnut holes come speared on a skewer for easy eating. Photo by the author.
Montclair Bread Company — Montclair
At this popular bakery, trays of doughnuts behind the glass counter are at the perfect eye-level for little ones to oohh and ahhh over before making their selection. For the picky eaters in your crew, opt for something simple, like Just Chocolate, covered in dark chocolate glaze and shaved chocolate curls, and save the Tres Leches and Nutella ones for yourself. The mini Birthday Cake doughnut topped with sprinkles, or apple cider doughnut holes, which come speared on a skewer for easy eating, are perfect for smaller appetites. Do yourself a favor and order a coffee—it's Stumptown. Hot drinks come with a doughnut hole poking out of the lid, while iced coffees are chilled with coffee-flavored ice cubes, meaning it won't turn watery as you sip.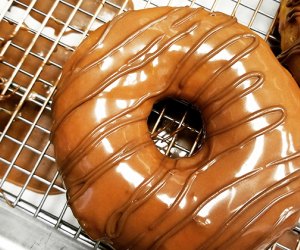 Doughnuts at Palmer's Sweetery, like this nutella-glazed confection, are only available on Sundays.
Palmer's Sweetery — Maplewood
Palmer's reserves their doughnuts for the best day of the week. These yeast-raised Sunday specials are proofed old-school style using heat from the ovens in the back. Oh-so-tender, each bite almost melts in your mouth. Kid-friendly classics like vanilla or chocolate sprinkles are usually paired with one or two unique flavors, such as salted-caramel-latte, stuffed berry-cheesecake or a cereal topping, another surefire hit with kids. Palmer's doughnuts, just like all of their other amazing goodies, are made in small batches. Skip sleeping in next Sunday to get there at 9 a.m. for a warm, fresh one. Trust us, it's worth it.
Central Jersey
Broad Street Dough Co. — Oakhurst
You can't talk about NJ doughnuts without mentioning Broad Street Dough Co. There's even a legendary Buzzfeed list devoted to all of its amazing flavors. The made-to-order shop offers 35 or so varieties, including 10 daily specials, that run the gamut from plain and powdered to the popular Nantucket (caramel, sea salt), S'mores (chocolate, graham, marshmallow, caramel), and a triple-layered, tie-dyed Cotton Candy. For local flavors, try the Long Branch (pineapple, toasted coconut), Tinton Falls (banana, chocolate drizzle), and Belmar Bliss (blueberry, powdered sugar). Broad Street also offers vegan/gluten-free ('vlugen') options, so no one goes home hungry.
RELATED: We're Sweet on This Jersey Shore Ice Cream Shop's Insane Milkshakes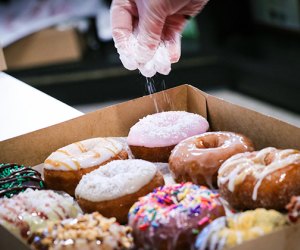 Choose from an extensive menu of options to create your own ​doughnuts at Duck Donuts.
Duck Donuts — Avalon, Green Brook, Middletown
Originating in North Carolina's Outer Banks, Duck Donuts has been trickling up the East Coast, with two additional NJ locations set to open next spring in Clark and Marlton. Doughnuts are made to order, so you don't have to worry about your kid's favorite being sold out. The vanilla cake batter is dropped into hot oil and cooked right in front of you. A built-in step stool gives kids a lift so they can see their doughnut travel through the oil and up the conveyer belt. From there, it moves to the topping station. Select one of DD's popular combos, like vanilla icing with crushed Oreos and hot fudge drizzle, or let your kids go crazy creating their own from the extensive menu of options.
Uncle Dood's Donuts — Toms River
Another made-to-order doughnut store, Uncle Dood's has quickly made a name for itself since it opened in 2013. Already earning high praise as the best doughnut in NJ by The Daily Meal, the doughnuts here are known to sell out fast, so you might want to call ahead on the weekend to reserve a dozen of your kid's favorites. In addition to pick-your-own toppings, doughnut specials change monthly, with names just as creative as the flavor combinations themselves: Bed Rockin' combines vanilla icing and Fruity Pebbles cereal, and Death By It is a chocolate iced doughnut topped with chocolate sprinkles. If you're looking for a little heat with your sweet, the chocolate-covered Jersey Devil doughnut gets a kick from a sprinkle of cayenne cinnamon sugar.
Jersey Shore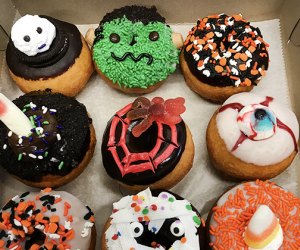 Forget the candy—Purple Glaze offers a sweet selection of Halloween-themed doughnuts.
Purple Glaze — Asbury Park
A riff on the Jimi Hendrix song "Purple Haze," Purple Glaze caters to the split personality that lives inside all of us. On days when you're feeling "Plain and Simple," select from that menu's six doughnuts—plain, cinnamon sugar, powdered, glaze, chocolate, and vanilla icing with sprinkles. Feeling "Fancy and Filled"? You can't go wrong with Mango Tango (mango cream, toasted coconut, vanilla drizzle), Ring of Fire (vanilla icing, filled with hot pepper jam from local business Holly Jolly Jams), and, of course, Purple Glaze, a blueberry doughnut with blueberry glaze covered in purple sprinkles. Kids will happily celebrate Chocolate Sundays with a different chocolate doughnut featured every weekend. Recent toppings have included Reese's Puff cereal, mini peanut butter chips and salted caramel butter, Nutella cream, and chocolate chip cookie dough.
Shore Good Donuts — Ship Bottom and Beach Haven
After a vacation opened their eyes to the need for a doughnut shop on Long Beach Island, two NJ plumbers went from unclogging drains to making doughnuts at Shore Good. There are two seasonal locations on LBI, and a a third in Manahawkin is set to open early December and will cater to customers year-round. Let your kids go nutty with the DIY menu to create their own unique flavor, or enjoy one of the shop's featured doughnuts.The French Toast (maple glaze, cinnamon, and powdered sugar), one of their most popular doughnuts, really tastes like French toast. The Sandy, a tribute to the superstorm of 2012, features toasted almond crunch covered in glaze. Shore Good also serves ice cream.

Sprinkles, powdered sugar, and even bacon crumbles are just some of the toppings available at Shore Good Donuts.
Top That Donuts — Point Pleasant
Open year-round, this Point Pleasant Beach doughnut shop deserves a trip to the Shore no matter the season. Kids get to choose from a buffet of fillings, glazes, and toppings to build their own creation. The 12 signature flavors, like Peanut Butter Lovin' (chocolate glaze with peanut butter chips and peanut butter drizzle) and Cookies & Cream (vanilla glaze with Oreo cookie crumbles), are also hard to resist, so grab a dozen to take home for later. During the summer season, Top That also offers a sweet spread of ice cream flavors in addition to their delicious doughnuts.
Unless otherwise noted, photos courtesy of the shops
Sign up for the Mommy Poppins Newsletter today!