DIY Chocolate: NJ Places Where Kids Can Make Candy and Sweets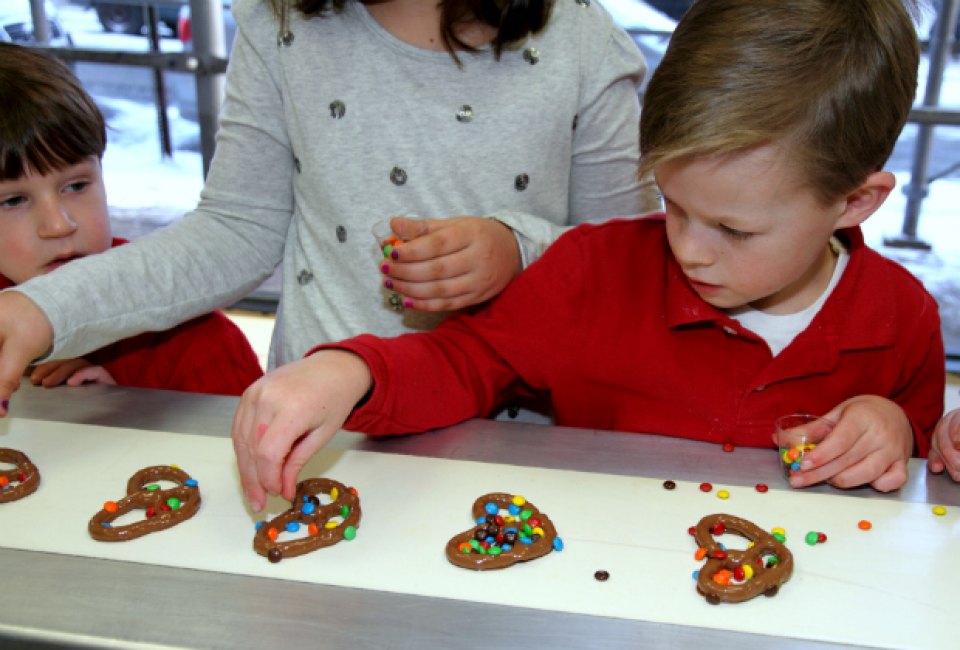 1/21/16
- By
Laurie Rein
Warning: reading this piece may lead to a sugar rush. Buying candy is a treat for little ones. Making their own is even sweeter. Candy shops throughout NJ offer kids the opportunity to play chocolatier and make their very own candy. Creating custom goodies is a fun, hands-on activity for birthday parties, clubs and scout troops. Some of these shops even offer children's classes on the art of chocolate design. Get your sweet tooth on at these NJ candy shops that offer make-your-own fun.
2 Chicks with Chocolate — East Brunswick, Metuchen, Middletown
This mom-and-daughter-run chocolate empire boasts three locations in New Jersey, with plenty of yummy treats to go 'round. Aside from gifts, favors, and other custom orders, 2 Chicks with Chocolate present multiple opportunities for kids to play chocolate chef. Birthday party packages feature dipping stations, edible plaque-decorating and lollipop-creating. Chocolatier-wannabes can attend The Mini-Chocolatier's Academy and create edible art. Keep an eye out for free children's workshops throughout the year.
Chocolate Etc — Wykoff
Throw a super sweet birthday party at Bergen County's Chocolate Etc. Tasty 90 minute packages options include molded chocolates, chocolate pizza and cupcake creations. The birthday kid even brings home a personalized plaque with his or her name in chocolate. Make-your-own events are also available for scout troops, camps and social outings. Aside from parties, Chocolate Etc offers custom and personalized chocolate gifts and baskets.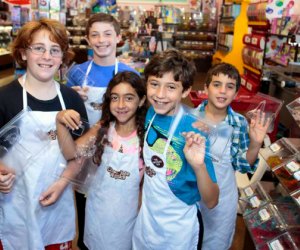 Kids get ready for chocolate-crafting at a Chocolate Works! Photo courtesy the store.
Chocolate Works — Millburn, Livingston, Montclair, Red Bank, Fair Lawn, West Windsor
When you walk into Chocolate Works, even adults feel like a kid in a candy store. Display cases boast beautiful chocolate creations, such as decorated pretzels, chocolate-covered fruit and a variety of truffles. If you're lucky, you may get to sample the merchandise. You can also grab a bag of pick-your-own goodies by the pound. Custom gifts and seasonal treats, such as Easter goodies and chocolate Matzoh, are also featured. And if your kids are itching to make their own, Chocolate Works offers "Chocolatier for the Day" parties where they can mold and decorate their own candy. Hands-on workshops and classes for both kids and adults are also offered on site.
Splurge Bakery — Millburn
​You might have enjoyed a gorgeous birthday cake from this bakery, but did you know they also offer workshops and drop-in classes for kids? Recent events have included a snowman-themed decorating class and a Super Bowl-themed cupcake decorating session. Of course, you can throw a birthday party for your little one here, too!
Don't want to make your own, but loooovvvveee chocolate? Check out Morris Museum's Chocolate Festival each February.
Top photo: Kids decorate heart-shaped pretzels at a Chocolate Works workshop. Image courtesy the store.
Sign up for the Mommy Poppins Newsletter today!