NJ Candy Stores & Sweet Shops Kids Will Love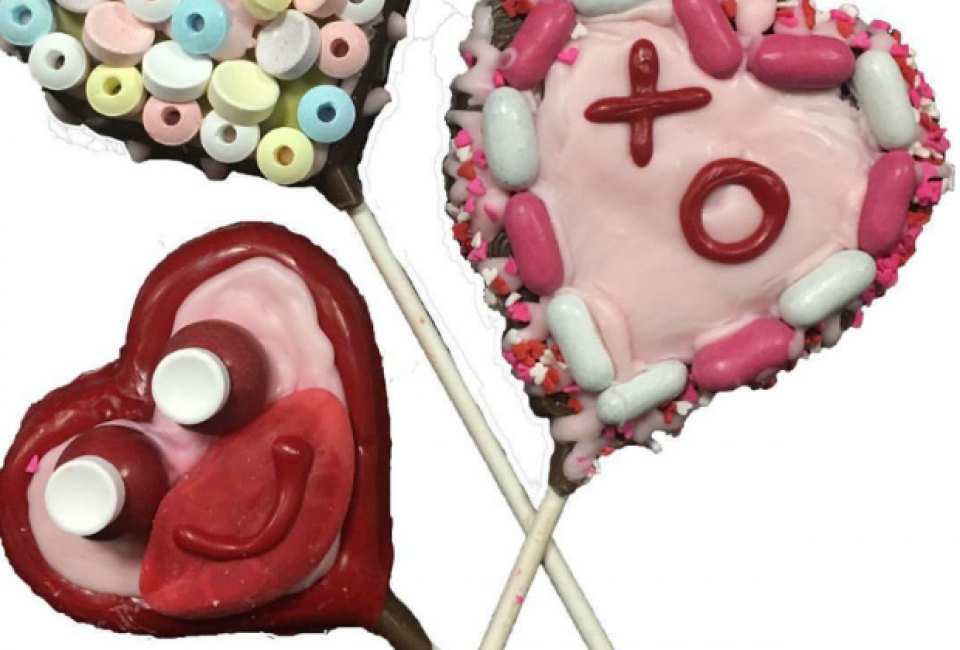 1/10/17
- By
Rachel Sokol
There are plenty of ways to celebrate Valentine's Day with the kids in New Jersey, including fun family events, craft projects, and more. Another way to celebrate, of course, is with a special sweet treat, be it chocolate making, or cute cake pops, or heart-shaped candies.
We've rounded up some top sweet shops and candy stores around the state to bring your little monkeys some yummy goodness this Valentine's Day.
Able Baker – Maplewood
This newcomer to the NJ bakery scene already has a loyal following among locals and nearby towns. The scones, crumb cake, and banana bread are out of this world, but it really shines with its inventive and seasonal cookie and cupcake designs (think rooster heads on the cupcakes for the Year of the Rooster, pilgrim hats at Thanksgiving, and snowmen and Christmas trees over the holidays). Expect plenty of cute designs and empty plates when V-Day hits. Hint: They do great birthday cakes and cookie sampler boxes, too. There is some indoor and outdoor seating, but no bathroom.
Argentina Bakery – Union City
If you want to satisfy your sweet tooth this Valentine's Day, and are in the Union City area, swing by Argentina Bakery. Oh, oops, we know you're sweets shopping for the kids, but it will be quite hard to resist buying a cake for you and your partner. Anyway, founded in 1991, this Saturday, Argentina will be carrying heart-shaped cakes, butter cookies with whimsical Valentine's colors, a variety of cupcakes and chocolate-covered strawberries, which have all been popular with the youngsters in the past. They even have sandwiches if you want to grab some lunch for the whole family, too.
Deluxe Italian Bakery – Runnemede
A family-owned and operated bakery, Deluxe is known for its rolls and bagels, but oh yeah...they also have an eclectic listing of desserts and special ones for Valentine's Day are a particular pride and joy. You can find cupcakes with candy on top of them adorned with typical holiday saying such as "Be Mine" and "I Love You." Kids gravitate toward the pink, red, and white cake pops, mini red velvet cupcakes, heart-shaped doughnuts with sprinkles, traditional sugar cookies with lots of pink and red frosting,and more.
Chocolate Works – Millburn, Livingston, Montclair, Red Bank, Fair Lawn, West Windsor
A make-your-own chocolate mecca and shop, Chocolate Works sells many goodies for Valentine's Day, including truffles, chocolate roses, chocolate covered pretzels/graham crackers/Oreos, heart-shaped rice crispy treats and more. You can also often find kid or parent and child chocolate-making and decorating workshops.
Aversa's Italian Bakery – Brigantine, Turnersville, Washington Township, Margate
At Aversa's Italian Bakery, everything is homemade on-site and aside from crunchy fresh breads and a long-list of hoagies, Aversa's dessert menu is certainly not lacking when it comes to Valentine's Day goodies. You can expect to find Valentine's Day-themed cupcakes, chocolate-covered strawberries, chocolate, heart-shaped lollipops--which an employee swears are really popular with kids—and more. They also have pizza, pastries, and cakes-to-order.

Sugarush – Red Bank
Known for its colorful, unique, and super tasty and fresh cupcakes, Sugarush of Red Bank goes all out for Valentine's Day. Kids love this bakery's chocolate-dipped Oreos, pretzels, Krispies, and strawberry. Cake pops and heart-shape cookie pops are also popular with the younger crowd. When it comes to cake and icing flavors for cakes, cookies, and cupcakes gluten and sugar-free options are also available. Popular cupcake flavors that appeal to kids include Snicker's Sensation, Death by Chocolate and York Peppermint Pattie.
Butterflake – Teaneck
Butterflake Kosher bakery is a neighborhood staple and the only local bakery left in Teaneck from many that once lined Cedar Lane shopping area. Valentine's Day candy available that kids gravitate towards include small desserts for sharing, brownie pops, Linzer heart cookies, lots of heart-shaped cookies with frosting and sprinkles, and more. Every kid who comes into Butterflake gets a free cookie, too.

Montclair Bread Company – Montclair
Yes, of course, Montclair Bread is known for their croissants, Danishes and sandwiches, but you must not overlook the variety of zesty desserts. For Valentine's Day, Montclair Bread will have many themed doughnuts, such as a chocolate covered strawberry doughnut, Nutella-filled chocolate doughnut, red velvet doughnuts, and so forth. Bite-sized tarts filled with chocolate and raspberry jam are popular with young customers.

Gallo's – Cherry Hill, Mt. Laurel, Marlton
This award-winning bakery chain with three locations says its popular Valentine's Day sweets include traditional sugar cookies with crystal frosting and sprinkles, gourmet chocolate, cheesecake, Strawberry Shortcake, heart-shaped cakes, a fantastic mix of cupcakes in flavors such as buttercream, vanilla and chocolate and any anything red velvet. Special desserts can be ordered if you're looking to bring something personalized to your kids. Pies, pastries, and rolls also available on-site, daily.
Top photo: Find Valentine's Day-themed sweets at Chocolate Works. Image courtesy Chocolate Works Montclair.
This article first published in February 2015, but was updated in 2017.
Sign up for the Mommy Poppins Newsletter today!