New Snapology Play Space To Offer STEM Fun for Central NJ Kids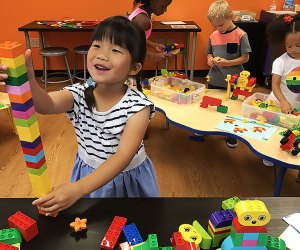 11/5/18
- By
Elaine Paoloni Quilici
Getting kids interested in math and science used to be a chore, but play-based programs are reinventing the building blocks of STEAM (science, technology, engineering, art, and math) education.
Snapology of Monmouth County is one business that has been offering mobile STEAM classes to kids in central New Jersey for the past couple years. Now, it is expanding its offerings to include a new Discovery Center, making it the first Snapology location in New Jersey to offer open indoor play. The Center, in Tinton Falls, will also offer classes, camps, birthday parties, and parents' night out events.
The new 2,950-square-foot Discovery Center is scheduled to open Thanksgiving weekend. The fun will kick off on Friday, November 23, with Black Friday drop-and-shop workshops, and a grand opening celebration will take place Saturday and Sunday, November 24-25, from noon to 5pm, with free open play, giveaways, face painting, entertainment, and more.
The Discovery Center at Snapology of Monmouth County will include drop-off and drop-in options. Kids can pop in to play with a long list of thinking toys including KEVA planks, Magna-Tiles, Strawbees, a derby racetrack, a virtual reality station, Imagination Playground blocks, a magnetic wall, and an air graffiti wall. There will also be an educational book nook.
During normal business hours, parents can leave kids ages 5 and up to explore with their hands and minds, for just $8 per hour. The staff-supervised free play allows kids to interact and share ideas with others, fostering creativity and building confidence.
Parents are also invited to bring younger kids in for unlimited creative play for $10. Adults can help them problem-solve and snap pieces into place.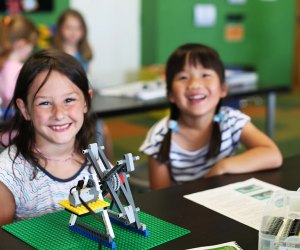 Learning through play can boost confidence in math and science.
Snapology was co-founded in Pittsburgh, Pennsylvania, by sisters Lisa and Laura Coe. With backgrounds in math and science, the ladies noticed how much kids loved playing with building bricks and realized the value of teaching STEAM concepts through play.
After the successful introduction of classes in their hometown in 2010, they decided to franchise in 2015. There are now approximately 60 franchises across eight countries, with three in New Jersey, serving the Monmouth County, Cherry Hill, and Atlantic City areas.
RELATED: Best STEM Classes for NJ Kids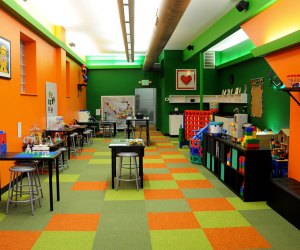 The new space will have its grand opening November 24-25.
Shannon Russell, owner of the Monmouth County location, became excited about bringing this concept to kids when she was a mother of two boys working on her masters in education.
"I learned about Snapology and fell in love with the concept," Russell says. "I jumped at the chance to start [a franchise] in Monmouth County, since we didn't have anything like this in our area."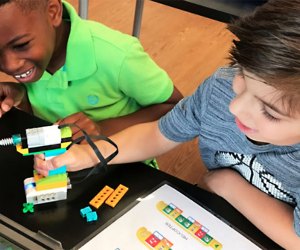 The Discovery Center will offer kids an opportunity to tinker with building toys in a safe, clean environment.
Russell started her franchise in the fall of 2016. Like most franchisees, she has been bringing programs to schools, community centers, libraries, and other interested organizations. Until now, the classes and camps, which employ manipulatives such as LEGOs and K'NEX to teach concepts, have been portable. The programs cover everything from robotics and engineering to video game design and animation, and are ideal for ages 1–14.
"We have been a mobile-based business for the past two years," says Russell. "Now our customers can come to us at our own center, rather than following us to different locations all over Monmouth County."
For more ideas on STEAM enrichment, read our guide to the best STEM classes for New Jersey kids.
You can also start early at home with our 25 STEM activities easy enough for preschoolers.
Photos courtesy of Snapology.