Newly Opened iFLY in Paramus Offers High-Flying Fun for NJ Families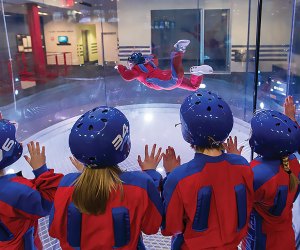 Kids ages 3 and up can fly like their favorite superheroes at iFLY, New Jersey's first indoor skydiving center. iFLY Paramus, which opened its Route 4 facility on March 30, a couple of weeks head of schedule, offers kids and grown-ups alike a chance to experience the sensation of skydiving—no plane or parachute required.
Skydiving without jumping from a plane? That's right. iFLY Indoor Skydiving facilities generate winds up to 120 mph inside a vertical tunnel powered by mega fans.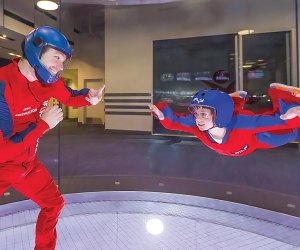 Kids will be thrilled to discover that they can fly!
iFLY has been helping people soar since 1999, when it opened its first facility. The Texas-based company, which now has 37 locations worldwide, has since patented its indoor flight technology—a stable "cushion" of air that propels flyers of all ages and abilities inside a vertical wind tunnel, according to spokesperson Evelyn Weiss Francisco.
Kids and adults (but no pregnant mommas) can step into the flight chamber one at a time, accompanied by a flight instructor.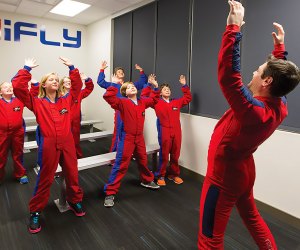 Learn the basics of flying during pre-flight classroom instruction.
Each flight experience lasts about 90 minutes, including pre-flight check in, observation and classroom instruction, followed by gearing up in a flight suit, helmet, goggles, and earplugs. Actual fly time is 60 seconds per flight; basic reservations include two minutes of flight time for $60, or four minutes for $110. You can book your flight online.
Not quite sure you're ready to make the leap? iFLY Paramus welcomes anyone to view the flight experience at no charge by reserving a time in advance.
iFLY Paramus will also offer STEM field trips for local schools, All Abilities Nights for flyers with special needs, and of course, birthday parties.
Photos courtesy of iFLY