New Indigo Bookstore Brings Kid-Friendly Fun to Short Hills Mall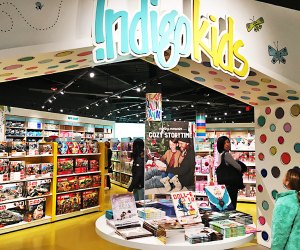 11/12/18
- By
Elaine Paoloni Quilici
I have fond memories of finding a quiet spot to read Curious George in Waldenbooks and B. Dalton as a child. Then in college, I flocked to Barnes & Noble and Borders, which offered cool cafes and products beyond just books.
But other than Barnes & Noble, it seems most of the big bookstore chains wrote the last page in their stories years ago. You don't hear about too many bookstore openings these days—until now.
Indigo, Canada's largest bookseller, opened its first U.S. location in the Short Hills Mall last month, and it's just what we needed. Billed as a "cultural department store," Indigo is a cross between an upscale bookstore and Crate & Barrel, with neutral colors, clean style, and an elegant use of space. But most importantly, there is a huge children's section, complete with plenty of space to play and explore, as well as a calendar packed with storytimes and special events, like the recent visit from Goosebumps author R.L. Stine.

The hip magazine section is near the kid-friendly cafe.
At Indigo, much of the perimeter of the 30,000-square-foot space is filled with bookshelves. In the interior, you'll find home décor items, such as elegantly scented candles, barware, and pillows, as well as women's accessories like scarves, handbags, and jewelry. Wellness buffs might want to check out the meditation hut, and a grand piano is available to anyone who wants to sit down and play a tune or two.
A baby area is full of adorable items for the little ones. The gift options are plenty, and a greeting card section can add the right touch to any present. There's also a magazine section and kid-friendly café where friends can gather.
RELATED: Free Indoor Play Spots for New Jersey Kids

The littlest visitors will flock to the play area.
In the Indigo Kids section, youngest readers can peruse books, check out toys and games (including American Girl doll items, LEGOs, and Hot Wheels), squeeze stuffed animals, and flip a whole section of reversible sequins items. There is a small train table on the back of a fire truck, an oversized velvet throne to read in, and tables with cool-shaped crayons and paper for doodling. There's even a foosball table set up at the edge of the café.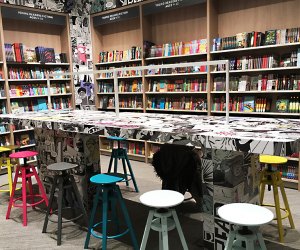 Young-adult readers have a section of their own.
Around the corner, young adult readers have a section of their own. Graphic novel–printed wallpaper matches the top of a long communal table, where friends can gather to read, do work, or just hang out.
Cece Hekman, a Verona mom who homeschools her three elementary-aged boys, attended the grand opening at the end of October and was thoroughly impressed. "This place is amazing," she said. "I'm definitely planning to homeschool my boys here at least one day a week."
RELATED: 14 Stores That Offer Free and Cheap Classes for NJ Kids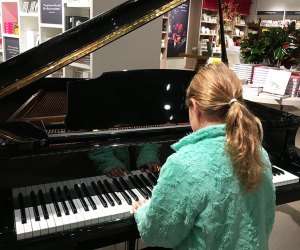 Pull up a bench at the grand piano and play a tune or two.
The kid-friendly culture of the store is just what Short Hills Mall needed. Though there used to be a toy store and Johnny Rockets in the mall, it hasn't had much for kids to look forward to lately, making it difficult to convince them to come along. Now, with Indigo's attractive mix of merchandise and ambiance, parents have a great place to head to on a rainy day—there's even covered parking.
Indigo is located on the lower level of the mall, near Bloomingdale's. It is in the space previously occupied by Saks Fifth Avenue. Storytimes are held Tuesdays and Thursdays at 11am and usually include a visit from the featured book's main character. There are also author visits and hands-on events, such as the November 17 workshop in which kids can learn to sew (with a plastic needle) using the Klutz Jr. My Simple Sewing kit.
Photos by the author