Little-Known Orlando Theme Park Experiences and Bonus Fun for Kids of All Ages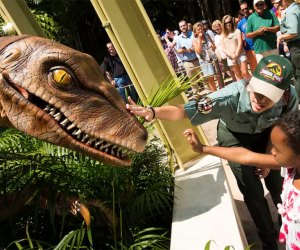 Orlando, home to seven of the world's top theme parks, is one of the most visited destinations in the United States—yet it has theme park experiences that are secrets to even the most dedicated travelers. If you are planning a vacation to Orlando, be sure to include these top experiences for extra fun (and awesome bragging rights).
1. Get a haircut at Disney World
Hold off on the haircut and visit Magic Kingdom's Harmony Barber Shop on Main Street, USA. The shop specializes in that special first haircut experience for little ones, complete with commemorative Mickey ears and a certificate suitable for framing. The best part? If you subtract the price you'd pay buying ears separately, the haircut works out to be just $5 more—a rare deal at Disney.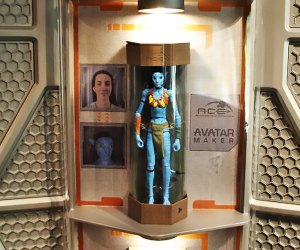 There's no need to keep your inner Avatar inside. Photo courtesy of the author
2. Become your own Avatar
The stores at Disney are always fun, but shopping is taken up a major notch when you can create a personalized Avatar (yes, one of those cool blue creatures from the movie) at Disney's Pandora: The World of Avatar in Animal Kingdom. Guests can have their faces mapped and printed onto a Na'vi action figure, complete with traditional garb.
3. Grab a cold one with the Simpsons
Grab a glass of Homer Simpson's favorite beverage, with three varieties of Duff Beer available only at Universal Studios. Despite the running joke on the show that all three are the same beer, the real-life versions include Duff (a lager), Duff Lite (a light beer), and Duff Dry (a stout).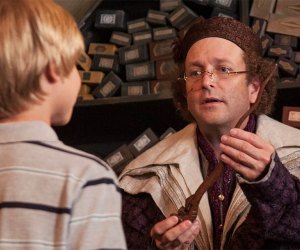 Perform magic with a wand like the students at Hogwarts. Photo courtesy of the resort
4. Perform magic
Spell it out with the wave of a wand at The Wizarding World of Harry Potter at Universal Orlando Resort. When you pick out a wand (or should I say the wand picks you) objects will suddenly move, water spouts will spray, and secrets will reveal themselves throughout Diagon Alley and Hogsmeade. But the fun only happens when visitors use one of the interactive wands available at Ollivander's Wand Shop, so be prepared to open your wallet.
5. Pet (and feed) stingrays
The dolphins and sea lions may be the more well-known animal interactions, but don't count out feeding and touching the stingrays at SeaWorld Orlando. Guests of all ages–even the youngest tots–can dip their hands directly into the pool, feel the texture of the rays, and experience how gently these cool creatures suck fish from their hands.
6. Meet pets that went from shelters to stardom
Many people don't know that SeaWorld also provides a home and second chance at life for dogs and cats rescued from animal shelters. Considered by many to be untrainable due to their high energy, these adopted animals now steal the stage as stars in the park's Pets Ahoy, a funny, fast-paced animal training show. The cast of talented, rescued animals includes dogs, cats, and even ducks, and guests can personally meet some of these "animal ambassadors," along with their trainers, after the show.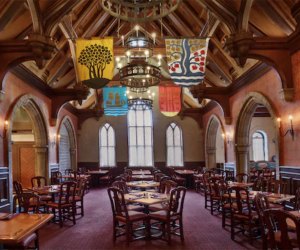 Dine in a castle and meet royalty at a Disney Princess Storybook Dining Experience, like the one at Akershus Royal Banquet Hall of Norway. Photo courtesy of the resort

7. Dine with princesses in Epcot, too
While many visitors go to Magic Kingdom's Cinderella Castle for princess dining, this lesser-known restaurant includes a meal with several of the most-loved fairytale princesses in another, equally beautiful castle in the Norway pavilion of Epcot's World Showcase. This is truly a princess storybook dining experience that every little girl dreams of having, and even some moms will walk away with a smile.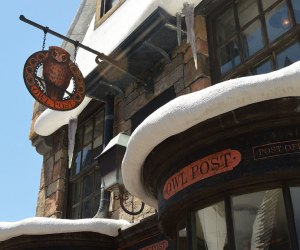 Surprise a friend back home with a letter from Hogsmeade's Owl Post. Photo courtesy of the resort
8. Send a letter from Hogsmeade
Send a real letter from Hogsmeade's Owl Post at The Wizarding World of Harry Potter at Universal Orlando Resort. Special postage, a Hogsmeade postmark, and even unique wizardly stationery make for a one-of-a-kind letter to send friends and family back home.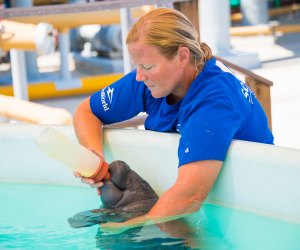 What could be cuter than watching a baby manatee get a bottle! Photo by the author
9. Make friends with rescued manatees
Learn more about manatees by stepping behind-the-scenes of SeaWorld Orlando's working manatee rescue and rehabilitation facility. You can get a closer look at some of the water's most gentle creatures—including calves, teens, and adult manatees—all of which have been rescued from illness or injury in the wild and are undergoing treatment with the goal of successfully returning them back to the wild.
10. Play I-Spy with Mickey
Embark on a scavenger hunt for hidden Mickeys, a famous "secret" of the Disney Parks. Everything from rides to décor and even walking paths at Disney properties feature subtle Mickey shapes, some easier to spot than others. While books have been published to help guests find them all, skip the books; half the fun is in the discovery.

Kids will spend hours exploring this splash pad! Photo by the author
11. Cool off with Curious George
In what seems like a hidden spot of Universal Orlando, there is a kids' zone with a huge splash play area called Curious George Goes To Town. This is not a small splash pad with a few water fountains—this has water buckets and cannons everywhere. Be sure your kids have an extra set of clothes and a towel, or face the soggy consequences.
12. Snap a dinosaur selfie
A nearly-nine-foot-tall velociraptor is living at Universal's Raptor Encounter at Island of Adventure. This big guy creates a a daring photo-op for the entire family, but it is one that could be scary for little ones. With a reputation as the most "clever" dinosaur in Jurassic Park, these cold-blooded hunters are eager to meet outsiders—and you can tell as you hear them roar while you patiently wait for your turn to meet one. But not to worry: we were told that they wouldn't escape their electrified paddock. Probably.