Candy Cane Lane Christmas Lights: What, Where, When, and Is It Worth Going?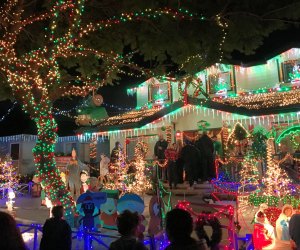 Christmas just doesn't feel like Christmas until you've seen some really good holiday lights. And of the many extraordinary home light displays that Los Angeles neighborhoods can boast, Candy Cane Lane is probably the most famous. That fame may come from its catchy name, or it may just be down to sheer longevity: this year Candy Cane Lane celebrates 70 years of lighting up the season and hosting neighbors from every other LA neighborhood in the weeks leading up to Christmas. Opening night is always a big event, followed by two glorious weeks of nightly sparkles. But is it really so much more special than that house on your street that overdoes the icicle lights? I'm prepared to go out on a limb and say yes.
Note that Candy Cane Lane plans to remain dark in 2020 due to COVID safety concerns.

Opening night crowds were big and jolly this year!
For starters, let's clarify: there are two neighborhoods in the LA area that use the name Candy Cane Lane. This post is about the one in El Segundo, which is fairly different from its namesake in Woodland Hills. The Woodland Hills Candy Cane Lane neighborhood is lovely, and we have taken a spin through there several times over the years. But where the Valley's Candy Cane Lane is a driving experience (which often translates to traffic jam with a view), El Segundo's Candy Cane Lane is enjoyed on foot, mingling with other families enjoying the glow of tradition.
Since 1949, the 1200 block of East Acacia Avenue has been joining forces in good cheer, swapping its street sign out for the jollier seasonal name that describes it so well. Each house in the cul-de-sac participates, and each takes a different theme. The houses are not large or opulent; they are friendly looking homes owned by families who have all chosen to be part of this annual ritual. It's easy to imagine that the days leading up to opening night must be a Mayberry-like experience, with every cheery neighbor on the lawn preparing for Christmas.
Opening night itself is a grand experience, in which an El Segundo fire engine delivers Santa Claus to his sleigh at the top of the cul-de-sac, where he will sit listening to wishes and handing out candy canes each night until December 23. (We all know he needs to be somewhere else on December 24th...) Count on live music for opening night as well; for the past two years local surf band Lawndale has set up on a lawn (pun fully intended) to play surfy sounding holiday tunes that balance out all the claims of North Pole on surrounding rooftops.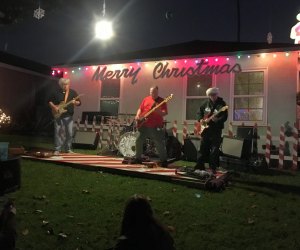 Surf band Lawndale made this Christmas celebration feel uniquey SoCal.
Many of the street's families sit out on their porches, basking in the glow of our appreciation. Between them, they light up so many Grinches, Peanuts, Christmas trains, and snowmen that they've certainly earned the rest.
Parking on surrounding streets is tight on opening night, but other evenings we have rarely needed to park more than a block or two away. And the walk is made pleasant by adjacent neighbors who rise to the occasion with Christmas lights that in any other neighborhood would stand out much more. Police close off Candy Cane Lane itself to traffic, allowing for a relaxing, child-friendly wander among the lights.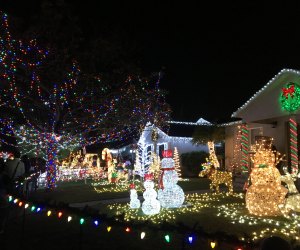 There's never a dark house on Candy Cane Lane.
Candy Cane Lane residents invite us all to enjoy their handiwork each year from the second Saturday in December until December 23. After that, they ask us to respect their privacy and allow them to enjoy the holidays with their families, free from visitors on their lawns. In return for the gift they give us every year, it seems a small favor to ask!
Find more great seasonal activities in our Los Angeles Holiday Guide!