20 Pumpkin Patches near New Jersey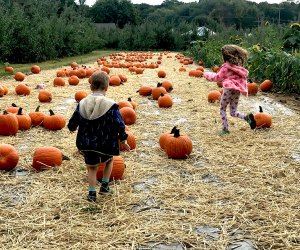 9/18/22
- By
Laurie Rein
Sign up for our FREE newsletters to get the latest fall coverage and more delivered right to your inbox.
Pumpkin Patches near North Jersey
This family-owned farm celebrates fall with hayrides and pumpkin picking every day in October except Sundays. Before leaving, savor some apple cider and doughnuts from the farm market. Advanced ticket purchases are required for a hayride, pumpkin picking, and the petting zoo. Kids ages 2 and under are FREE.
This NJ farm has lots to offer, including tons of activities for kids. You'll find a bounce house, wagon ride, corn maze, hay pyramid, and farm animals to feed—plus a farm stand and plenty of pick-your-own options, pumpkins included. Be sure to check the farm's calendar to see what events are happening that day and what produce can be picked. Reservations are required. It gets jam-packed on the weekends, so come on a weekday if you can.
Conklin is a smaller venue, but it has all you could ask for: a pumpkin patch for picking, a toddler corn maze, and hayrides (regular and haunted hayrides—weekends only), but it's less frantic. A snack shack with hot cider, candy apples, and warm, homemade doughnuts keeps everyone full and happy. Visit them on the weekends and see if you can win a 100-pound pumpkin! The pumpkin patch opens on Saturday, September 24.
RELATED: Amazing Corn Mazes at Family-Friendly NJ Farms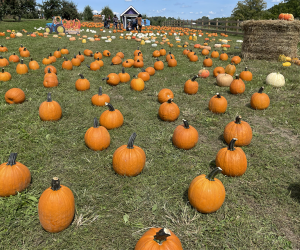 Demarest Farms has pumpkins of every shape and size ready for you to seize. Photo courtesy of the farm
This Bergen County farm is a fun place to take the family. Pumpkin picking season opens Saturday, September 24. Reservations are required and include access to the pumpkin patch plus two petting zoos, an adventure playground, and a corn box. Consider a late-day reservation and stick around for the Halloween Light Show.
The perfect "starter" pumpkin patch for little ones, Farms View is an adorable road stand with a short hayride to pick pumpkins. Admission also includes a fresh-pressed apple cider or an apple cider doughnut packed to-go. You'll also find animals in the barnyard and character cut-out photo-ops. The season runs from the last weekend in September through the end of October.
Heaven Hill Farm offers pumpkin picking and tons more agritainment. Weekends are filled with fun courtesy of its Great Pumpkin Festival, with food concessions, magic shows, pig races, carnival rides, paintball ranges, apple cannons, sand art, and more. During the week, you can enjoy farm animals, corn mazes (they have a mad scientist theme this year), and so much more. Book tickets online in advance.
This 100-year-old, family-run farm is quieter and less commercial than other destinations, yet it still offers tons of family fun, including pumpkin picking, hayrides, farm animals, an apple cannon, pony rides, a tractor play-set, hay pyramid, and even monster truck rides. Purchase tickets for its Fall Festival online before visiting.
RELATED: Fall Bucket List for Kids: 45 Things To Do in New Jersey this Fall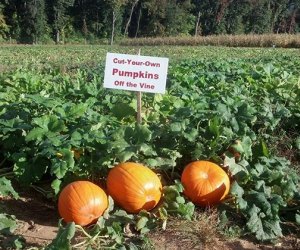 Get them straight off the vine at Riamede Farm. Photo courtesy of the farm
For some real pumpkin picking—the kind where you cut the pumpkin right off the vine yourself—go to Riamede Farm. This quiet, simple, laid-back apple farm includes a hayride to the pumpkin patch. Don't forget to bring your clippers! If you prefer not to cut them yourself, Riamede offers a pumpkin meadow with pre-cut pumpkins in all sizes, as well as a selection of pre-cut pumpkins at its store. Purchase your farm pass in advance online to guarantee admission.
Giant pumpkins are waiting to be picked at the Stony Hill Farms pumpkin patch or farm market. The Maze Fun Park is open daily in September and October with fence mazes, rope mazes, and a 10-acre corn maze. There are hay rides on the weekends and a "flashlight maze" on most Saturday nights in October.
The name of this farm can be misleading; Sussex County Strawberry Farm has pumpkins, too! Beginning during the first week in October, enjoy a pumpkin patch, weekend hayrides, fresh cider, and apples. Bonus: Pick-your-own raspberries are available in September and October.
This is my family's go-to pick-your-own New Jersey farm. Wightman kicks off pumpkin picking in early September on Fridays, Saturdays, and Sundays. Visitors to the farm must purchase fall festival tickets, which include hayrides, choosing one pumpkin, a variety of mazes, tunnels, and labyrinths, and entry to the apple orchard; pay for what you pick separately. Tickets are $25 per person for everyone ages 3+ and must be purchased on the farm.
RELATED: 25 Fun-Filled Fall Day Trips from New Jersey for Families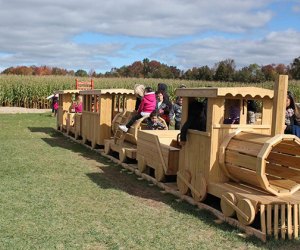 Climb on the wooden train at Happy Day Farm's "Kids Korner." Photo courtesy of the farm
Pumpkin Patches near Central Jersey
You won't be bored at this Monmouth County farm. It's loaded with family activities, including pumpkin picking, pony rides, hayrides, a wooden train, pig races, swings, and an animal-feeding zoo. Weekends include animal feedings, cornhole, pedal carts, tractor rides, and tug-o-war fun. The fall harvest season runs through Monday, October 31. Most activities are weekend-only, though pumpkin picking is available on weekdays in October. Purchase tickets online in advance. On-site farm purchases are cash-only.
This fun farm is a family favorite. On weekends in October, enjoy a wagon ride out to the pumpkin patch to select your pumpkins straight from the vine. After pumpkin picking, be sure to check out apple picking and visit the cider mill to watch those apples get pressed into delicious cider.
Pumpkin picking, hayrides, and farm animals are all part of the fall fun at Norz Hill Farm. Don't forget to try the 5-acre corn maze, which boasts a new design each season. Fall harvest days run daily through Monday, October 31.
RELATED: Best Fall Festivals near New Jersey for Families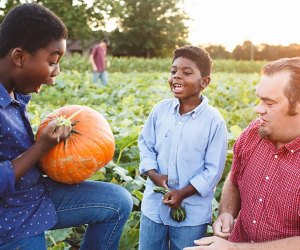 Fall pumpkin picking at Johnson's Corner Farm. Photo courtesy of the farm
Take a hayride out to the pumpkin patch daily through Halloween at Johnson's Corner Farm. Find plenty of weekend-only fall fun here, too, including a corn maze, live music, gem mining, and more. Stop at the market for cider doughnuts, pies, and more fall treats. Purchase tickets online in advance.
Pick pumpkins, sample local honey, and enjoy FREE wagon rides, games, and more at this New Jersey pumpkin picking farm. There's even an ant colony and gem mine to explore plus a children's Fun Zone and beehive to check out. Pumpkin picking runs on weekends from Sunday, September 26-Monday, October 31.
Terhune is such a fun place to bring the family because of the breadth of kid-friendly things to do around the farm. The pumpkin picking fields are located at the main farm on Cold Soil Road and open in September and October. Fall Family Weekends include fun happenings like pony rides, pedal tractors, a hay bale maze, and more. Timed-entry tickets must be purchased in advance. While you're there, be sure to visit the farm store and winery.
RELATED: 25 Fun-Filled Fall Day Trips for New Jersey Families

See what size pumpkin is right for you at Duffield's Farm. Photo courtesy of the farm
Pumpkin Patches near South Jersey
This South Jersey pumpkin picking farm offers fresh gourds for the taking through Halloween. Pair your visit to the patch with a hayride and freshly picked apples. Note that the farm is closed on Sundays.
Head to Johnson's Locust Hall Farm for its Fall Harvest Park & Pick Weekends. Reservations are required and grant access to pumpkin picking, apple picking, the sunflower field, and a corn maze. Hayrides, live music, and food trucks are also available.
Visit the farm on Fridays and Saturdays in October for pumpkin picking, hayrides, corn mazes, farm animals, and more seasonal fall fun. Tickets can be purchased online in advance.
This post was originally published in September 2012 and has since been updated.