Family-Friendly Walkable Towns in New Jersey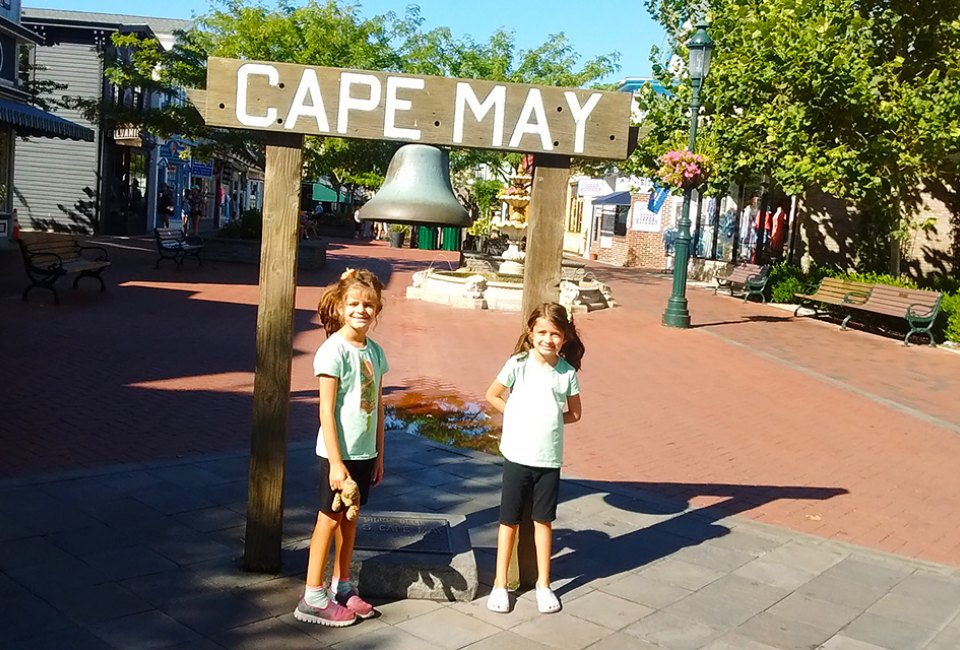 8/10/18
- By
Laurie Rein
Do you ever crave a city scene while living in the suburbs? Like many New Jersey residents, I moved here from Manhattan years ago but still feel that itch for metropolitan perks, like walkability, diversity of restaurants and shops, and an energetic community hub. The good news is, there's no need to leave the state for city amenities. Explore great walkable downtowns right here in New Jersey, where you'll find both chain and independent shops, art museums, unique bookstores, delicious cafes serving up local eats, and more. If you choose to leave the car at home, most of these downtowns are in close proximity to New Jersey Transit trains or buses.
Whether a day trip destination or a quick stop for lunch and shopping, these great walkable downtowns are worth a visit.
Asbury Park
If you live in northern or western Jersey, a trip "down the shore" to check out one of our state's beaches can be a great day or even long weekend trip. Asbury Park is a well-known shore destination, and in recent years the city has done a lot to revitalize the downtown area and make it family-friendly. For a truly unique outing, pay a visit to the Silverball Museum Arcade, home to more than 200 pinball machines and arcade games. Active families can play mini-golf on the boardwalk, rent tandem bicycles, and cool off at Asbury Splash Park. And if all that activity leaves your stomach growling, grab pizza at Talula's—and for dessert, sample a one-of-a-kind cupcake at Confessions of a Rock Star bakery or a French toast doughnut at the new Purple Glaze donut shop.

Take a stroll on Cape May's charming Washington Street Mall. Photo by Shinya Suzuki via Flickr
Cape May
Cape May is a popular Jersey Shore vacation destination for families. Aside from the beautiful beaches, free zoo, and quaint Victorian homes, the downtown walking mall is worthy of a stop-by on your next visit. The three-block Washington Street Mall features charming brick paths, benches, and a fountain. Unique seaside shops include Great White Shark for souvenirs, Whale's Tale for knick knacks, and Little Jewelry Shop by the Sea for jewelry and gifts. Grab lunch on your visit at The Ugly Mug, Stewart's Root Beer, or Jojo Pizza, followed by treats at Cape May Sweet House, Uncle Charley's Ice Cream Shop, or Cape May Peanut Butter Co. The best way to explore the downtown area is via a breezy trolley ride.
RELATED: Pier C Park in Hoboken: An Urban Oasis for NJ Kids and Families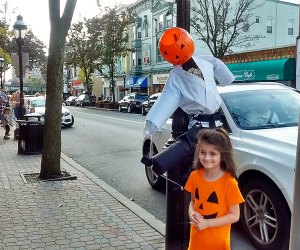 Cranford hosts family-friendly annual events, including the Scarecrow Stroll.
Cranford
Cranford is small-town NJ at its best, with a charming downtown and close proximity to NYC for commuters. Check out the eclectic mix of stores including Rogue Comics & Collectibles and Milk Money Children's Consignment Shop. For hands-on fun, make an appointment at Fire Me Up to sculpt and paint your own pottery creation, or have a play date at Giggles. As far as local eats, indulge in Greek fare at Ambeli Greek Taverna, garlicky delicacies at Garlic Rose Bistro, and gourmet burgers at Urban Burger. Cranford residents love the Vanilla Bean Creamery for hot fudge brownie sundaes and soft serve frozen yogurt, and Track 5 Coffee by the train station for some delicious coffee with a great community vibe. Annual downtown events include street fairs and the Scarecrow Stroll.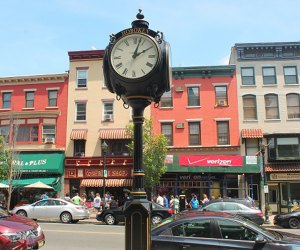 Hoboken is hopping with family-friendly fun by day. Photo courtesy of visitnj.org
Hoboken
For a city-like getaway with a side of small-town appeal, look no further than Hoboken. Situated right across the Hudson from Manhattan, Hoboken is full of stroller-friendly sidewalks by day and a lively bar and restaurant scene at night. Take the kiddos for a stroll along Pier C and let the little ones burn off some energy at the sand and water park (there's a bigger playground structure with lots of climbing for older kids, too!). After you work up an appetite, take your pick of some NYC grub without crossing the river: grab a pizza at Grimaldi's or a falafel wrap at Mamoun's—both are Jersey outposts of much-loved Big Apple joints. Round out your day with a visit to Big Fun Toys, stocked with quirky goodies and unique art supplies. If you've got book lovers in the family, also stop by Symposia Community Book Store, which is filled with used books and paintings by local artists (and is also a venue for children's puppet shows). Washington Street, one of the downtown's main strips, is the hot spot for street fairs and the Hoboken Arts and Music Festival every year.
Jersey City
With stunning views of the Manhattan skyline, and its recent revitalization, Jersey City's downtown is on par with nearby Hoboken as a hip cultural metropolis. Take a scenic stroll along the Hudson River Waterfront Walkway, and you can actually hit both cities in one whirlwind afternoon. Hungry from all the walking? There are kid-friendly restaurants aplenty in downtown Jersey City, including Two Boots Pizza for a slice, The Brownstone Diner for amazing pancakes, City Diner for reliable dishes, and Roman Nose for Italian favorites. And there's no shortage of ice cream in Jersey City. Get a sweet treat at Torico, Milk, Sugar, Love Creamery, and Bucket & Bay Craft Gelato. Kids will love perusing the children's section and swinging by events at WORD Bookstore, while parents can grab coffee at the in-store cafe. Playgrounds and splash pads pop up throughout the city, and there's even a man-made urban beach at Newport Green. Get a taste of everything Jersey City has to offer at the fall All About Downtown Street Fair.
RELATED: Great NJ Gardens and Lush Arboretums To Explore with Kids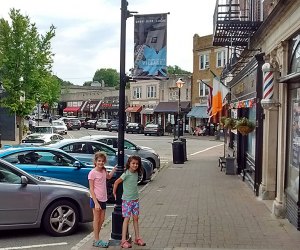 Browse the shops on Maplewood Avenue and stop into one of the many family-friendly eateries for a bite.
Maplewood
The quaint, family-oriented downtown of Maplewood is centered around one main strip, Maplewood Avenue, and that stretch is jam-packed with restaurants, small-town boutiques, a movie theater, and supermarket, with free parking as a bonus. There is no shortage of family-friendly eateries in the downtown. Try the Maple Leaf Diner for filling diner staples, Arturo's Osteria & Pizzeria for delicious Italian fare, St. James's Gate Publick House, for authentic Irish grub and Village Ice Cream Parlour for a sweet finish. Pop by Words Bookstore while in town for a diversity of book selections, plus local events like storytimes and author visits. The village plays host to community events throughout the year, such as the enchanting Dickens Village at Christmastime and Maplewood Art Walk & Music Fest in the fall.
Montclair
Get on your best walking shoes, because Montclair actually has three downtown areas. The mile-long Bloomfield Avenue, and its side streets, are the center of the downtown action. With its multi-cutural restaurants, hip boutiques, antique shops, artistic outlets, theaters, and more, downtown Montclair is the definition of an eclectic and bustling suburban city. While there are too many restaurants to choose from, some family-friendly favorites include Raymond's for brunch, Greek Taverna for souvlaki and gyros, or Bareburger for burgers plus vegetarian options. Top off the meal with rolled ice cream at Absolute Zero or pastries at Le Petit Parisien. Take in a show or concert while in town at the historical Wellmont Theater, spend a sweet afternoon at a Chocolate Works workshop, or try your hand at pottery painting at Doin' Dishes. Montclair Art Museum lies at the tip of Bloomfield Avenue and hosts family-friendly events like Drop-In Studio and Park Bench. For a quieter downtown experience, swing over to the Watchung Avenue downtown area for a cup of joe and treats at Bluestone Coffee Co., Bonjour Montclair for crepes and baguette sandwiches, and Watchung Booksellers for community events, including weekly storytime. And if you're not too tuckered out, hop over to Upper Montclair for a bite at Tinga Taqeria or Da Vinci's Brick Oven Pizza.
RELATED: The Best Museums for Kids in Northern New Jersey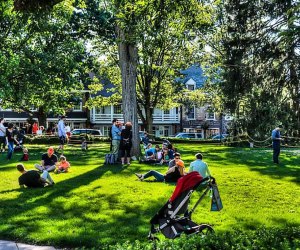 Palmer Square is the center of the action in Princeton. Photo courtesy of Palmer Square
Princeton
Princeton is more than just a beautiful college town. Although you'll definitely be strolling alongside book-toting students, you'll also find plenty of families with young kids in tow. The original PJ's Pancake House is a popular breakfast spot in town, while Jammin' Crepes can count as a meal or snack any time of day. Ice cream at The Bent Spoon is a must for dessert. For some summertime learning, drop by Princeton University Art Museum during one of its Art for Families programs. And if you want to be in the center of the action, head toward Palmer Square, which is surrounded by dozens of boutiques and restaurants and also holds some great seasonal events, including a summer music series on the green. While in town, stop by the famous Princeton Record Exchange and show the kids what a record actually looks like.
Red Bank
Situated on the Navesink River, a few miles from the shore, Red Bank is a cultural hub with more than 100 restaurants, independent boutiques, art galleries, and waterfront parks. The hip downtown has a historical vibe, with its Victorian street lamps and brick sidewalks. Embark on some kid-friendly fun in the downtown at YESTERcades retro arcade or A Time to Kiln pottery studio. With so many restaurants to chose from, more than one trip may be required. Irish favorites with a lively atmosphere are on tap at Dublin House, with offerings like shepherd's pie and fish-n-chips. Grab burgers and other American fare at The Robinson Ale House or family-style Italian food at Patrizias. If you're up for a quick bite, stop by That Hotdog Place for dogs, Surf Taco for seafood, and Tspoon for dessert. Catch a moment of peace at the lush Riverside Gardens Park with views of the river and year-round outdoor events. Red Bank is home to two respectable theaters: Two River Theater and Count Basie Theatre. And no trip to Red Bank is complete without a stop at Jay and Silent Bob's Secret Stash (the Clerks guys) with comics, toys, and memorabilia. While events take place year-round in Red Bank, the holidays are a merry time to visit with the annual tree and menorah lightings, plus free horse and carriage rides.
Ridgewood
The Village of Ridgewood is a day trip destination for my family. The downtown stores and restaurants have a sophisticated, yet down-to-earth community vibe. We travel nearly an hour for the famous, ginormous pancakes at Country Pancake House, where the variety and size of the pancakes, and sometimes the crowds, are colossal. Take in the downtown scene on a nice day from an outdoor dining spot at East Coast Burger or Raymond's. Finish off a meal with ice cream from Kilwins Ridgewood, decadent cupcakes at Cupcakes by Carousel, or a cup of joe at Ridgewood Coffee Company. There are plenty of creative outlets for kids in the downtown, such as Creatively Yours and Color Me Mine for pottery, or jewelry making at Bazaar Star Beadery. While in town, you may catch a celebrity sighting at Bookends Bookstore, which carries a great selection of books and toys, plus renowned celebrity and author visits. Van Nestle Square in the heart of town hosts annual Halloween and holiday celebrations.
Somerville
My family recently discovered downtown Somerville on a trip to a party at YESTERcades and have gone back since to stroll the cozy cobblestoned Division Street. The locally owned specialty shops and restaurants, along with year-round events, give the downtown a strong sense of community. For downtown eats, check out the hip DragonFly Music & Coffee Cafe, offering soups and sandwiches along with live music. Dine alfresco while people-watching at The Division Cafe in the heart of town, featuring breakfast, lunch, and dinner fare. Don't leave without sampling the cupcakes and macarons from Blue Sheep Bake Shop. A great time to visit the downtown is during its annual events, including street fairs, Holiday Jubilee, and cruise nights.
South Orange
Just up the road from Maplewood is another vibrant downtown, South Orange Village. The circular core of the village is surrounded by gaslight-adorned and tree-lined streets, giving the area both small-town and metropolitan ambience. The state-of-the-art South Orange Performing Arts Center, or SOPAC, is a downtown destination for visitors and features concerts, shows, children's theater and movies. There are plenty of pre and post-show food options in town, from pub favorites at Gaslight Brewery and Restaurant to Mexican fare with entertainment at Toro Loco to hearty Italian dishes at Reservoir Restaurant to quick bites at Stony's Restaurant. The kids will want to swing by Sparkhouse Toys for toys, games and goodies, plus get a little outdoor time at Spiotta Park in the center of town, which features instruments, a fountain, and newly painted rainbow lampposts. Spiotta Park also hosts live music on summer evenings. Make a fall day trip to South Orange when the downtown becomes a giant playground for PlayDay South Orange.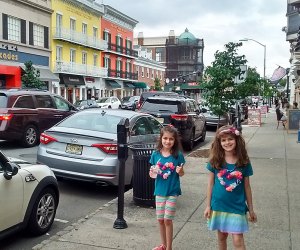 From shopping and restaurants to a retro arcade, Westfield has it all.
Westfield
Westfield is a vibrant town with a walkable historic downtown area that attracts both locals and visitors. Take your pick from tried-and-true chain stores such as GAP, Williams Sonoma, or Claire's. Drop by Just Bead Yourself with the kids for a beading class or afternoon tea party, or get crafty with wood and canvas at AR Workshop. Challenge family and friends to a game of Pac-Man or Donkey Kong at the brand-new YESTERcades retro arcade. For family-friendly eats, local say they love Casa di Pizza for a casual slice, Inspiration Roll for yummy noodles and sushi, and Vicki's for a classic NJ diner experience. Top it all off with dessert at Morano Gelato or Bouvella's Pastry Shoppe. And maybe one of the best things about Westfield is the strong sense of community—there's always an event going on, from Sweet Sounds of Jazz Music on Tuesdays in the summer to the bustling street fairs to the annual downtown Trick-or-Treat.
Unless noted, photos by the author.
Sign up for the Mommy Poppins Newsletter today!
i