Theaters with Sensory-Friendly Performances for NJ Kids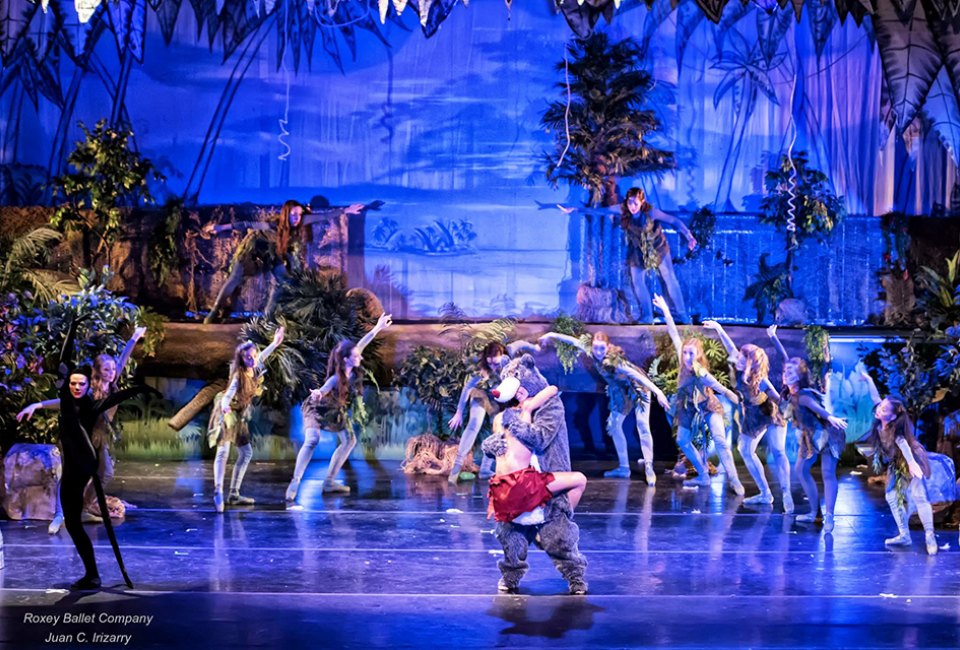 2/19/18
- By
Margaret Hargrove
Taking littles to the theater opens up opportunities for exposure to the arts, building social skills, and learning about appropriate audience behavior. For children with autism, developmental disabilities, or sensory sensitivities (such as difficulties with bright lights, loud noises and sudden, surprising bursts of volume or activity), the theater can be an intimidating place.
Luckily, NJ is home to several performing arts spaces that offer exclusive performances for kids with special needs, so the entire family can experience the arts together. These sensory-friendly performances often include accommodations such as lowered volume and raised lighting, the ability to move about the theater freely, dedicated quiet areas, and trained staff to lend a helping hand should the need arise.
Read on for a list of theaters and upcoming performances where you can know that your child will feel welcomed and loved, just as they are. We hope you enjoy the show!
Bergen Performing Arts Center — Englewood
Held in the theater's intimate Drapkin Cabaret & Lounge, bergenPAC's sensory-friendly performances allow kids to interact directly with the performers and experience the joy of live theater up close. Sounds and lights are kept low, and theatergoers are free to stand, move around and talk during the performance.
February 24 – Turtle Dance Music
March 3 – Gizmo Guys
April 28 – Story Pirates: Greatest Hits
June 2 – Bubble Trouble
Count Basie Theatre — Red Bank
Count Basie's judgment-free zone allows you to bring snacks, iPads and anything else you need to make your child feel comfortable. House lights are kept bright enough for kids to know where they are, and sudden or shrill sounds are eliminated from the performance. A quiet room with "fidgets" and coloring pages and crayons gives kids a place to calm down and refocus.
April 12 – Goodnight, Goodnight Construction Site
April 23 – Jazzy Ash and the Leaping Lizards
May 3 – My Father's Dragon
RELATED: Special Needs Summer Camps for NJ Kids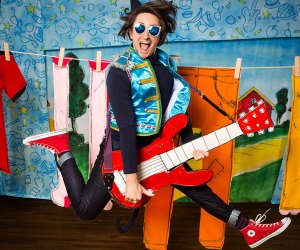 Pete the Cat takes the stage at Mayo Performing Arts Center in April.
Mayo Performing Arts Center — Morristown
This regional theater held its first sensory-friendly performance just last year, and due to the overwhelming success of that pilot program, Mayo has three more sensory friendly performances on the bill this Spring. They turn the lights up and the sounds down to make it more comfortable for sensory-sensitive kids. Everyone is free to sing, dance, shout and walk around as needed throughout the show, or take a break in the "chill room."
March 11 – IBEX Puppetry Presents Sing Along with The Muppet Movie
April 10 – Goodnight, Goodnight, Construction Site – The Musical
April 23 – Pete the Cat
McCarter Theatre Center — Princeton
In addition to relaxed performances, professional staff are available to assist parents and caregivers when they need extra help. While there are no sensory-friendly performances on the schedule this season, past performances have included Into the Woods, Muppet Sing-A-Long Movie, and an appearance from Laurie Berkner. Check back soon for fall show dates.
Paper Mill Playhouse — Millburn
Paper Mill plays host to many children's shows each season, and always includes at least one autism-friendly performance. House lights are dimmed, the volume is lowered, and kids are free to talk and leave their seat. You can also BYO snacks and drinks. Additional accommodations include a gender-neutral family restroom, activity area with chill-out zone, and an on-site support team for extra assistance. Stop by the theater the day before the show for a free "Meet Your Seat" open house so kids can familiarize themselves with the space.
April 22 – The Lightning Thief
RELATED: Autism-Friendly Museum Hours and Cultural Programs in NYC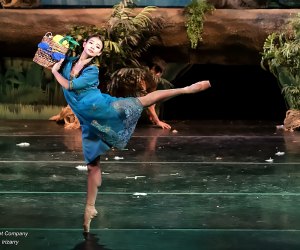 Roxey Ballet Company's production of Mowgli: A Jungle Book Ballet. Photo by Juan C. Irizarry
The Roxey Ballet Company — Lambertville
With performances held at The College of New Jersey's Kendall Main Stage Theater, the Roxey Ballet provides a comfortable, inviting and safe environment to enjoy the ballet. House lights remain at half brightness and sound is kept controlled. Entry and exit to the theater is not restricted – you may come and go as you please, and there are designated quiet areas available in the lobby. Roxey Ballet's staff, ushers and volunteers come from a variety of autism schools and organizations to ensure an excellent experience for your family. Be sure to add their performance of The Nutcracker to your family's holiday to-do list.
May 5 – Mowgli: A Jungle Book Ballet
Shea Center for the Performing Arts at William Paterson University — Wayne
At least two to three performances per season at the Shea Center are reserved exclusively for children with autism and other sensitivity issues or special needs. Pre-show activities start 45 minutes prior to weekend show times, so come early to enjoy a fun craft to help your child get acclimated and excited for the performance.
February 27 – Skippyjon Jones Snow What
March 17 – Schoolhouse Rock Live! Jr.
April 14 –The Long Island Vegetable Orchestra
State Theatre of New Jersey — New Brunswick
State Theatre offers an amazing variety of family-friendly programming, including relaxed performances for sensory-sensitive kids. Each show provides modified lighting and sound levels, freedom to get up from your seat, and a calming area with soft seating, fidget toys and activities. Ushers and volunteers are also trained to offer a helping hand. Prior to each performance, you can download a resource guide from their website to help you prepare your child for the show. Check back soon for fall relaxed performance dates.
Theatre at Raritan Valley Community College — Branchburg
Sensory-friendly performances are offered for many of the children's shows performed at this theater. Seating is general admission, allowing families to choose a comfortable seating configuration that works for their needs. You can stop by and visit the theater two hours before the show to check out the space while it's empty. The RVCC Planetarium also offers special astronomy and music shows for children on the autism spectrum. The doors stay open so children can freely leave and return, lights are left dim and the audio is lowered and kept to a consistent level.
February 25 – The Gruffalo: Tall Stories
March 6 – Shh! We Have A Plan
April 21 – The Polar Bears Go Up
Two River Theater — Red Bank
The relaxed atmosphere at this theater allows children to talk, and leave and re-enter the seating area as needed. Sound and lights are kept at a low level, the use of iPads and other electronic devices are permitted, and a quiet play area is conveniently located within the theater. Trained staff and volunteers are available throughout the performance to provide extra assistance.
March 10 – A Little Shakespeare: The Comedy of Errors
April 21 – The Young King
RELATED: 30+ Events This Winter for New Jersey Preschoolers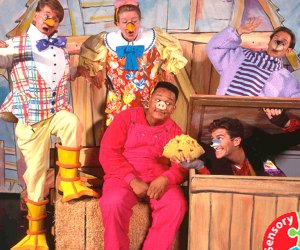 Charlotte's Web will come to the Union County Performing Arts Center in April.
Union County Performing Arts Center — Rahway
The intermission-free, 60-minute performances will keep your child entertained from start to finish. Seating is general admission, and only a limited number of tickets are sold to allow for comfortable spacing between theatergoers. Light stay up and the volume is turned down to prevent loud, scary sounds. In case you leave your child's comfort object at home, you can borrow one of the theater's fidget and stress-sensory toys for the performance. And when your child needs a breather, a private play area in the cafe gives you a safe space to chill.
March 4 – Cinderella
April 29 – Charlotte's Web
May 6 – Jeff Boyer's Bubble Trouble
Top Photo: Mowgli: A Jungle Book Ballet at the Roxey Ballet Company. Photo by Juan C. Irizarry. All other photos courtesy of the theaters/venues
Sign up for the Mommy Poppins Newsletter today!