35 Things To Do with Tweens in New Jersey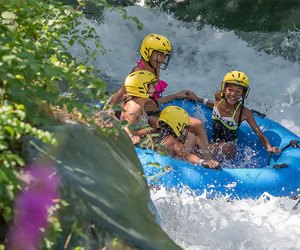 Your tweens may be too big for bouncy houses and tea parties, yet too young for solo outings with friends. But they still love family fun (even if they won't always admit it). When a trip to your local playground is met with eye-rolling instead of cheering, it's time to check out these amazing things to do with tweens in New Jersey. The good news? You may genuinely enjoy competing with your tween in bowling and mini golf, tackling the fast slides at a water park, or seeing a play or concert together.
Read on for 30 ideas that are cool enough for big kids.
Things To Do with Tweens Indoors in NJ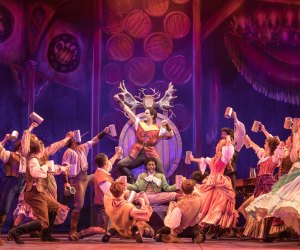 Take in a performance at Paper Mill Playhouse. Photo courtesy of the theater
1. Take in an almost-Broadway show at one of New Jersey's celebrated regional theaters, like Paper Mill Playhouse, McCarter Theater, or the State Theater. Showtimes online.
2. Show your Scarlet Knight or Pirate pride at a Rutgers or Seton Hall sporting event. Both schools' schedules online.
3. Head to Liberty State Park and catch a ferry to the new Statue of Liberty Museum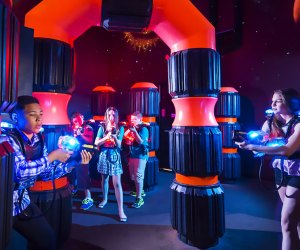 Do some laser-tagging at iPlay America. Photo courtesy of the venue
4. Spend an afternoon playing, climbing, and exploring one of New Jersey's mega indoor fun spots, like iPlay America or Branchburg Sports Complex.
5. Lace up your skates for a whirl around a roller rink—glow necklaces and 80's shades optional.
6. Show them your favorite old-school games at these NJ arcades.
7. Gaze at the artwork at a New Jersey museum, like the Montclair Art Museum or the Newark Museum, which has one of the country's finest collections of American art.
8. Create some art of your own at one of New Jersey's painting studios.
9. Explore one of the many cool science museums in and around New Jersey.
RELATED: The Liberty Science Center Celebrates 25 Years with Exciting Changes

Your tweens are old enough to give glass blowing a try. Photo courtesy of Hot Sand in Asbury Park
10. Step up your arts and crafts game with glass blowing.
11. Create beaded jewelry or pottery at a local studio.
12. Treat them to their first rock or pop concert.
13. Make some music at the GRAMMY Museum.
RELATED: NJ Playgrounds Cool Enough for Big Kids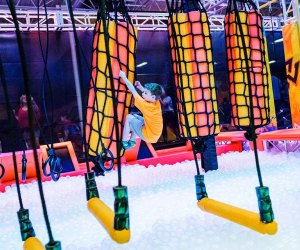 Tackle an obstacle course at Urban Air Adventure Park in Milltown. Photo courtesy of the park
14. Have some Ninja Warrior–style fun at an awesome indoor obstacle course.
5. Bounce and flip at an indoor trampoline park.
16. Tee up for a round of outdoor digital golf, tracking your scores with a micro-chipped ball.
17. Go skydiving—without jumping from a plane—at iFly in Paramus.
18. Face off in a game of laser tag.
19. Escape from a family-style escape room.
RELATED: Zip Lines and Adventure Ropes Courses for Kids in and Around NJ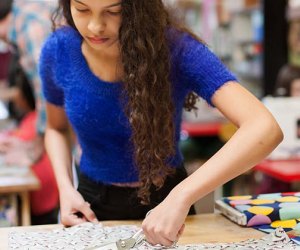 Get a group of friends together for tween sewing projects at M. Avery Designs in Hoboken. Photo courtesy M. Avery Designs
20. Design and sew your own fashion accessories.
21. Roll some strikes without bumpers at your favorite bowling alley.
22. Relax with a tween spa treatment or mani-pedi at one of New Jersey's many spas or salons, like Glitter & Glam in Paramus.
23. Enjoy a sweet treat together at a popular ice cream spot or retro candy shop.
24. Spend the night at Liberty Science Center for a camp-in.
Things To Do with Tweens Outdoors in NJ
25. Longer legs mean longer hikes, so check out New Jersey's great reservations, from the pinelands to the mountains.
26. Spend an entire day exploring a state park.
27. Take them out to a ball game—New Jersey has minor league action up and down the state.
28. Zip and swing above the trees at an outdoor ropes course.
RELATED: Great NJ Gardens and Lush Arboretums To Explore with Kids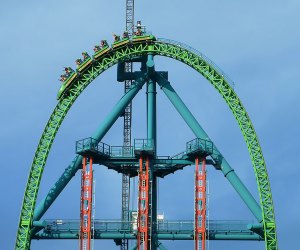 Tweens looking for a thrill will love The Kingda Ka at Six Flags. Photo courtesy of Six Flags
29. Test your bravery on the wildest roller coasters New Jersey has to offer.
30. Splash around and tackle the tallest slides at a water park.
31. Unplug and get back to nature on a family camping trip.
32. Go stargazing, either outdoors or at an observatory.
33. Stroll through history at New Jersey's Revolutionary War sites.
34. Walk through the Grounds for Sculpture (without a stroller!).
35. Cruise the waterways on a dinner cruise, ferry, or other exciting boat ride. Or share the work of rowing or pedaling on a lakeshore ride.
For even more inspiration, check out our list of things to do in New Jersey before your kids grow up.
Originally published 2013 and updated regularly.