Tee Up for Family Fun at New Jersey's Newest Golf Spot
Driving golf balls has gone upscale—and digital—at Topgolf, a new, family-friendly golf spot in Edison that features micro-chipped balls, computerized targets, and a top-notch menu. The Edison location opened in December, and a second New Jersey spot is scheduled to open at the end of the year in Mount Laurel.
Find more action spots in our Sports Fun Guide, or at these outdoor mini golf courses.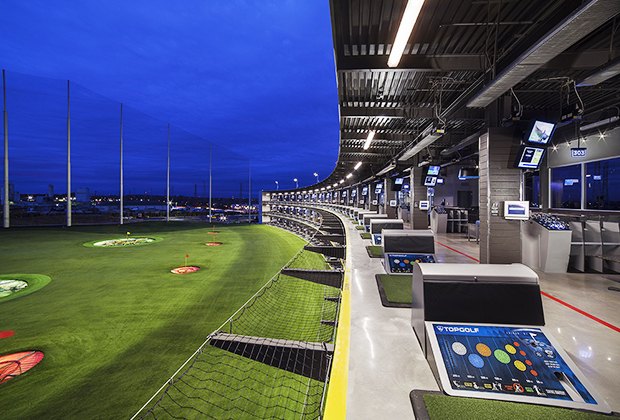 Photo courtesy of Topgolf.
Topgolf is not a traditional driving range but rather a hybrid of bowling, darts, and golf—plus good food, drinks, and music. If your family likes the vibe at Bowlmor in Green Brook, which is much more than bowling, or Dave and Buster's in New York, which takes skeeball to a new level, they will love Topgolf.
The three-story driving range offers what's called "target" golf, with colorful rings surrounding flagged targets. It appeals to a range of people, including serious golfers trying to improve their shot, millennials opting for something different on a Friday night, and multi-generational families—including school-age kids and people (like me) who have never picked up a club.
Each of the 102 heated and air-conditioned open-air bays is equipped with comfy lounge furniture, a TV, and a digital scoreboard that automatically records each player's score after every shot—no tiny pencils required. Computerized sensors in the ball feeder release each ball with a swipe of your golf club, and the microchip inside the ball tracks each shot onto the green. Red, yellow, green, brown, and white flags mark each target area and are mirrored on the scoring screen to show where your shot landed. For kids raised on Wii Golf, this is a major attraction.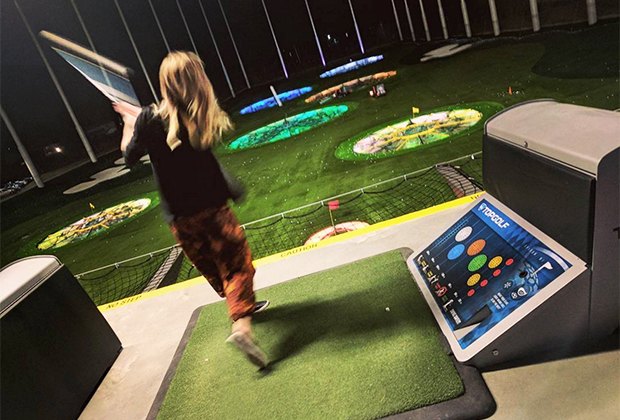 The range lights up at night. Photo by vince.cru via Instagram.
With 215 yards to the farthest net, and a full set of clubs to choose from, experienced golfers can aim high, but beginners and younger kids will have the most fun shooting for the nearest or largest target rings, which all light up after dark. Child-sized clubs can be requested at check-in, but young kids might find the game a bit frustrating. After a few swings, my 5-year-old grew bored waiting for his next turn. He may have lost interest during a 30-minute delay in our game when the digital ball feeder broke down. After two repair attempts, the friendly staff moved us to an adjacent bay to continue our game.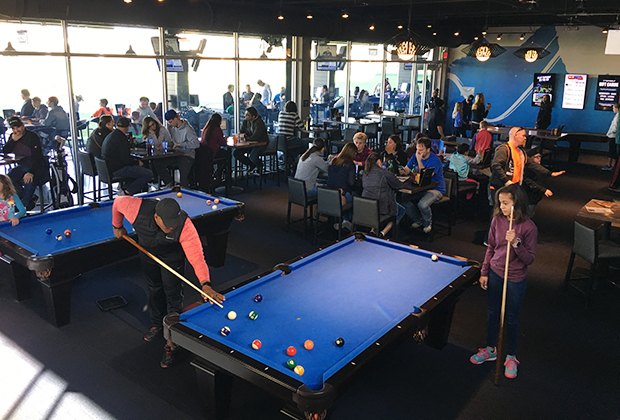 The lounge has two pool tables, shuffleboard, Xbox Kinect, and tables with food service.
Knowing that kids need diversions when wait times for a bay can top two hours on busy weekends and holidays, Topgolf has equipped a downstairs lounge with two pool tables and shuffleboard, plus wired TVs for Xbox Kinect, alongside tables with food service and several highchairs. A second-floor waiting area near the large bar features foosball and another Xbox console. In warm weather, a rooftop deck bar will offer even more seating.
Preschool-age kids are probably a bit young to enjoy all all that Topgolf has to offer; its spring break programming and planned summer camp are geared toward kids age 6 and up. There's also a children's birthday party package that includes one host for two hours of golf plus selections from the kids' menu.
Dining while waiting to golf is a great option, or you can order food from servers right at your bay. The menu includes appetizers like crab cakes, guacamole, and hot wings, plus entrees like buffalo chicken or steak flatbreads, pulled pork sliders, a sunrise burger topped with a fried egg, a vegetarian black bean patty, and sandwiches and salads. A featured item is "Mushi," a Mexican-sushi mash-up with cilantro sticky rice, beans, chicken, and cheese. The kids menu features a junior cheeseburger, mini hot dogs, and grilled cheese, with sides of tater tots, carrot sticks, or a fruit cup.
Dessert is not to be missed: Topgolf's twist on s'mores is gooey marshmallow sandwiched between two warm chocolate chip cookies, and its specialty is injectable donut holes served with a pastry syringe full of chocolate sauce, raspberry jelly, or cream. Brunch is served until 2 p.m. on weekends and holidays.
Tips for Visiting
Timing: Since opening in late December, Topgolf has attracted large crowds on evenings and weekends. Your best bet for shortest wait times is to arrive close to opening on Saturday or Sunday. Plan on at least three hours for your visit, including a meal.
Safety: Families with young children should definitely request a bay on the ground floor. A red line on the floor is the only thing stopping kids from wandering to the open edge of the upper-level bays. Also be sure kids stand clear when anyone is swinging a club.
Costs: Golf bays are rented by the hour, with up to six golfers and unlimited balls per bay. Hourly rates start at $30 for morning slots and peak at $50 per hour in the evenings. Required one-time membership cards cost $5 per person and can be reused on each visit to track scores. Private individual and group lessons for adults and kids start at $89 per hour, and reservations can be made in advance for scheduled classes, starting at $29 per hour.
Unless otherwise noted, photos by the author.