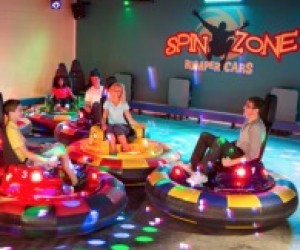 iPlay America: A Fun Indoor Amusement Park and Arcade in New Jersey
What do you get when you cross an amusement park with an arcade with a sit-down restaurant with laser tag with a concert hall with a "cool in the summer and warm in the winter" indoor space? Well, you get iPlay America, of course. I was recently invited to spend a day with my family at this fun amalgam of kid-friendly activities in Freehold, NJ, so read on for all the info - and then head out and youPlay at iPlay!
It was a very chilly March day when we went to iPlay America, so we were grateful to be going indoors for our fun. My first impression of the 115,000 square feet of iPlay America was different from my children's--while they were staring glassy-eyed at the rides and games, I was admiring the decor, the gentle lighting, and the cleanliness. The design is reminiscent of a NYC street combined with an Atlantic City boardwalk, all blended together in a giant square, with an arcade neatly tucked in the center. Around the perimeter are rides like Spin Zone Bumper Cars, Kite Flyer, Dizzy Dragons (like the Spinning Teacups ride, but with giant green animals) and more, all cleverly designed and modified to fit into an indoor space.
We immediately jumped on the Go Karts and went careening around the track at speeds that were sufficiently thrilling for a parent/child driving team. Then my kids went on the Happy Swing about six times in a row (kindly allowing their motion sickness-prone mother to just take pictures and wave). And what do you do after getting your insides jiggled about for an hour? Why, go get a big bag of candy, of course. Broadway Sweets is one of the biggest candy stores in Monmouth County, with bin after bin of jelly beans, licorice, sour goodies, chocolate, and confections.
Our two favorite things in iPlay America were the Arcade and Cosmic Battle Laser Tag. The Arcade has so many fun games, and iPlay America makes it easy to play--you just swipe a game card, which not only starts the game, but also records how many iTickets you win to redeem for prizes later. Much as I've always loved the little paper tickets shooting out of an arcade game and watching kids run around with a string of tickets around their necks, it's infinitely easier not to have to deal with all the carrying and almost-losing. The Laser Tag is an absolute blast; two levels, 6,500 square feet, dozens of barriers and places to hide--we wanted it to go on much longer than the eight minute segment.
We ended the day with dinner at Game Time Bar & Grille. The food was above average for theme park fare; in fact, my salad was downright delicious; my kids devoured their pizza, and my husband loved the "Irish Sliders" -- a generous plate of mini corned beef sandwiches. If you're not up for a sit-down dinner, other options are Sonny's Boardwalk Grill for hot dogs, cheesesteaks, fries, and the like, or the super-fast Boardwalk Bites for nachos, pretzels, and slushies.
As far as pricing for a day at iPlay America, it's a good idea to check out all the specials and packages; admission to the park is free (which is great for someone like a grandparent who only wants to be there and not necessarily ride the Dizzy Dragon), but the separate costs for rides and games and food can add up quickly if you're not paying attention. Take advantage of the iRide Band packages deals and specials like Triple Play -- which gives a special rate Sunday after 5pm and Monday thru Thursday from 3pm to 9pm.
Want to know more? Check out the website and take the virtual 3D tour.
This post is sponsored by iPlay America.