Medieval Times: Thrilling Dinner Theater for New Jersey Families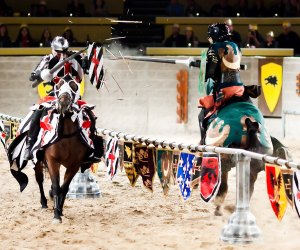 Hear ye, hear ye! My family recently had an AMAZING outing to Medieval Times in Lyndhurst, with dinner and an exciting live show featuring knights on horseback, jousting matches, sword fights, games of skill, and more.
Medieval Times has been wowing New Jersey audiences since 1990, and this year this Medieval realm got a modern update: rather than the King ruling the castle, the Queen is now the centerpiece. In the new show, she has taken over the kingdom from her father and presides over the tournament. Love the girl-power vibe!
Whether your little prince or princess is a toddler, teen, or somewhere in between, this is truly an outing the whole family can enjoy together. Read on to find out what you can expect during a visit to the castle, and check out more themed restaurants here.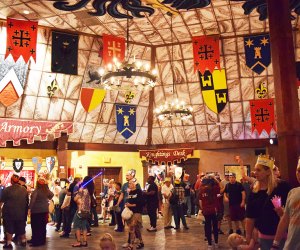 Your adventure begins in the impressive Hall of Arms.
Hall of Arms
As we arrived at the castle, a hush fell over my kids (which isn't easy to do with 2-, 5-, and 7-year-olds!). They gazed up in awe, excited to enter a "real castle," and curious about whether we had to cross a moat with crocodiles (the answer was "no," by the way). We had already entered a magical world and we hadn't even scanned our tickets yet! The realistic decor and costumed actors/staff members had transported us to Spain in the Middle Ages.
RELATED: Themed Restaurants and Family-Friendly Interactive Dining Spots in NJ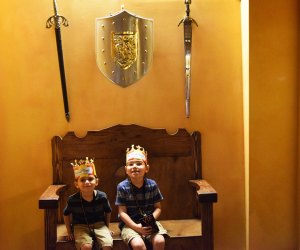 Feel like a royal as you don a crown and take the throne.
Once inside, step one was to scan our tickets, receive table cards for seats (assigned first come, first serve), and don cardboard crowns color coordinated to our seating section. Next, we were offered the chance to pose for some professional photos and head into the Hall of Arms. This large, darkened, circular room is filled with vendors selling swords (some lit-up plastic, others quite realistic), princess hats, knights' armor, jewelry, figurines, and other souvenirs. There's a bar for those who wish to imbibe as well as a dungeon that doubles as a museum of medieval torture. (An extra fee applies.) Since our kids are young, we opted out.
We also spent some time watching the Queen's pre-tournament ceremony, in which those celebrating special days knelt before her and were knighted to the cheers of the crowd. Huzzah!
It was fun to walk around and take in the atmosphere, but after about 30 minutes, my kids grew impatient of waiting with practically nowhere to sit. If I could change one thing about my trip, it would be to plan better for the wait.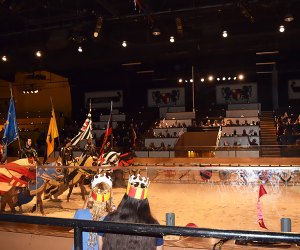 Take a seat and watch the battle begin!
The Tournament
We were called by color to enter the arena, where seats are separated into six sections according to color, each cheering for a different knight. We'd be proudly rooting for the red-and-gold knight and his allies. Guests sit side by side at long tables, with plenty of room to pass behind (great for bathroom breaks, but no room for strollers). There are only about four to six rows, so every seat is a good one. Note that children under 3 don't need tickets, but they also must sit on your lap and eat from your plate.
Very soon after sitting, we were offered beverages and our first course: delicious tomato bique soup. Word to the wise: there are NO utensils, which actually was a bonus for my boys. They had a blast eating with their hands and sipping soup from the bowl.
The meal also included some crusty garlic bread, roasted chicken, buttered corn on the cob, half a roasted herb potato, and pound cake for dessert. Everything was super yummy and my family loved it, though it should be noted that everyone (kids and adults) receive the same meal, except for vegetarian meals, which can be requested in advance.
RELATED: Best NJ Birthday Party Places for Superheroes and Adventurers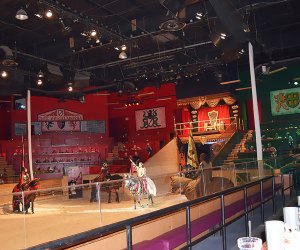 The show is filled with astounding feats of horsemanship and swordplay.
The Show
The show starts with some beautiful displays of horsemanship and games of skill. Horses high step and leap; a real falcon swoops and flies through the audience; and knights hit targets with their jousts—all right in front of you while you eat.
About halfway into the two-hour show, things start heating up with one-on-one battles between knights, who clang their weapons and tumble off their horses as the audience cheers wildly. Everything is very tastfully done. There's no actual gore, and injured knights are escorted away with care. But I will warn you: it's dark, it's loud, and it might be scary for sensitive children. I chose to explain everything in advance to my kids, including that the action is staged and the knights would be okay in the end. It worked like a charm for my kids; their belief was happily suspended during the show, but they understood that anything scary was just pretend.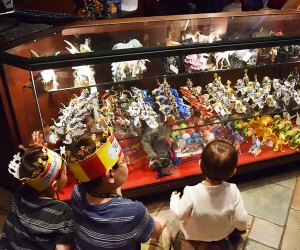 Take a trinket home to remember your day in medieval Spain.
As we left, the kids were already planning a return trip, and I'll be happy to oblige. It's not every day that you can enjoy a trip back in time, plus dinner and a show that kids and adults are equally happy to see.
Unless noted, photos by the author.