Stargazing in NJ: Best Views, Observatories, Astronomy Clubs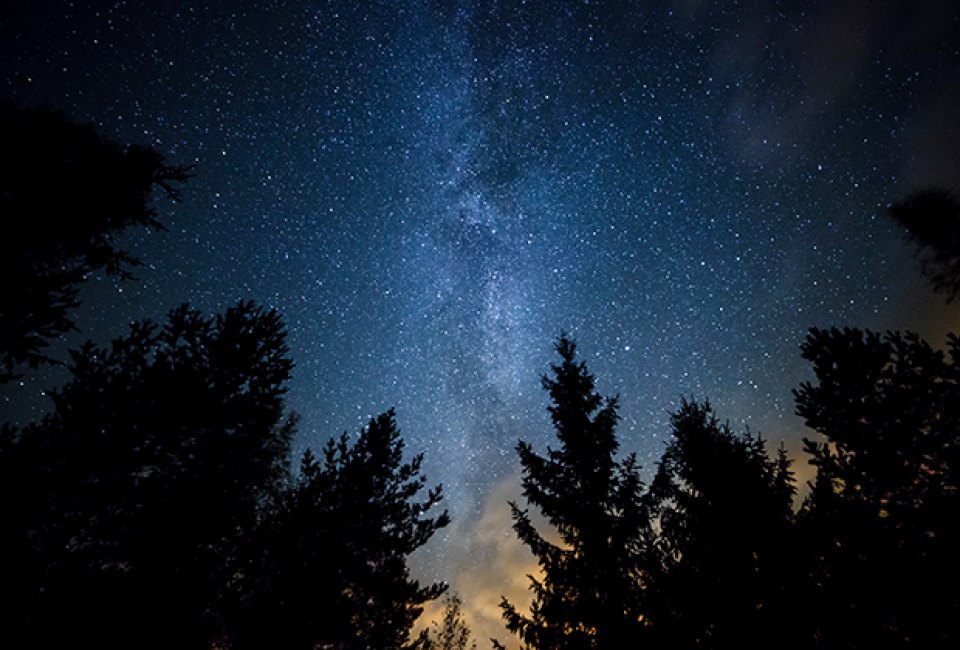 8/19/18
- By
Kaylynn Chiarello Ebner
If you have a little Galileo on your hands, you're in luck: New Jersey is home to a myriad of majestic outdoor stargazing locations, as well as many public observatories and astronomy clubs. Continue your celestial exploration indoors at area planetariums, including those at Liberty Science Center and the Newark Museum.
Happy stargazing, NJ!
Outdoor Stargazing Spots
If your kids are curious about the vastness of the universe but you're not quite ready—or they're not quite old enough—for stargazing beyond the backyard, check out one of the following national or state parks. They might not feel the enormity of the universe, but young skygazers might be awed by the size and scope of the amazing views.
High Point State Park – Sussex
Hike up to the High Point Monument for breathtaking views of New Jersey's farmland and forest. Open 8am–8pm April 1 through October 31 and 8am–4:30pm November 1 through March 31.
Delaware Water Gap National Recreation Area – Columbia
Enjoy beautiful vistas of streams, ridges and mountaintops, as well as a portion of the famous Appalachian Trail at the Watergate Recreation Site.
Allaire State Park (Farmingdale), Bass River State Forest (Tuckerton), Belleplain State Forest (Woodbine), Double Trouble State Park (Bayville), and Wharton State Forest (Hammonton) also offer notable views. Call or check park web sites for seasonal hours of operation and special events since some parks are not open in the evenings during the fall and winter months.
Observatories
When you're ready for some serious stargazing:
3M Observatory – Branchburg
See the skies through the 16-inch Meade telescope, or watch a digital star show at the Raritan Valley Community College Planetarium.
William D. McDowell Observatory at Richard W. DeKorte Park – Lyndhurst
Located at Bergen Community College, this observatory hosts free public programs throughout the year, including a viewing every Wednesday (7:30-10pm). See the full fall 2019 schedule here.
Paul Robinson Observatory at Voorhees State Park – High Bridge
This observatory is home to the largest public telescope in New Jersey. From Memorial Day to end of October, the observatory is open each Saturday evening from 8:30–10:30pm, as well as every Sunday afternoon from 2–5pm. The observatory also offers a Young Astronomers Series geared toward younger stargazers (second or third Saturday of the month, from May through October, 6:30-8pm). Registration is required for this program.
John W. H. Simpson Observatory at Washington Crossing State Park – Titusville
The observatory, operated by the Amateur Astronomy Association of Princeton, is open Friday nights April through October from 8–11pm.
William Miller Sperry Observatory at Union County College – Cranford
The Sperry Observatory, as it's more commonly known, hosts public talks most Friday evenings throughout the year starting at 8:30pm. On these Fridays, the observatory is open from 7:30 to 10:30pm. Presentations for young audiences can be arranged, by request, at 7pm. Special events include Star Parties and the annual Astronomy Day celebration.
United Astronomy Club of New Jersey – Hope
The UAC hosts public programs each Saturday night from April through October from its observatory at Jenny Jump State Forest. Programs start at 8pm and are followed by stargazing / telescope observing until 10:30pm. Many of the programs are accessible to a general audience as well as kids.
Planetariums
Ready for an out-of-this-world view of the skies above? NJ has several permanent planetariums where you can learn about the wonders of the night sky or bop to a laser light show on the dome. Note that unless otherwise specified, most shows are very dark and do not allow for entry/re-entry after the show begins, so plan to arrive early.
Jennifer Chalsty Planetarium – Jersey City
The Liberty Science Center is home to the largest planetarium in the Western hemisphere. In addition to educational shows for older kids on topics like black holes and the solar system, little ones will love One World, One Sky: Big Bird's Adventure, featuring Sesame Street favorites Elmo and Big Bird. Most shows have a running length of 30-45 minutes.
Dreyfuss Planetarium – Newark
With seating for 50 people, the Newark Museum's Dreyfuss Planetarium offers an intimate environment for kids to learn about the stars. The planetarium offers about four different shows weekly.
Edelman Planetarium – Glassboro
Located on the Rowan University campus, the Edelman Planetarium offers live stargazing and an immersive 360-degree video on a digital sky. Sundays at 2pm are often family shows, and look for evening laser light concerts on Fridays and Saturdays.
Fair Lawn High School Planetarium – Fair Lawn
Located in Fair Lawn High School, this planetarium has public shows four times a year and has seating for 30. Future dates include 10/29/19, 1/28/20, 3/31/20, and 5/28/20 with four shows each night.
Longo Planetarium – Randolph
Located at the County College of Morris, this planetarium offers a variety of shows for adults and kids ages four and up. Fall show dates will be announced soon.
New Jersey State Museum Planetarium – Trenton
Catch a show (weekends only) under this state-of-the-art dome, which features about four shows monthly for kids of all ages. Bonus: Celebrate your child's birthday at the planetarium and the birthday child receives a free gift and has his/her name announced before the show. When you call three or more business days in advance, the planetarium will also include a banner on the dome to celebrate.
Robert J. Novins Planetarium – Toms River
With a fiber-optic star projector, this planetarium dome offers an immersive video space that can take the audience from the bottom of the sea to the edge of the universe. In addition to laser light shows and astronomy shows, this Ocean County County planetarium also has events for kids like a monthly PJ party that combines crafts, laser songs, and stories. Parents can also rent out the planetarium for birthday parties.
RVCC Planetarium – Branchburg
This gem, situated on the Raritan Valley Community College campus, is perfect for kids. Every show begins with a live lesson about that night's sky, and moves into the main attraction (an astronomy show or laser light concert). Visit the exhibits and gift counter in the lobby to round out your visit.
Astronomical Societies and Astronomy Clubs
New Jersey is home to several astronomical societies and astronomy clubs, including Morris Museum Astronomical Society (Morristown), West Jersey Astronomical Society (Gloucester City), North Jersey Astronomical Group (Montclair) Astronomical Society of the Toms River Area (Toms River), and South Jersey Astronomy Club (Petersburg). Call or email the groups for more information.
This article first published in 2012 and has been updated since.
Sign up for the Mommy Poppins Newsletter today!
i