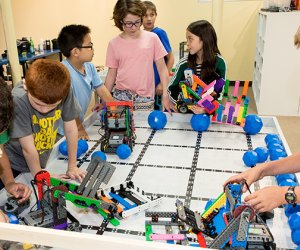 Best STEM Classes for New Jersey Kids
Is your child interested in exploring the "hows," "whys," and "what-ifs" of the world around them? STEM classes can be a wonderful way to foster their curiosity and help them think critically and creatively. We've rounded up 14 STEM enrichment programs in New Jersey that offer instruction in coding, robotics, architecture, engineering, chess, and more.
For more kids' classes, be sure to check out our Guide to Classes and Enrichment Programs for NJ Kids.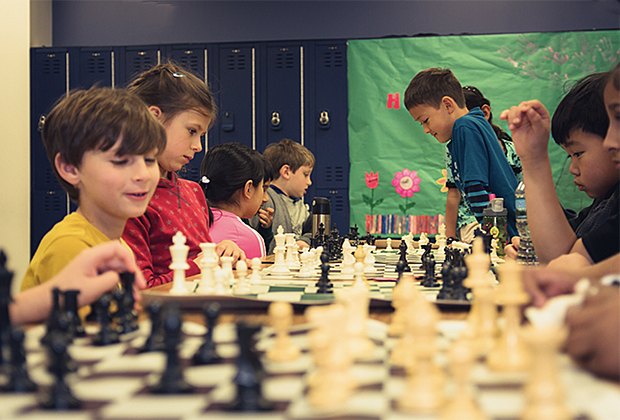 Kids as young as 3 can learn chess at AlphaMinds Academy.
AlphaMinds Academy – Hoboken
Kids as young as 6 can learn coding, engineering, and math/logic at this academy. Chess lessons start at age 4.
Bricks 4 Kids – Statewide
With locations around the state, Bricks 4 Kidz builds a child's confidence in and excitement about math, technology, and architecture. While most classes are based on building with LEGOS, many combine stop motion video and Minecraft for extra enrichment.
Built by Me – East Brunswick
Children can enroll in a classes or a workshop focused on subjects like robotics, digital making, or product design, or join The Maker's Club, where you'll think with your hands to create challenging projects.
The Funplex – East Hanover
The Funplex offers robotics and engineering classes for kids. Each class is separated into three groups based on age—Junior (grade K–2), Apprentice (grade 3–5), and Master (grade 6–8). The weekly sessions take place from September–November.
Genius Gems – Millburn
Kids ages 2–12 can take a variety of classes at this STEM-focused indoor play space, from chemistry and coding to robotics and engineering.
Krubots – Manalapan, Freehold
Starting at ages 4-6, kids will work as a team as they learn about robotics. .
Little Ivy Academy – Ridgewood
Robots and coding are big at Little Ivy! Geared toward kids in pre-K through eighth grade, Little Ivy aims to create curious, lifelong learners through programs in web developing, app and game making, robotics, and more. After-school enrichment labs are held on its Ridgewood campus. You can also set up your own session through the Have Your Own Lab program.
Montclair Learning Center – Montclair
Nurture your child's interest in STEAM with classes in coding, Minecraft, robotics, chess, and more. Bring kids as young as 3 to Little Engineer classes for fun, hands-on learning.
My Tech Learning – Livingston
Choose from a variety of afterschool clubs and classes that are designed to expand the mind like Biotech & Mindtech & Molecular Machines, Design & Product Tech, and Moore's Law School. Intended for grades 1 and up.
RELATED: Best Science Museums Near and Around NJ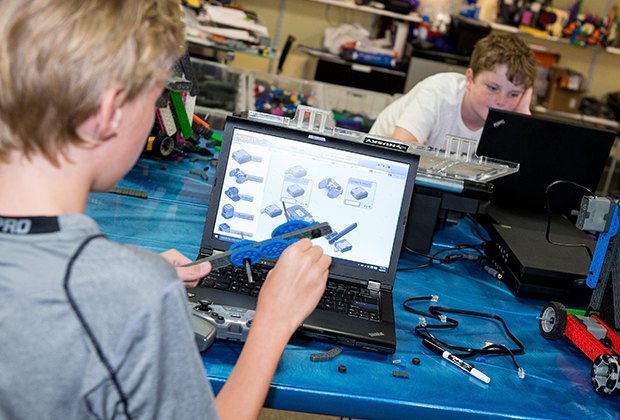 Robot Revolution gets kids geared up for competitive robotics.
The Renaissance Child – Cliffside Park
From Stem and Coding (ages 5-8) to Math and Me (ages 5-10), there are plenty of options at this unique academy, which also offers music, reading, art, clay exploration, and more.
Robot Revolution – Summit
This robotics school has a focus on getting kids involved in competitive robotics. Register kids in VEX IQ (4th–8th grade) or VEX (8th–12th grade). Children will build structures, run experiments, work on their own robot, and more.
Storming Robots – Branchburg
Kids in grades four through 12 can try robotics or computer science at Storming Robots, where year-round engineering education is the focus. Advanced students can try the competition team.
Sylvan Learning Centers – Statewide
Sylvan Learning Centers get kids excited about engineering and robotics with diverse class offerings for those in first grade and up.
4H – Statewide
Check in with you local 4H chapter for STEM offerings. Clubs throughout the state offer robotics and engineering.
Originally published in 2017 and updated regularly. Photos courtesy of the programs