From the Jersey Devil to Lucy the Elephant: 10 Off-the-Beaten-Path Attractions in New Jersey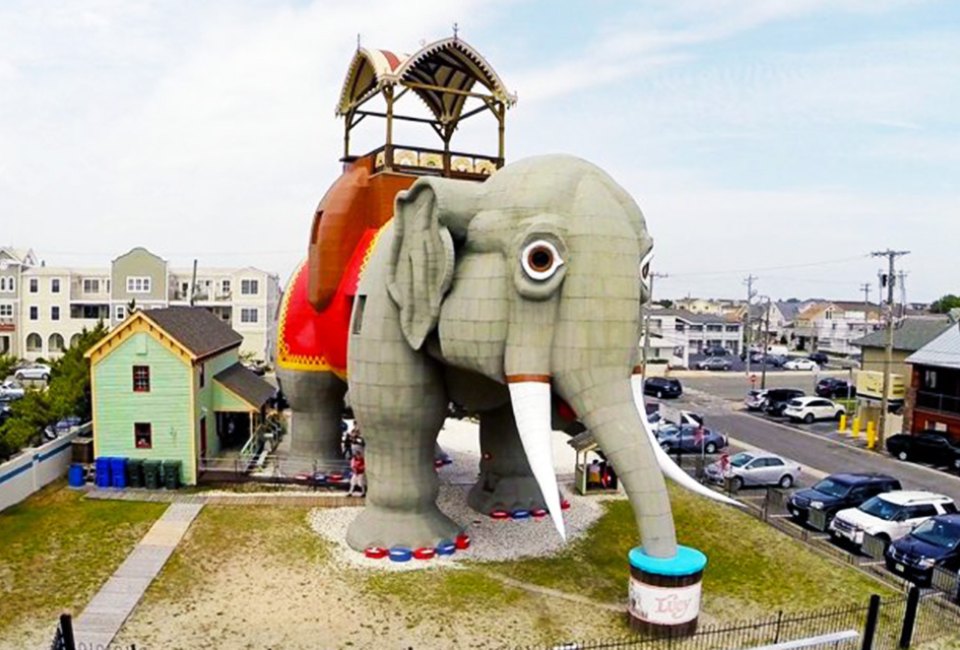 5/17/22
- By
Dawn Miller
If you grew up in the Garden State, you're already familiar with the hotly contested "Taylor ham" versus "pork roll" debate, or the "What exit?" joke. Kidding aside, New Jersey has a lot of well-known assets, including its shoreline, farmland, mountains, the Pine Barrens and, of course, its urban hubs.
There are also a number of lesser-known lures that are worth a visit. Here are some off-the-beaten path attractions in Jersey, from the birthplace of its most illusive and infamous resident, the Jersey Devil, to a giant elephant that used to be a hotel. There's even a museum dedicated to weirdness. What's not to love about that?
If you're looking for other diverting day-trip ideas, check out our guide to New Jersey's best zoos and aquariums or our rundown on the best beaches in the state. And be sure to bookmark our Weekend Trips Guide for things to do with the fam all season long.
Subscribe to our newsletters to get stories like this delivered directly to your inbox.
Yes, there is a giant elephant named Lucy standing 6 stories high right next to the beach. The national historic landmark was built in 1881 and has been many things over the years, including a tavern, office, and a residence. Today, she's open to visitors starting Memorial Day. Stopping by Lucy the Elephant and peeking in the gift shop is always FREE. Tours are conducted during Lucy's operating hours and are highly recommended. Guided tours are FREE for ages two and under, $4 for ages 3-12, and $8.50 for ages 13+. All proceeds from the tour go to keeping Lucy looking her best.

Get fooled by Ripley's Trick Chest and the many other oddities at Ripleys Believe It or Not. Photo courtesy of Ripleys Believe It or Not
Who doesn't enjoy taking a look at a shrunken head or a spider fashioned out of scissors? Located on the boardwalk in Atlantic City, Ripley's is dedicated to oddities from around the globe. The museum opened its doors in the 1990s and welcomes visitors 365 days a year. A newer attraction is its laser maze challenge. Kids four and under are FREE. Tickets are $12.99 for ages 5-12 and $18.99 for 13+. Since Lucy the Elephant and the Ripley's Believe It or Not Museum aren't that far apart, combine the two into a fun afternoon down the shore.
Ocean Grove's legendary Tent City can be found just a few blocks from the beach. The collection of more than 100 tents dates back to 1859. If you want to move into one, there is a decade-long waiting list. Tents are only up from May through September and surround Ocean Grove's famous Grand Auditorium. Each tent sits only about 3 feet from its neighbor and is fully equipped with a bathroom and a kitchen. Tents tend to stay within families and are passed down from generation to generation. It's certainly a unique way to enjoy a Jersey Shore summer and a sight to see when visiting Ocean Grove or nearby Asbury Park.

Luna Parc is an evolving artwork by New Jersey artist Ricky Boscarino. Photo by Ricky Boscarino
Luna Parc is the home of New Jersey artist Ricky Boscarino and an evolving artwork that Boscarino has been creating since the late 1980s. Boscarino's artistic genius is displayed throughout the interior and exterior of the home, as well as on its surrounding grounds. Workshops are conducted at Luna Parc periodically during the year by Boscarino for budding artists, but it is not open for daily tours, and you can't drop by unannounced. Visitors are welcome at various times throughout the year, and if you're interested in a tour, check out Luna Parc's Facebook page or email ricky@lunaparc.com for info on the periodic tours.
Is there life on Mars? Well, there is a monument marking the spot of a Martian landing in Grovers Mill. No, it's not an episode of the "X-Files," but a plaque created by Thomas Jay Warren commemorating an odd moment in American history in which listeners took a radio broadcast by iconic Hollywood director Orson Wells as real. The radio hoax, which made listeners believe Martians had crashed into New Jersey farmland, thrust Grovers Mill into the spotlight. The craziness that ensued cost the town its watermill, which was shot up and destroyed by people who thought it was a Martian. At first, Grovers Mill residents hated the limelight, but they eventually embraced it, and the monument marking the rather bizarre incident was born. Today, visiting the plaque makes for a fun road trip that's not too far from Princeton.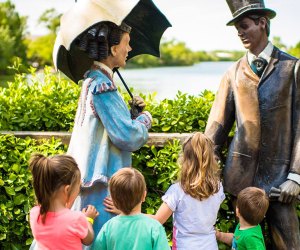 Wander the paths at the Grounds for Sculpture. Photo by DMH Photography
Taking kids to an art museum can be a daunting experience because keeping little ones quiet isn't always easy. However, visiting an outdoor art museum located on 42 acres of beautifully landscaped gardens can be fun for the whole family. The Grounds for Sculpture, which artist and philanthropist Steward Johnson founded on the site of former New Jersey State Fairgrounds, began welcoming visitors in 1992. It is open year-round and features art exhibits and more than 300 outdoor sculptures. Kids will get a kick out of the realistic sculptures, many of which are often mistaken for people on first glance. Plan on being at the Grounds for Sculpture for about three hours. Reservations are required on weekends and can be made online. Tickets for weekdays or weekends can always be purchased online as well. Children 5 and under are FREE. There is a café on site with snacks and drinks, and a separate restaurant on the premises offer a kids menu.

Visit Sunset Beach to see the WWI-era concrete ship. Photo by Jason Black
A ship made out of concrete sounds made up, but in actuality there were 12 concrete ships made near the end of World War I by the Liberty Ship Building Company in Georgia. The ships were mostly used to bring home military troops from Europe following the war. Not surprisingly, the concrete ships proved to be impractical because they weighed too much. The SS Atlantus is the most well-known of the concrete fleet and its wreckage can be viewed from the beach on Cape May Point at the end of Sunset Boulevard. In March 1926, the ship was purchased along with two others to be utilized as ferry docks. A storm hit a few months later and the SS Atlantus broke free from the dock and sunk off the coast of Sunset Beach. The wreckage soon became a tourist attraction, with swimmers often using it as a jumping-off point. After a swimmer drowned while jumping off, the beach was closed to swimming, but it is still a sight to see. After more than 90 years, the ocean has worn down the wreckage, and eventually all of the ship will disappear under the waves. So, this is a road trip to put on the calendar before a piece of New Jersey history vanishes forever. A visit to Sunset Beach to see the wreckage is FREE, as is parking.
Cape May is one of the oldest vacation spots in the state and has a rich history. One piece of the history is a World War II lookout tower that was used during the war to help protect the United States' shoreline. The tower was one of 15 built along the New Jersey and Delaware shores in 1942, when Americans feared a German invasion. Today, it is the only one left standing. Climbing the tower is $8 for adults and $5 for ages 3-12. Active military members and veterans enter FREE, as do kids 2 and under. Volunteers provide visitors with a history lesson on Cape May and World War II. The WW II Lookout Tower is open daily beginning May 1.
If you've grown up in New Jersey, you know the story of the Jersey Devil, which is said to be the 13th child of Deborah Leeds. As the legend goes, the child was born on a stormy night in a part of New Jersey's Pine Barrens now known as Leeds Point. The otherwise healthy child supposedly grew horns and a tail, turning into the devil and killing Deborah Leeds and the midwife. According to local folklore, Deborah Leeds cursed the child before he was even born when she found out she was pregnant again by looking to the heavens and declaring, "Let this one be the devil." The legend of the Jersey Devil has captivated many and the state's NHL team is even named after him. Sightings of the Jersey Devil in and around the Pine Barrens have been rare since the 1980s, but people who live in Leeds Point are said to describe an eeriness in the air, especially during the nighttime hours. Camping in the Pine Barrens in one of the state forests is plentiful and relatively inexpensive if your family loves camping. Skip the Jersey Devil stories by the campfire if your kiddos scare easily. The Oyster Creek Restaurant is a tasty place to stop and grab a bite if you want to venture into Leeds Point without pitching a tent.

Take a tour of the awe-inspiring Rainbow Mining Tunnel,. Photo courtesy of the museum
The legendary Rainbow Tunnel is the most popular exhibit at the Sterling Hill Mining Museum in Ogdensburg. A walking tour of the mining tunnel, which stretches 1,300 feet, features the famous Rainbow Tunnel, where a section of the mine wall glows brightly with reds and greens. The wall is made of zinc ore, which has a fluorescent glow when exposed to ultraviolet light. Kids and adults will enjoy the unique Rainbow Tunnel and the rest of the mine, which also has hands-on discovery centers. The discovery centers are only open during certain times from June through September, so be sure to check the museum's website before heading out.
Sign up for the Mommy Poppins Newsletter today!
i