Ride Back in Time with the Kids at Whippany Railway Museum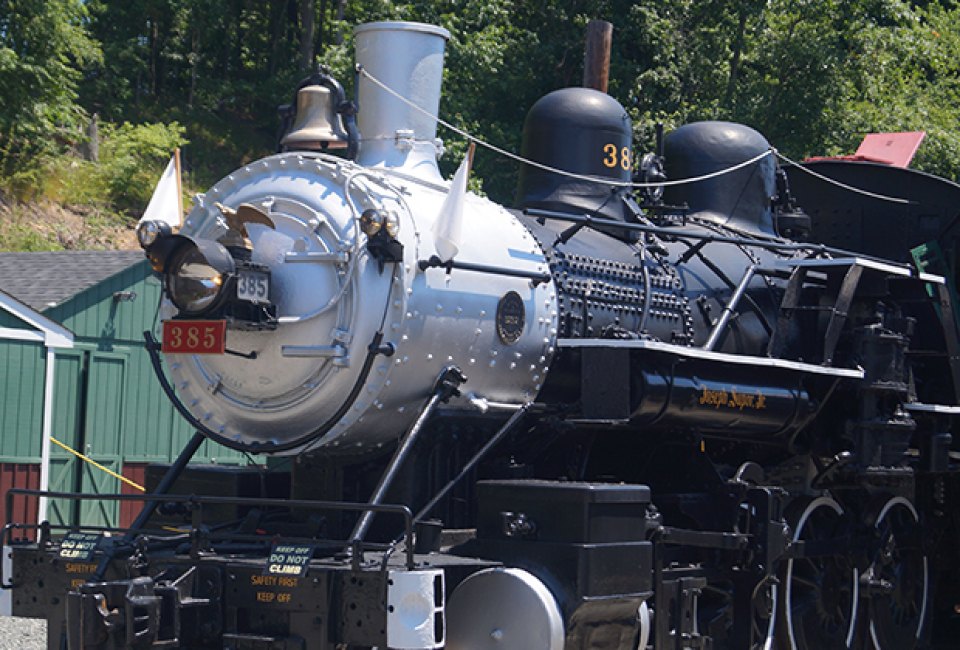 6/30/16
- By
Shari Simpson
For those of you with train-loving kids, an afternoon at Whippany Railway Museum will float their boats (or kick their cabooses, maybe?). We spent Father's Day riding the rails, looking at cool old train stuff in a tiny, wonderfully packed-to-the-gills museum, and generally stepping back in time, sans electronic devices.
Read on for the highlights of our fun day spent in the company of Southern Railway steam locomotive No. 385 and friends.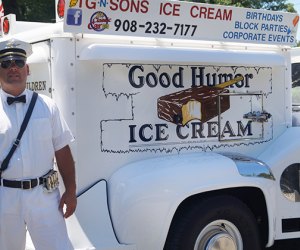 Who wouldn't want an ice cream from this dapper gentleman?

Let me start out by saying that neither my children nor my husband are train folk. They tend to gravitate more toward bad TV and mind-numbing video games—and yet, Whippany Railway won them over. It didn't hurt that the first thing we saw was an old-fashioned Good Humor Ice Cream truck, complete with a dapper, bow-tied gentleman hawking his sweets. And that was just the beginning of what felt like a genuine step into a different world; nearly all the personnel at Whippany were smartly dressed for service, despite the nearly 90-degree weather, including the cheerful, albeit sweaty, Mad Hatter and Alice in Wonderland.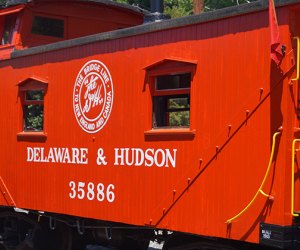 This vintage restored D & H was built in 1913.
We began our visit with an excursion train ride, my kids choosing the bright red Caboose No. 91529. On our 45-minute round trip over the historic Whippanong Trail, we passed some horn-beeping traffic and a factory or two, but for the most part the ride was like nothing my kids had ever experienced before. We sat in the "cupola" (the upper berth of the car, despite my warning that heat rises) and waved out the tiny windows while I had a great conversation with our guide, Charles. Not only did he know everything about the history of our caboose car (built in 1942, retired in 1985, and the extremely hot cupola in which we were sitting was originally used as a lookout for track safety), but seemed to be thrilled to share his knowledge. On the way back, we switched with some other riders and were able to watch the track rushing at us through the open doors of the caboose. My 10-year-old son was mesmerized and didn't want the trip to end (this from a boy who usually has terrible motion sickness and turns green at the sight of any moving vehicle).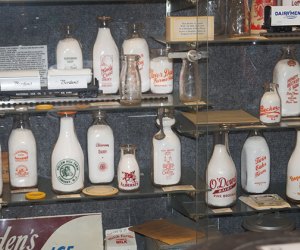 Milk in bottles and delivered by train? My kids said "no way."
After our excursion train ride, we stepped into the tiny and blissfully air-conditioned museum, which has the feel of a well-kept secret: little gems of history everywhere you look. You could spend half an hour just finding all the fun little stores and structures on the big model railroad that takes up most of the main floor. My kids also enjoyed the displays of train bells and whistles, and for some reason, they were really into the milk bottle display; they were fascinated by the thought of milk being delivered by trains! I was more taken with the photography, glimpses into a long-ago world when train travel and merchandise transport were essential to our country.
We had spent all afternoon at Whippany and ran out of steam (yes, I did say that) before we could climb inside the steam locomotive "Old Number 385," but its presence was felt. Huge and hulking, it presides over the yard like an imposing mascot. And from the looks of the line of excited kids waiting, it's a big draw for Whippany and a sight that a true train-lover won't forget.
The Whippany Railway Museum is open to the public on Sundays from April through October from 12pm to 4pm with the happy price of $1 for adults and 50 cents for children under 12. Excursion trains run on five days in the spring and fall at 1pm, 2pm and 3pm, including the Easter Bunny Express and Pumpkin Festival trains. Unfortunately, it will not be running its Santa Claus Special train this holiday season. Find prices for excursion train rides here. Please note that there are no restrooms on site and no running water. There are chemical toilets with hand sanitizers. A picnic area is available outside.
All photos by the author.
Places featured in this article:
Sign up for the Mommy Poppins Newsletter today!