The Philadelphia Zoo is All Aglow for LumiNature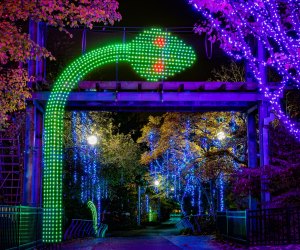 LumiNature is back, transforming the Philadelphia Zoo into a winter wonderland decked with more than a million twinkling lights. While you won't see too many live animals out and about (it's past their bedtime), the light shows and displays celebrate the magic of wildlife and nature, from a mesmerizing African safari light projection to the new Penguin Prismatic spectacle that's loaded with love for Philly.
Here's everything you need to know about this Mommy Poppins Philadelphia holiday favorite. Don't forget to browse our Holiday Activities Guide for more ways to make this season festive for your family.

Grab some cocoa and bask in the glow at LumiNature.
Highlights at LumiNature at the Philadelphia Zoo
There's plenty of glow to bask in before you even pass through zoo admission--you can even spot some sparkle while in traffic on 76! But the spectacle really begins at Impala Fountain, where the zoo's mini SEPTA train has been relocated for the season to the delight of my kids who couldn't wait to hop aboard. Train tickets are $4, and the ride conveniently loops around next to a host of warm concessions. It's a perfect place to grab some hot chocolate to keep you cozy on the rest of your journey.
Around the bend is the brand new Penguin Prismatic show, where you'll find a 40-foot-tall penguin perched above Bird Lake with lights and projections synchronized with music and imagery. The show is also a love letter to Philly, with cameos by Rocky and the Liberty Bell set to, of course, Elton's Philadelphia Freedom. Our little penguins loved waddling...err dancing...to the music while the big penguin in the distance showed off its twinkly tricks.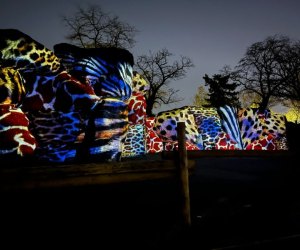 Twilight Savanna
Also new in 2022 is Twilight Savanna, a massive projection show inspired by an African safari. Though the real giraffes were away for the night, our kids delighted in watching the moving images of animals exploring the savanna and the stunning patterns and textures of animal hides.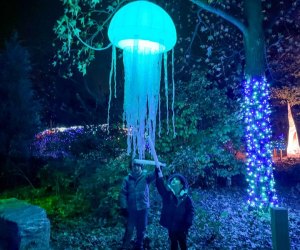 'Tis the SEAson
We enjoy a good play on words and 'Tis the SEAson did not disappoint. The trees in this ocean-themed display are adorned with glowing jellyfish, and the ultraviolet coral reef and magical rainbow light tunnel made this a memorable one.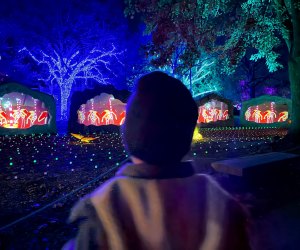 Animale Fantasia
Other highlights include the famous pink flamingo tree that's become a Philadelphia Zoo holiday staple, this year surrounded by bean bag chairs that offer a perfect kid-friendly break. The 15-foot-tall gorilla made of car parts was another crowd favorite, as was the Animale Fantasia finale, with movie projections and choreographed lights that had everyone spellbound.
Fire pits fit for s'mores
Food and snacks are available throughout the zoo, including s'mores kits for purchase at a fire pit garden. Another food option is Bites under the Lights, where you can dine by a magical forest of string lights again synchronized to music (what is it about lights synced with music that's so satisfying!). Hot chocolate and cider, both of the grown-up and kid variety, are also for sale throughout the event.
When is LumiNature 2022 at the Philadelphia Zoo?
LumiNature begins on Thursday, November 17 and runs through Saturday, January 7, from 5pm to 9pm--and it's worth pushing back your kiddos' bedtimes. Admission price depends on your visit date, with adult tickets (ages 12+) ranging from $25 to $28, and kids' tickets (ages 2-11) priced at $20 to $23. Kids 2 and under are free, and members receive discounted tickets. All tickets are timed and must be pre-purchased.
All photos by author Liz Baill @creativishmom unless otherwise noted.