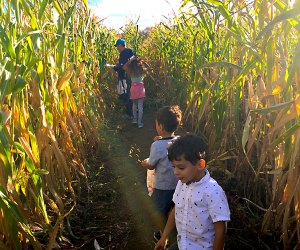 Best Corn Mazes for Kids in Westchester and the Hudson Valley
Get ready to get lost in a fantastic corn maze at a family-friendly farm in Westchester and the Hudson Valley. In addition to corn mazes, the farms on this list offer other fall activities, including apple picking, hayrides, and more—so you can make it a day filled with fall fun.
For more seasonal ideas, bookmark our Fall Fun Guide, and be sure to check out our Event Calendar.
Corn Mazes in Westchester, Orange, and Dutchess Counties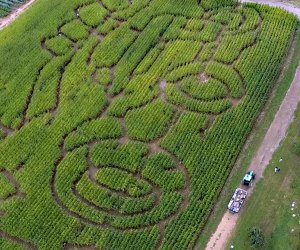 Come jump on the hayride and take a trip through the corn maze at Outhouse Orchards.
2020 update: Outhouse Orchards' corn maze is open. Weekend visits require reservations, which can be booked online.
Fall fun at Outhouse Orchards includes pick-your-own apples and pumpkins, hayrides, and a corn maze.
OUR LATEST VIDEOS
2020 update: Get lost in the drive-in theater themed 5-acre corn maze at Barton Orchards. The maze is open on festival weekends.
Barton Orchards is known for its elaborate mazes. There are numerous weekend events throughout the season, and you'll find live music, as well as apple and pumpkin picking, pedal karts, games, gigantic slides, barnyard animals, hayrides, and other activities—including the Tree Top Adventure Course. Parents can visit the tap room to sample a local craft beer or hard cider.
2020 update: Kesicke Farms hosts Fall Festivals every weekend from Saturday, September 26, through Sunday, November 1.
In addition to the 5-acre corn maze, it also has wagon and hayrides, pumpkin picking, and a petting zoo. Beware: The farm is cash-only, so plan accordingly; there is an ATM on-site.
RELATED: 11 Pumpkin Patches in Westchester and the Hudson Valley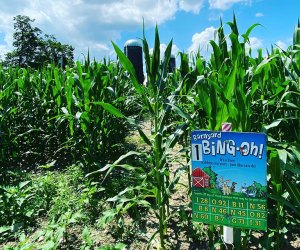 Make your way through the 5-acre corn maze at Wright Family Farm.
2020 update: A pair of 5-acre corn mazes await at Wright Family Farm, and both are open Thursdays-Sundays, plus Columbus Day.
Get the whole fall fun package at the Wright Family Farm. Wander through two 5-acre corn mazes, and while you're there, you can visit the friendly farm animals in the barnyard, race rubber ducks, glide down the tube slide, ride the cow train, play in the hamster wheel, and enjoy more fall fun. Pumpkin picking is also on tap. Save money by purchasing tickets online in advance.
Corn Mazes in Ulster County
2020 update: A drive-thru experience has replaced the haunted hayrides for this season. The corn maze still operates as a walk-thru experience.
As its moniker indicates, Headless Horseman features attractions for those extra-brave, horror-loving souls. Dare to Ride the Hoseman's Trail is the attraction's drive-thru experience for the 2020 season. The maze is themed Evil Reaping. Two Saturdays, October 10 and 24, 2020, are dedicated to the kids, however, with daytime festivities and a toned-down scare level. Friendly characters fill the drive-thru experience, and kids can play I-spy along the route. The maze is also open, and there are more family-friendly surprises to explore. Tickets can be booked online in advance.
RELATED: Where To Go Apple Picking with Kids in Westchester and the Hudson Valley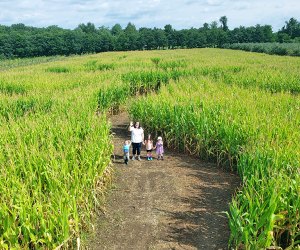 A corn maze, pumpkins, and hayrides make Hurd's Family Farm a perfect fall outing for toddlers and preschoolers.
2020 update: The Hurd's Family Farm corn maze is open for the season and welcoming guests Wednesdays through Sundays. Guests may enjoy farm fun activities during one of two activity sessions on the weekends, and wristbands must be purchased online in advance.
The corn maze at Hurd's Family Farm is just 2 acres, making it the smallest on the list—and perfect for toddlers and preschoolers. While you're there, you can also ride the cow train or hayride, check out the Wild Apple Obstacle Course, and enjoy lots of other activities. A flat fee covers most activities, and there is a discount on weekdays. Kids under 3 are FREE.
2020 update: The maze is open at Saunderskill Farms.
Head to this farm on Saturdays and Sundays in October, where families can have a go at the corn maze—for FREE! There's also pumpkin and apple picking, and hayrides, as well as other fun events. Open every day except Monday.
RELATED: Halloween and Fall Train Rides in New Jersey and Pennsylvania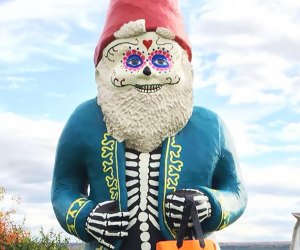 Even the giant gnome dresses up for Halloween at Kelder's Farm.
2020 update: The corn maze is open. Entry to the farm requires timed-entry tickets, which can be booked online.
With rows and paths winding through the maze, kids will love trying their hand at getting through the whole thing—without having to stop at the provided lookout-points. The farm also has fruit picking, a petting zoo, and even mini-golf—not to mention the biggest garden gnome you've ever seen.
Corn Mazes in Columbia County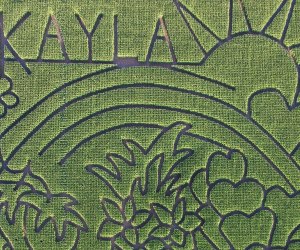 The maze at Samascott's honors the memory of a beloved family member.
2020 update: Samascott's Garden Market's 7-acre maze is open for the season and dedicated to the memory of Kayla Samascott Wilson, who lost her battle with cancer in February.
In the maze, there are hidden "stations," and families who find all eight stations inside the maze are treated to free rainbow sprinkles–Kayla's favorite!—on their ice cream. The maze is open every day from 11am to 4pm. The maze is located at the Garden Market, but there's also an orchard. Tickets for the corn maze are $8, with kids under 4 FREE. Other activities are priced separately.
For even more corn mazes, check out our list of mazes that are within two hours of Manhattan.
This post, originally published in 2016, has since been updated.
Photos courtesy of the farms.