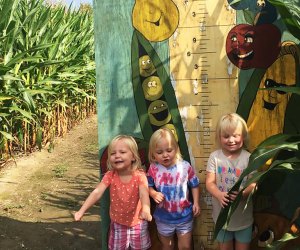 Best Corn Mazes for Kids in Westchester and the Hudson Valley
Get ready to get lost in an amazing corn maze at family-friendly farms in Westchester and the Hudson Valley. In addition to corn mazes, the farms on this list offer other fall activities, including apple picking, hayrides, and more—so you can make it a day filled with fall fun.
For even more ideas, be sure to check out our Event Calendar and follow us on Facebook.
Corn Mazes in Westchester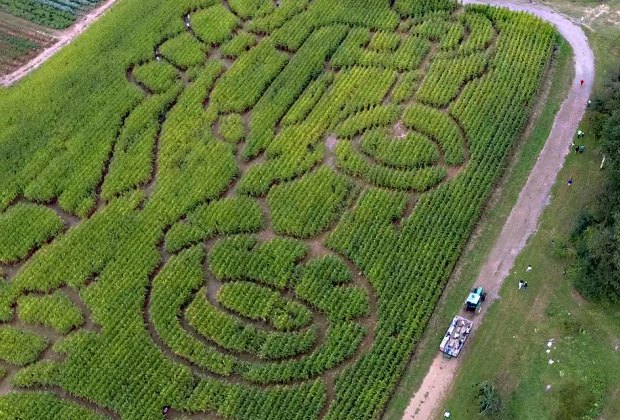 Come jump on the hayride and take a trip through the corn maze at Outhouse Orchards.
Outhouse Orchards – North Salem
Fall fun at Outhouse Orchards includes pick-your-own apples and pumpkins, hayrides, and a corn maze. The maze has a fun educational twist, too: A map will help guide families, plus discover hidden clues, figure out the puzzle—and find out more about apples along the way.
Corn Mazes in Orange County
Related: Fall Day Trips for Westchester Families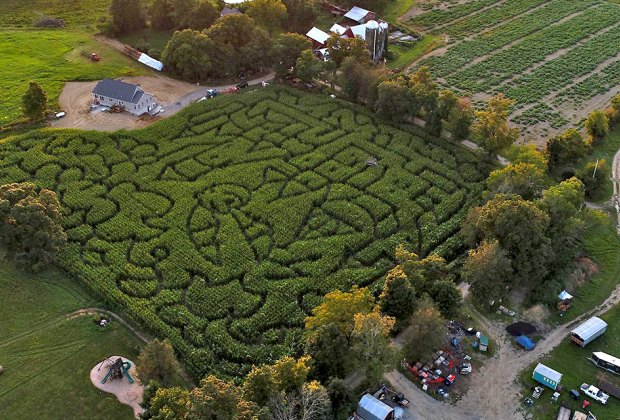 Make your way through the five-acre corn maze at Wright Family Farm.
Wright Family Farm – Warwick
Get the whole fall fun package at the Wright Family Farm. Wander through five acres of a corn maze, and while you're there you can play in the corn box, pick pumpkins, drive pedal karts, ride the cow train, slide down the tube slide, or ride a pony. The maze stays open until 9pm on September 27 and October 25, 2019, for some moonlight wandering. Corn maze tickets are $12 (kids under 2 are free), and include access to most of the other activities, except pony rides. The maze is open through October 27. Save time (and money!) by purchasing tickets online.
Corn Mazes in Dutchess County
Barton Orchards – Poughquag
Barton Orchards is known for its elaborate mazes, and this year's theme: "Tree Top Adventures." There are numerous weekend events throughout the season, and you'll find live music, as well as a haunted house, apple and pumpkin picking, pedal karts, games, gigantic slides, inflatables, a mini train, and other activities—including the new Tree Top Adventure courses. Open daily.
Kesicke Farm – Rhinebeck
​Kesicke Farm holds fall festivals every weekend from Saturday, September 14 to Sunday, October 27, 2019. It's also open on Columbus Day. In addition to the five-acre corn maze, it also has wagon and hayrides, pumpkin picking, and a petting zoo.
Corn Mazes in Ulster County
Headless Horseman Hayrides and Haunted Houses – Ulster Park
As its moniker indicates, Headless Horseman features attractions for those extra-brave, horror-loving souls. The Evil Reaping: Dark Harvest Corn Maze at Headless Horseman is recommended for ages 13 and older, and kids 8 and younger are strictly prohibited. Headless Horseman does hold a "Children's Day" on two Saturdays: October 12 and 26 from 11:30am to 3pm. Billed as Horror Lite, the event includes face painting, games, and other family-friendly activities. The site opens on Saturday, September 21, and is then open on Fridays and Saturdays in September, and then all weekend in October, plus Thursday, October 24, Thursday, the 31st and the first weekend of November.
RELATED: Where To Go Apple Picking with Kids in Westchester and the Hudson Valley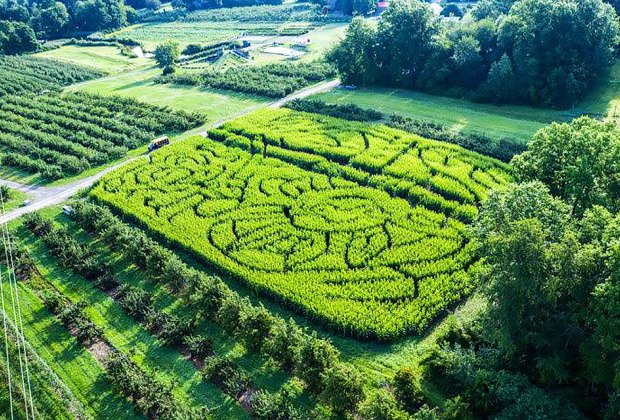 A corn maze, pumpkins, and hayrides make Hurd's Family Farm a perfect fall outing for toddlers and preschoolers.
Hurd's Family Farm – Modena
The corn maze at Hurd's Family Farm is just two acres, making it the smallest on the list—and perfect for toddlers and preschoolers. (There's also a "Mini ABC Corn Maze.") While you're there, you can also ride the cow train or hayride, drive pedal carts, bounce on the Big Apple air pillow, check out the new Wild Apple Obstacle Course and enjoy lots of other activities. A flat fee covers most activities, and there is a discount on weekdays. Kids under 3 are FREE (though you'll have to buy a VIP wristband). Open daily.
RELATED: Family-Friendly Fall Festivals in Westchester and the Hudson Valley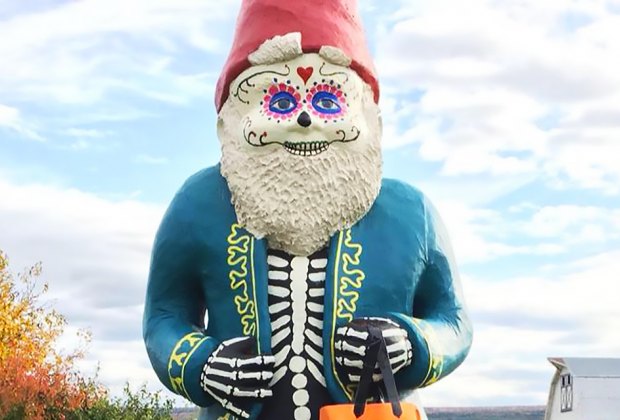 Even the giant gnome dresses up for Halloween at Kelder's Farm.
Kelder's Farm – Kerhonkson
With rows and paths winding through the maze, kids will love to try their hand at getting through the whole thing—without having to stop at the provided lookout-points. The farm also has fruit picking, a petting zoo, and even mini-golf—not to mention the biggest garden gnome you've ever seen. Open daily.
Saunderskill Farms – Accord
Head to this farm on Saturdays and Sundays in October, where families can have a go at the corn maze—for free! There's also pumpkin and apple picking, and hayrides, as well as events. Open every day except Monday.
Corn Mazes in Columbia County
Samascott Garden Market – Kinderhook
The theme of this year's corn maze is Celebrating Nine Pin Cider—named in honor Nine Pin Cider's hard cider, which is made with Samascott's apple cider. In the maze, there are hidden "stations" and if you find them all, you'll get free soft serve ice cream. The maze is open every day from 11am to 5pm. The maze is located at the Garden Market, but there's also an orchard. Tickets for the corn maze are $7, with kids under 4 free. Other activities are priced separately.
For even more corn mazes, check out our list of mazes that are within two hours of Manhattan.
This originally posted in 2016 and has been updated since.
Photos courtesy of the farms.