Drive-In Movie Theaters in and around Westchester for Outdoor Movie Nights With Kids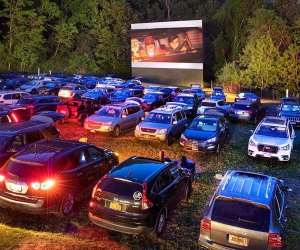 What better way to enjoy a warm summer evening than by watching a movie under the stars? Whether you're looking for a romantic date night or an evening of family fun, pack up your folding chairs and picnic blankets or gear up to simply relax in the comfort of your car. For active kids who can't sit through a whole movie, the drive-in theater allows them to play without the worry that they'll disrupt a quiet theater.
While many drive-in movie theaters of yore shuttered a long time ago, there are still numerous Westchester and Hudson Valley options that provide family-friendly entertainment all season. Most offer double features, with titles changing frequently, and some drive-ins have multiple screens running simultaneously. One theater on our list even offers overnight camping if you really want to make a night of it.
Below we've rounded up drive-in theaters in Westchester and the Hudson Valley, plus some nearby locations in Connecticut and New York City. Keep a close watch on listings, as show times and titles are generally updated weekly.