Drive-In Movie Theaters in Westchester and the Hudson Valley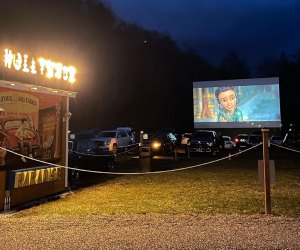 Nothing says nostalgia like an old-fashioned drive-in movie. Top it off with a burger and a shake, and you've got yourself some classic, throwback fun. While most drive-in movie theaters of yore are long-shuttered, there are numerous Westchester and Hudson Valley options providing family-friendly entertainment all season. Most offer double features, with titles changing frequently, and some drive-ins have multiple screens running simultaneously. One theater on our list even offers overnight camping!
In the era of COVID-19, drive-in movie theaters offer exceptional safety, with social distancing practically built-in. Most theaters provide common areas like snack bars and restrooms but expect rules to minimize congestion and bring a mask to wear when you step away from your car.
Below we've rounded up drive-in theaters in Westchester and the Hudson Valley, plus some nearby locations in Connecticut and New York City. Keep a close watch on these listings, as showtimes and titles are generally updated weekly. Be sure to bookmark our Event Calendar for pop-up drive-in movie events nearby, too.