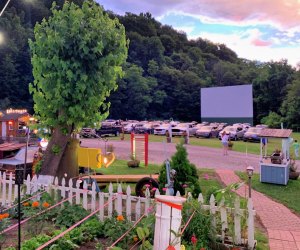 Drive-in Movie Theaters in Westchester and the Hudson Valley for Summer 2020
Drive-in movie theaters have long been a favorite, nostalgic summer pastime in Westchester and the Hudson Valley, and it seems the rest of the tri-state area is catching on to this retro-inspired fun. We'll chalk it up as a silver lining to this pandemic. Ticket sales are reportedly up at most of the nation's (freshly reopened) drive-in movie theaters, and pop-up locations are springing to life in non-traditional locations, including New York City. Whether you were a regular at the area's drive-in movie theaters before, watching a movie in your car may be the only way to safely go to the movies this summer.
Be sure to bookmark this page, as we'll keep updating it as more pop-up drive-in movies are added. We're also continually updating our calendar as Westchester marches on through Phase 4 of reopening. Find plenty of summer-inspired fur for Westchester kids in our Summer Fun Guide, and make sure you stock up on these kid-friendly face masks for all your summer adventures.