Best Carousel Rides in the Los Angeles Area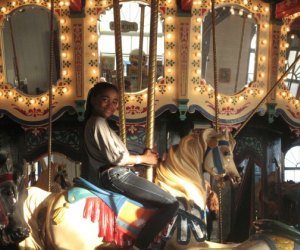 And the seasons, they go 'round and 'round, and the painted ponies go up and down... Your children can travel back in time to a simpler day on one of five SoCal carousels. Some of the carousels below have a long history (like the one at Santa Monica Pier); some are great indoor activities for rainy days, and some even work as birthday party venues. What they all do equally well is put smiles on faces.
Santa Monica Pier Carousel
100 Santa Monica Pier
Santa Monica, CA 90401
The century-old Santa Monica Pier Carousel is a National Historic Landmark created by Charles Looff, with 44 original horses restored to their 1922 vintage glory. The soda fountain in the corner is also a treat worth experiencing.
Mon, Wed, Thu 11:00AM-7:00PM; Fri-Sun 11:00AM-9:00PM; Tue closed
Tickets $1; small children accompanied by an adult 50¢
Griffith Park Merry-Go-Round
4730 Crystal Springs Drive
Los Angeles, CA 90027
All 68 horses on the Griffith Park Merry-Go-Round have up-and-down action, and they've been leaping in circles in the city park since 1937. The military band organ is mighty impressive, with more than a thousand songs. Walt Disney used to spend down time here and is said to have dreamed up Disneyland while riding on its bench. This is also the fastest carousel in the LA area.
Sat, Sun, holidays, and summers 11am-5pm, Saturdays, Sundays and school holidays.
Tickets $1
Westfield Topanga Mall Carousel
6600 Topanga Canyon Blvd.
Canoga Park, CA 91303
The mall's unusual double-decker carousel is located indoors, on the first floor in front of the Target store.
Mon-Sat 10:00AM to 9:00PM; Sun 11:00AM-6:00PM
Tickets $3; accompanying adults free
Encino Place Carousel
16101 Ventura Blvd.
Encino, CA 91436
Tickets for the outdoor carousel at Encino Place are available at Karen's Toys. We recommend calling in advance, since hours can change without notice.
Mon-Sat 11:00AM-6:00PM
Tickets $2
South Coast Plaza Carousels
3333 Bristol Street
Costa Mesa, CA 92626
The second largest mall in the country has not just one but two carousels on the first floor, one in the aptly named Carousel Court. Check out the decorations at holiday times.

Mon-Fri 10:00AM-9:00PM; Sat 10:00AM-8:00PM; Sun 11:00AM-6:30PM
Tickets $2
Originally published August 29, 2011