Santa Anita Park Spring Carnival
Santa Anita Park

KidStock
Pretend City Children's Museum

Online Robotics Camp
Young Gates - Kids Online Personalized Classes
Sign up for our free newsletters.
7 Best Train Ride Day Trips To Take from Los Angeles
9/20/20
- By
Brian Steele
One of the best parts about living in Los Angeles is getting out of Los Angeles. With an unending supply of beaches, mountains, deserts, and historic highways just a short distance away from the city, there's always an excuse for a day trip. But what are the options if you're looking to leave cars out of the equation and travel by train to your favorite SoCal destination? Here are a few of the best spots Angelenos can get to easily by rail and still be home by bedtime.
Please remember to wear masks on the train and observe social distancing safety measures throughout the journey.
Anaheim/Disneyland
While 2020 may not be the year to visit Disneyland, Anaheim is still worth an outing. The Amtrak Surfliner can make a nice day trip of it, and Downtown Disney is still a good destination. While in the area, non-Disney options include skateboarding at Vans skatepark, taking flight at a SwingIt Trapeze lesson, and wandering through the reopened Bowers Museum. And because Anaheim's so close, you can still be home in time to watch a little Disney Channel before bed.
Train: Amtrak
Travel Time: 45 minutes each way
Oceanside
Looking for a little beach life away from the crowds of LA beaches? A seaside town full of SoCal charm, Oceanside makes it easy to make a day of it, whether you want to hit the beach or not. Take a stroll through the picturesque Harbor Village, take in the California Surf Museum, rent a bike right on the beach, or do a little whale watching. Whatever you choose, you'll feel like you've gone to beach bum heaven.
Train: Amtrak
Travel Time: 2 plus hours each way


Breakwater Way Beach in Oceanside. Photo courtesy of Visit Oceanside
San Diego
Our celebrated neighbor to the south San Diego is an ideal quick trip by train. Even better, there are two different day trips to be had there. For a little urban adventure, hop off at the Sante Fe stop near Downtown and enjoy everything from Balboa Park to the USS Midway Museum to the San Diego Zoo. If you're feeling a little adventurous, take the ferry over to Coronado Island, or just stay close to the train station and enjoy the Gaslamp Quarter. San Diego has something for everyone, plus good weather to guarantee you won't get rained out.
Train: Amtrak Pacific Surfliner
Travel Time: 3 hours each way
Palm Springs
Hitting up Palms Springs for the day is a bit of a commitment, but if you dig desert living it's worth the effort. Once you've made the 2 1/2 hour journey, you'll want to be strategic; there are plenty of fun activities to choose from. Check out the local zoo, or take a hike. The Palm Springs Aerial Tramway is temporarily closed, but consider strolling around the city's historic downtown, which is full of cute shops and good food. For your little dino lovers, a trip to the Cabazon Dinosaur Museum will surely make you their favorite parent for a while. If you're looking to extend your quick trip a day or two, there are countless hotels with cool pools the whole family will love.
Train: Amtrak
Travel Time: 2 1/2 hours each way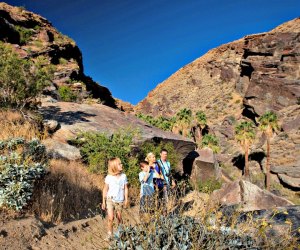 Get out and hike the beautiful Indian Canyons in Palm Springs. Photo courtesy of VisitPalmSprings.com
San Juan Capistrano
Slip back in time with a visit to this historic town and its legendary Mission San Juan Capistrano. This 200-year-old Spanish monument gives the family a chance to learn about their home state in the most hands-on way possible. The quaint town also offers a popular petting zoo that feels a bit like time travel. If you're looking for coastal fun, walk down to Dana Point Harbor, known as the "Whale Capital of the West," and keep your eyes peeled.
Train: Amtrak
Travel Time: An hour plus each way
Santa Barbara
Another classic Surfliner jaunt, the Santa Barbara train ride takes about 2 ½ hours from Union Station, so you'll want to get an early start. Once you hop off, you'll be mere steps away from Paseo Nuevo, the city's historic downtown. Full of restaurants, bars, shops, and shows, this part of the city makes it easy to amble away the day wandering its sunny streets. For the more adventurous, check out Stearns Wharf for some epic seaside views, and stop by the Santa Barbara Shellfish Company for takeout for the freshest seafood above the water. If you're looking for something different, book a sustainable wine tour, or even charter your own yacht. Not bad for a day's work.
Train: Amtrak Pacific Surfliner
Travel Time: 2 1/2 hours each way
Ventura County
The name of the game here is water, so you're going to want to head down to Ventura Harbor Village as soon as you get there. Maybe have a cone at Coastal Cone of ice cream as you stroll.Then it's time to get wet, whether you want to pilot a duffy boat, rent a paddle boat, take a gondola ride or enjoy a bit of maritime history with the Channel Islands Maritime Museum, which will widen the eyes of any miniature shop lovers out there. Few SoCal towns are better at turning the ocean into some serious family fun.
Train: Amtrak Pacific Surfliner
Travel Time: 1 1/2 hours each way