Gated Playgrounds: Westside Parks with Fences for LA Kids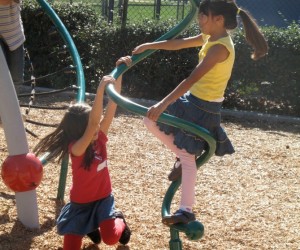 I only have two kids, but at times I've had the likes of four or five. You know the drill: offer to take your friend's kids to the park, and the bodies multiply. Even crazier, all those little legs start running in multiple directions. Gah! Suddenly you're dashing around like a crazy woman wondering whom to rescue first: the kid dangling from the tree branch, or the kid who's booking it to the distant ball field to watch the Little League game? CLINK! "Foul Ball!" Thankfully, there are many area playgrounds with locked gates. (Oh, the peace that comes with children contained!) So, until they learn how to climb the fence, consider bringing your herds to these paddocks, err, parks on the Westside.
Playa Vista Area
Ocean Bluff Park
8005 Ocean Bluff Dr.
Playa del Rey, CA 90045
Free street parking
If you're looking for a quintessential neighborhood playground, look no further. This quaint little play space is practically surrounded by lovely homes, as if it's a back yard to them all. All roads (in the area) seem to lead to it. Picnic and partial shade are available under a pergola. No restrooms are available.

Playa Vista Sports Park
Playa Vista Dr. & West Bluff Creek Dr.
Playa Vista, CA 90094
Free lot and street parking
This being a Shane's Inspiration playground, kids of all abilities and capabilities can play here. And beyond the gate, kids can enjoy the park's other amenities, like a state-of-the-art soccer field, trails that line surrounding wetlands, basketball courts, picnic tables, and (clean!) restrooms.

Steve Soboroff Court Park
Centinela & West Bluff Creek Dr.
Playa Vista, CA 90094
Free parking in lot off West Bluff Creek Drive
Located just behind the LA Clippers Training Facility, this park is truly a hidden gem. The enclosed playground offers slides and spinning and climbing features, as well as a small grassy hill for somersaulting. Outside the gates, enjoy picnic tables, basketball courts, and a tennis court, all tucked in beside a bluff complete with wild bunny rabbits and native birds. Also comes with bathrooms and a drinking fountain.

Santa Monica

Airport Park
3201 Airport Ave.
Santa Monica, CA 90405
Free 3 hour parking in adjoining lot
If your little tykes like airplanes, have a peek at them taking off and landing at Santa Monica Airport while playing at Airport Park. Climbing structures and swings entertain within the gates, and a nearby dog park, picnic tables, and barbecue grills lie beyond the fence. Restrooms are available.

Christine Emerson Reed Park (Reed Park)
1133 7th St.
Santa Monica, CA 90407
Metered street parking
Just steps from Wilshire and a few blocks from the Promenade, Reed Park is a well situated little play space. Within the gates, the playground is divided into two areas - for toddlers and older kids. The toddler area has a water table that could make a towel worth bringing on a chilly day. Restrooms are available.

Douglas Park
1155 Chelsea Ave.
Santa Monica, CA 90403
Free and metered parking
Not only is there ample play space here (enclosed), a whole host of opportunities also exist beyond the fence: ducks paddling in a little "pond", trees, tennis courts, lawn ball, and a large concrete skate area. Be aware that the fenced-in area is quite large, and families are not always careful about closing the gate.

Joslyn Park
633 Kensington Rd.
Santa Monica, CA 90405
Free street and lot parking
We used to call this "Flower Park" for the decorative flowers that dot the fence. But more inviting than the flowers is the enclosed play structures and sand. Opportunities abound! But bring a jacket; the offshore breeze is strong with this one. Beyond the confines of the playground, be sure to have a peek at the Herb Katz Dog Park, a popular romping ground for area hounds.

Del Rey

Glen Alla Park
461 Alla Rd.
Los Angeles, CA 90292
310.396.1615
Free street parking
Newly renovated, this park is simply fabulous. Run, climb, slide, swing, even roll down a hill built just for rolling. With a nearby dog park, and mature trees with large low branches perfect for climbing, this park may truly have it all. Check out the Friday Del Rey Farmers Market as well.

West Los Angeles

Irving Schachter Park
2599 Beverwil Dr.
Los Angeles, CA 90064
Free street parking
Tucked away is an understatement, unless you live in this lovely neighborhood. Quiet and secluded, this little park has you sighing into relaxation before you even enter its little gate. Shade and picnic tables are available, but unfortunately there are no restrooms.