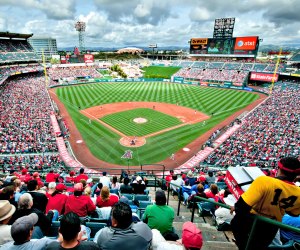 12 Things Dads Actually Want To Do for Father's Day in LA
There are lots of ways to celebrate Father's Day around LA, including special occasion meals among sharks, ex-presidents, and the night market masses. The trick is figuring out what the dad at your house really wants. If you want this Father's Day to revolve around something more exciting than a new tie, check out our dozen ideas for dad-friendly, kid-friendly activities that he won't see coming. We guarantee there are some ideas on our list you hadn't thought of.
1. Take Dad out to the Ball Game
Why avoid the obvious? Mom loves brunch, and Dad loves a ball game. The Dodgers are in town and celebrate with Father's Day at Dodger Stadium, letting dads take to the field for Father's Day Catch after the Cubs are soundly thrashed. The Angels are away but that doesn't stop the party: Dad's Day at the Big A is an all-day celebration where Pop can play on the field, swing in the batting cages, and eat plenty of BBQ.
2. Sail the High Seas
Does Dad fancy himself a pirate? Book him on the Father's Appreciation Sunset Sail on a tall ship. The Los Angeles Maritime Institute sails the San Pedro Bay on an authentic tall ship, and Dad can either muck in and help with the riggings or kick back and pop open a beer—his day, his choice.
3. Ziplining
If the man in your family is a bit of a thrill seeker, he might enjoy getting everyone to scream along with him as he flies through the treetops. We know of 9 great places to go ziplining in SoCal.
4. Go Camping
There are wonderful campgrounds near LA. There are even some where you can camp last minute. Not only that, KOA offers its KOA Kids Camp Free special for Father's Day weekend again this year. And some of those KOA campgrounds have extra entertainment for kids!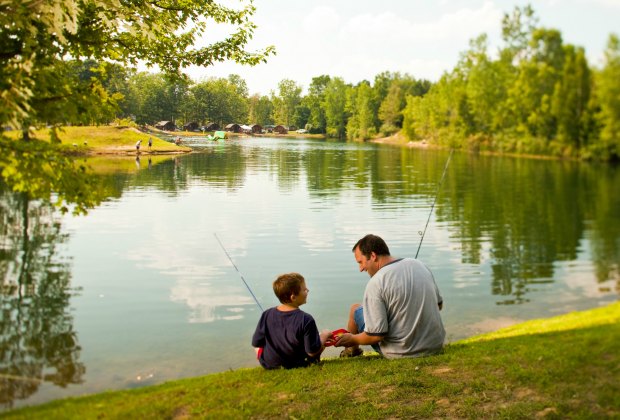 Photo by Jeff Dow courtesy of KOA Kampgrounds of America
5. Rock Out at the Grammy Museum
Your big bad voodoo daddy gets free admission to The GRAMMY Museum on Father's Day. And that spot is a treat for the Mamas and the Papas.
6. Take Him to the Joust
Make Dad feel like King of the Castle at Medieval Times in Buena Park—for free. The Medieval Times Father's Day special offers one full-price adult admission (use code DAD19 at checkout) for Dad between June 3-16. He can eat with his hands and cheer on antiquated WWF in action.
7. Rodeo Drive Concours d'Elegance
You may not be able to buy Dad a vintage Alfa Romeo, but it's free to look. Beverly Hills hosts this world-renowned free event every year on Father's Day. It's a whole lot of automobile eye candy.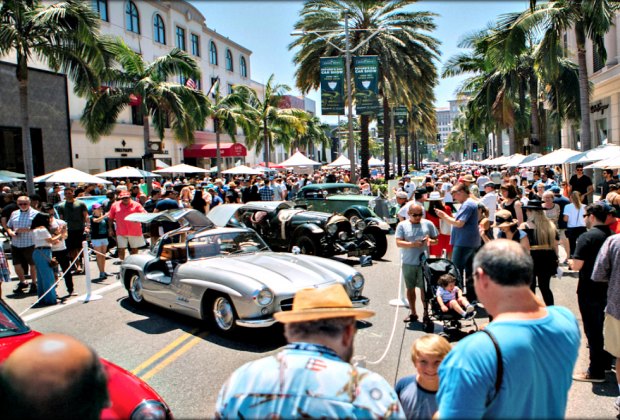 Rodeo Drive Concours D'Elegance. Photo courtesy of the event
8. How about a Kid-friendly Beer Garden?
If what Daddy really loves is knocking back a brewski, how about enjoying one of LA's family-friendly beer gardens? It's the perfect compromise between his old life and his new one.
9. A Winery Weekend
This is nothing to whine about: SoCal has some great family-friendly wineries in Temecula, plus wineries kids can enjoy in Santa Ynez Valley, too. Drive in either direction for a welcome surprise!
10. Brunch at the 94th Aero Squadron
Brunches aren't just for moms. The 94th Aero Squadron restaurant at Van Nuys Airport is a big hit with the right kind of guy, and Father's Day brunch is probably the most popular meal to have there.
11. Throw Papa on the Train
There are the papas who love planes, and the ones who love trains. If yours is the latter, Fillmore and Western Railway has the Father's Day brunch for him, on a vintage locomotive through the countryside.
12. Come Hear Uncle John's Band
If Dad's a deadhead (you know who you are), there might be nothing better than starting the day with a Grateful Dead Father's Day Celebration with Rock 'n' Roll Playhouse. Little ones are kept happy dancing and playing parachute while Dad remembers the good old days of college...