Father's Day in Los Angeles: 25 Fun Things To Do with Dad on Father's Day 2022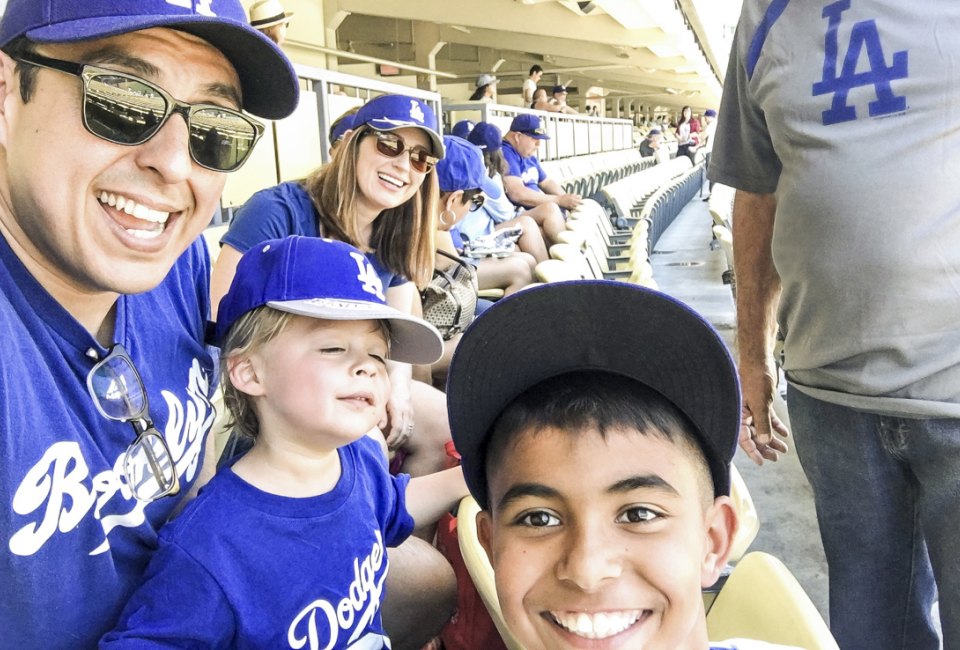 6/5/22
- By
Roberta B
There are loads of things to do on Father's Day in Los Angeles; the trick is figuring out what the dad at your house really wants. It's his day—you want to surprise him with something special and unexpected, like zipping through the treetops, driving his dream car, or indulging in a little tee time. If you want this Father's Day weekend to revolve around something more exciting than a new tie, check out our ideas for dad-friendly and kid-friendly Father's Day activities that he just might not see coming. We guarantee there are some Father's Day events on our list you hadn't thought of (and some you hadn't even heard of!).
To start dad's day with something sweetly homemade, check out our list of 15 Father's Day Crafts and Gifts That Kids Can Make, then keep him laughing all day with some corny dad jokes. However you celebrate, Happy Father's Day from all of us at Mommy Poppins!
Father's Day Events for Sports Loving Dads
1. Take Dad Out To the Ball Game
Why avoid the obvious? Lots of dads really love a great ball game. The Boys in Blue are at home this Father's Day weekend with games on Friday, Saturday, and Sunday.
2. Tee Time!
Maybe your kids aren't quite old enough for a full-fledged round of golf, but The Point in El Segundo is hosting a Father's Day mini golf pop-up the day before Father's Day.
3. Brush Up on Baseball Skills
Sometimes Dad just wants to keep Father's Day low-key and spend time with the kids. What better way to connect than by practicing baseball skills at a local park?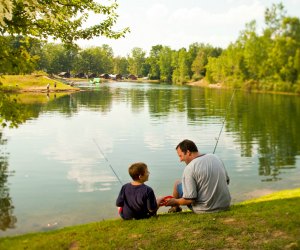 Spend time together (and away from Wi-Fi) when you go camping. Photo by Jeff Dow courtesy of KOA Kampgrounds of America
Father's Day Activities for Outdoorsy Dads
4. High Adventure: Go Ziplining
If the dad in your life is a bit of a thrill-seeker, he might enjoy getting everyone to scream along with him as he flies through the treetops. We know of several great places to go ziplining in SoCal.
5. Go Camping
There are wonderful campgrounds near Los Angeles. There are even some that allow you to book a campsite last minute. Or perhaps your kids will give you a little more time to relax when you stay at one of these campgrounds that have extra entertainment for kids!
6. Explore Area Hiking Trails
Outdoor-loving dads are always up for a great hike. Check out our list of favorite hikes for the whole family – or if you've got a small child in tow, our favorite toddler-friendly hikes and nature walks.
7. Reconnect with Nature
Take your animal-loving dad to Kindred Spirits Care Farm in Chatsworth, which just happens to have open hours on Sundays from 10am-2pm. Popular in Europe, Kindred Spirits is one of only two care farms in the United States. If the dad in your life is an earthy kind of guy, he'll love the chance to connect with the natural world.
RELATED: Best Things To Do in Los Angeles in June

What could be more LA than woodies by the sea? Photo courtesy of the Channel Islands Maritime Museum
Father's Day Events for Gearhead Dads
8. Rodeo Drive Tour d'Elegance
Does dad love cars? If he's a gearhead there's no better Father's Day event than Beverly Hills' iconic Concours d'Elegance. It went through a few changes during the pandemic and while it's mostly back to normal, this year will take elements from last year's Tour d'Elegance (a 50-car parade along Wilshire Boulevard and Beverly Drive) and the classic Concours. There will be a parade again that runs from Beverly Hills City Hall to Rodeo Drive, with cars positioned along the route for public viewing. You may not be able to buy Dad a vintage Alfa Romeo, but it's free to look!
9. See the Real Batmobile at Petersen Automotive Museum
Speaking of gearhead dads, the Petersen Automotive Museum is another great choice for auto-lovers. The museum's current exhibit features movie cars like the Batmobile and the DeLorean from Back to the Future. Just don't be surprised when he starts acting like a 12-year-old again.
10. Get Him in the Passenger's Seat of a Porsche
Simply looking at cars isn't quite enough of a thrill for your car-loving papa? The Porsche Experience Center Los Angeles hosts a Father's Day brunch that adds some adrenaline to his day. Start him off with brunch that includes prime rib, snow crab legs, and more—and then let him get in the passenger's seat of a Porsche for demonstration laps at the Handling Circuit with a Porsche Drive Coach.
11. Head To the Harbor
If you're up for a drive to Oxnard, the Channel Islands Maritime Museum is hosting its free Father's Day Classics By The Sea. The event has vintage boats, classic cars like the iconic Woodie, live music, a maritime treasures sale, and more.
12. Take a Ride in a Classic Car
The Zimmerman Automobile Driving Museum has Father's Day Rides in El Segundo! Dad can get chauffeured around the neighborhood in the passenger seat of a classic car with a knowledgeable driver. Afterward, dad can taste some beers from El Segundo Brewing Company — the beer tasting comes with the price of admission.
13. Cruise Down to Brea
Can you tell that lots of Dads love cars? LA is known for its car culture, so it's no surprise that there are so many car shows to choose from on Father's Day. One of the best is Cruisin' Brea, which as the name suggests, takes place in downtown Brea.
14. Chalk Art and Car Show in Pasadena
One of our family's Father's Day traditions is heading over to the Paseo Colorado in Pasadena for the annual Chalk Festival and car show. The event is free and because it's located right in the heart of Pasadena, there are plenty of dining and drinking options nearby. Speaking of dining...
RELATED: Must-Do Fairs and Festivals Near Los Angeles for Fun in the Sun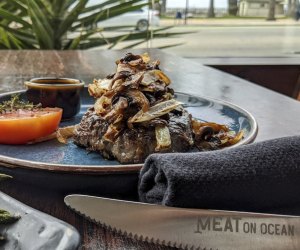 Steak by the shore is another Father's Day classic. Photo courtesy of Meat on Ocean
Dining With Dad on Father's Day
15. Buy Dad a Steak
Dad works hard all year, so encourage him to splurge on Father's Day at one of LA's many upscale steakhouses. From STK in Westwood to The Castaway in Burbank and the appropriately-named Meat on Ocean in Santa Monica, let dad bring out his inner carnivore in style.
16. Dine Outdoors
When June gloom burns off, the days in LA are delightful. Take advantage of some of the most beautiful places to eat in the whole country by taking dad to one of these LA area restaurants with outdoor dining.
17. How About a Kid-Friendly Beer Garden?
If what Daddy really loves is knocking back a brewski, take him to his favorite brewery or beer garden, or find a new favorite with our list of LA's family-friendly beer gardens.
18. A Winery Weekend
This is nothing to whine about: SoCal has some great family-friendly wineries within an easy drive of the city.
Treat Dad to a Unique LA Experience
19. Seek Thrills at Magic Mountain
If art's not really dad's thing, but exhilaration is, then head to Six Flags Magic Mountain. Six Flags is home to dozens of the most thrilling roller coasters in the country, plus has enough attractions that the entire family can find a ride that's just their speed.
20. Rock Out at the Grammy Museum
The Grammy Museum always has unique exhibits that explore the history of music – take your big bad voodoo daddy and get a unique look at the background of artists like Bob Marley, Peggy Lee, and more! This spot is a treat for the Mamas and the Papas.
21. Explore the Santa Monica Pier
Take in the sights, sounds, and smells of the Santa Monica Pier and Pacific Park. If dad's an angler, he can even drop a line into the water!
22. Go To Italy, Er, the Getty Villa
If dad is an art-lover, then take him to the Getty Villa. The gorgeous museum is home to many ancient works of art and has a great outdoor patio for dining on Mediterranean-inspired fare.
RELATED: Dog-Friendly Beaches Near Los Angeles

Relax on a private beach. Photo courtesy of Paradise Cove Beach Cafe
Dads Just Want to Relax
23. Lounge at Malibu's Paradise Cove
Dads love to relax, too! Rent a palapa for the day so you can soak up the sun at Paradise Cove in Malibu.
24. Relax in Town with a Resort Pass
If you don't feel like making the drive out to Malibu, you can always rent a cabana or buy day passes for a relaxing afternoon at a luxury hotel pool. ResortPass offers a variety of hotel day passes at hotels around Los Angeles.
RELATED: Free Outdoor Movies in Los Angeles for the Whole Family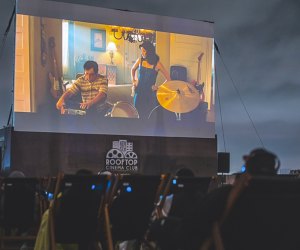 It's a film town after all. Treat dad to a movie! Photo courtesy of the Rooftop Cinema Club in El Segundo
25. Take in a Dad-Themed Drive-in Movie
If dad loves the movies, take in a drive-in movie with Rooftop Cinema Club, which screens movies in El Segundo and DTLA. Choose from a variety of movies that are perfect for Father's Day.
Sign up for the Mommy Poppins Newsletter today!
i