13 Dog-Friendly Beaches Near Los Angeles: Beaches for Babies and Fur Babies, Too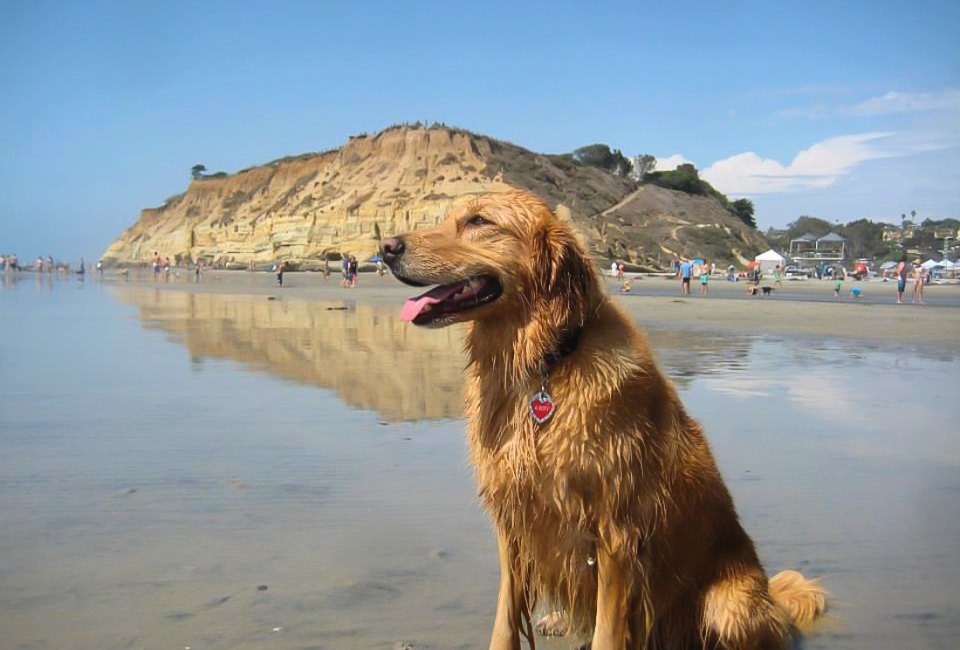 5/15/22
- By
Matt Matasci
While it's easy to find hiking trails that are dog-friendly, or locate a dog park in Los Angeles, finding a dog-friendly beach is a bit more challenging. In fact, several cities—including Los Angeles, Santa Monica, and most of the South Bay—restrict dogs from even walking on the beach. That can make it hard for those of us with dogs to enjoy a day at the beach; once you factor in traffic, you don't have much time by the sea before you have to run home to walk the dog! Luckily, there are a few beaches where your pup can join you on the sand and in the waves, and we've gathered our favorites here.
For more favorite local beaches, including Hidden Gem Beaches Near Los Angeles and the Best Beaches in LA and OC for Families, check out our Ultimate Family Beach Guide for Los Angeles and Orange County.

See dogs galore at Rosie's Dog Beach. Photo by Justin Rudd, courtesy of the Rosie's Dog Beach Facebook page
Dog-Friendly Beaches in Los Angeles and OC
Rosie's Dog Beach is probably the closest off-leash dog beach for most people in the Los Angeles area. Located near Belmont Shore, the beach is well-maintained and has calm waters that are perfect for smaller children to splash around in. After the beach, head to one of the many dog-friendly restaurants along 2nd Street.
Huntington Beach is one of the most popular beaches in Southern California, and part of that popularity is owed to its off-leash dog beach. The waves are much larger than those at Rosie's Dog Beach, so water-loving dogs can leap and dodge the waves. Parking is somewhat limited, so be sure to get there on the early side to beat the crowds.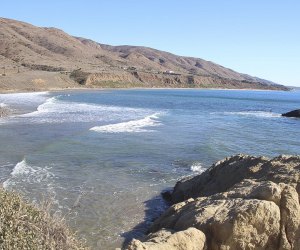 Check out the tide pools and gorgeous expanse of beach at Leo Carrillo State Park. Photo courtesy of parks.ca.gov
For those in the Valley or Westside who aren't up for the trek down to Long Beach or Orange County, there's Leo Carrillo Beach, though it's on-leash only. This is a more primitive beach, with long stretches of empty sand that can often be pretty windswept. While it isn't as developed as other beaches in the area, it feels very private because small bluffs keep the PCH out of sight. When you go to the beach here with your dog, be sure you are north of the third lifeguard tower (which is located at Sequit Point); the beaches south of the tower don't allow dogs.

Just north of Malibu, your pup can play on the beach with you. Thornhill Broome Beach photo by @wescoe23
Dog-Friendly Beaches in Ventura County
Venturing a few miles north from Malibu into Ventura County gives dog owners more beach options. Point Mugu State Park is just a few miles north of Leo Carrillo along PCH and also allows on-leash dogs at Thornhill Broome Beach. If you want to stay for multiple days, you can camp right on the beach; sites are booked almost as fast as they become available, so plan ahead! Unfortunately, other beaches at Point Mugu State Park don't allow dogs, so pay attention to where you wander.
Located in Ventura Harbor, Marina Park Beach allows dogs on leash only. Ventura is well-known for its beautiful beaches and Marina Park Beach is no exception. While it's fairly small, there's a large park behind the beach that offers a grassy place to sit if the beach is too crowded. The park has a pirate ship play structure in case the kids get tired of the waves and sand. Ventura Harbor Village is a short drive down the road and has several kid-friendly dining options.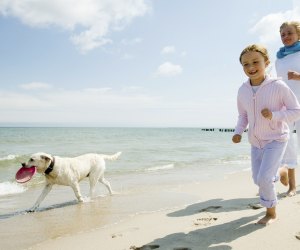 No need to board your dog, when vacation takes you to one of these beaches...
Worth the Drive: Bring Your Dog on a Beach Vacation
Because the dog-friendly beach options in Los Angeles, Orange, and Ventura Counties are limited, you may want to pack up the car for a beach-centric vacation! The good news is that in Santa Barbara and San Diego Counties there are many dog-friendly beaches. So find a great local vacation rental and bring your dog along, knowing they can enjoy the beach with you.
Dog-Friendly Beaches in San Diego County
Located in one of San Diego's most popular beachside neighborhoods, Ocean Beach Dog Beach is one of the first leash-free beaches in the United States. The dog beach is north of Lifeguard Tower 5, separating furry friends from the general beach-going public.
Across the bay from Downtown San Diego is the small city of Coronado. The north end of Coronado Beach allows dogs off leash and is a quieter alternative to the bustling Ocean Beach Dog Beach. One drawback is that parking is limited, though there is street parking in the area.
A little closer to Los Angeles than driving into San Diego proper is the oceanside city of Del Mar. The beaches in this city are dog-friendly, but there are some restrictions. South Beach (6th Street to Powerhouse Park) allows leashed dogs year-round. The Main Beach (Powerhouse Park to 29th Street) allows leashed dogs from the day after Labor Day to June 15th, but no dogs are allowed on the beach from June 16 until Labor Day. North Beach (29th Street to Solana Beach) allows off-leash dogs from the day after Labor Day until June 15th.
Home to Sea World, most parents in Southern California are probably familiar with Mission Bay. The bay is also a great destination for dog-owning families, with Fiesta Island's off-leash dog beach. The entire island is dog-friendly (and horse-friendly!) and they can be off leash.

Shoreline Beach in Santa Barbara is a great day trip or vacation spot. Photo courtesy of santabarbara.com
Dog-Friendly Beaches in Santa Barbara
Shoreline Beach in the city of Santa Barbara allows dogs off-leash east of Arroyo Burro Beach and west of the Staircase. Before you take an impromptu trip up north with your family and pup, be sure to check the tides. Often during high tide, the beach is completely covered with water.
North of Los Angeles is Rincon Park County Beach in Carpinteria. This dog beach is for leashed dogs only and no dogs are allowed east of Rincon Creek, which marks the Ventura County line. In addition to the sandy beach, there are hiking trails where you can walk your dog at the Rincon Bluffs Preserve.
Moving further up the coast to the area between Santa Barbara and Carpinteria is the curiously-named Santa Claus Beach. The beach allows leashed dogs. Despite being small in size, the beach can get pretty crowded, though it's mostly relatively private throughout the year. There's parking on Santa Claus Lane and Padaro Beach Grill has an expansive outdoor dining area that's very dog-friendly—plus the food is delicious!
Summerland, located right next to Montecito, is a pretty swanky part of the Santa Barbara coast, so it's no surprise that its beach has a self-service dog-washing station that charges $10 to clean your pup post-beach. Can't let dirty dogs make a mess of your luxury SUV! Behind the beach is a park with a playground that kids love.
Sign up for the Mommy Poppins Newsletter today!