10 Great Los Angeles Escape Rooms for Kids To Solve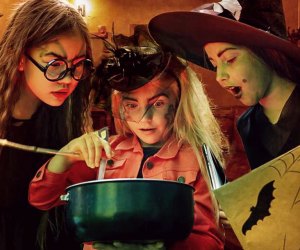 Want your kids to put down the video games? Bring them to one of these cool Los Angeles escape rooms where they can jump into a real-life, puzzle-solving experience. Escape rooms immerse teams of kids or families into all kinds of crazy situations, from solving a murder on the Orient Express to a journey through the city of Atlantis. Each escape room tests kids' ingenuity and ability to explore spaces, find clues, and solve mysteries as a team—all while the clock is ticking.
We've rounded up our favorite escape rooms for kids of all ages that you'll find from the Valley to the South Bay and at all points in between. They're great for birthday parties or even just "I'm bored" days. For more outings that are perfect for birthdays or family fun days, check out our Guide to the Best Sports Centers and Fun Zones in Los Angeles.
Please check with the venues for current COVID-19 safety guidelines and requirements.
Escape Rooms in the Valley and Downtown LA
Ages: Best for ages 14 and up, but kids under 14 can play with an accompanying adult.
Number of players: 4-8, but you can also arrange for teams of 2 or 3
Test your skills in one of three escape rooms: journey through Plato's great city of Atlantis, take a trip to a mental institution under government investigation, or visit a futuristic Los Angeles. If you're with smaller kids, you can opt to have a costumed monitor accompany them. Each room has controlled cameras, and kids are offered clues if they need help advancing in their investigation. The sessions are private, so you will have the whole room to yourselves. Birthday parties are available here, too.

Fantastic decor sets the scene from the moment you arrivce. Photo courtesy of Architect Escape Rooms
Ages: Great for ages 8 and up, but anyone can play
Number of players: 2-8
Fantastic decor instantly sets the mood and transports players into the stories in these escape rooms. In Tesla's Secret, kids travel through space and time while trying to save the world. Perhaps your little gangsters would rather participate in the ultimate heist with Bonnie and Clyde, or help Detective Le Blu find the killer of a famous artist in Orient Express. Don't be afraid to ask for hints! The rooms are always private, so you'll be cracking the case exclusively with friends or family. You can also host a birthday party in one of these escape rooms, where the clues in the room will be adjusted to the age of the players.
RELATED: Awesome Indoor Kids' Birthday Party Places in Los Angeles

Step right up for yhour winning photo. Photo courtesy of Enchanted Escape Rooms
Ages: Suited for kids ages 10 and up. Everyone under 16 must be accompanied by an adult.
Number of players: 2 to 6
No scary themes in these rooms, so even the youngest kids can join the fun. The downtown Los Angeles location is giant warehouse that was transformed into a splendid medieval village, where players solve fun and creative puzzles to travel throughout the village on a quest to win the battle for the throne. In the Northridge location, there are 4 adventure-themed escape rooms with captivating background stories. I personally recommend The Enchanted Forest, where you quest to find one of your friends who has been taken by the forest's inhabitants. If it's your birthday, bring 3 people with you and receive one free admission.
Ages: Best for kids age 6 and up
Number of players: 4-8
This Vegas-themed escape room is high stakes fun: you and your team must break free from a casino that's now on lockdown because security discovered that you and your friends were counting cards and filling your pockets with money. You need to find your friends and escape within 90 minutes, or get caught and suffer the consequences. Yikes! This is a very family-friendly escape room because there are no scary elements. All minors need to have signed consent waivers.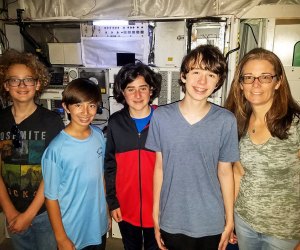 Some mysteries take you to a galaxy far, far away. Courtesy of The Room LA
Ages: Ideal for kids 10 and up
Number of players: Minimum of 3 and up to 6
At The Room LA, players travel to a faraway galaxy to rescue a team who lost contact with Earth 10 years ago. In this fantasy-themed experience, you and your team try to find the missing crew and travel back home to Earth while encountering many mishaps. You won't share the space with anyone else, so you can enjoy this experience with just familiar faces. It's not scary, so kids as young as 10 can play. There are also 2 other escape rooms here that are perfect for older kids who love suspense and mystery.
RELATED: Bowling Alleys with Free and Cheap Bowling in Los Angeles

Back in Time has rooms for kids of all ages. Photo courtesy of Back in Time
Escape Rooms in West LA and South Bay
Ages: Ideal for all ages
Number of players: 2 to 8
These escape rooms are specially designed for the youngest kids. For example: Imagine that you find out that one of the players in your team is on Santa's naughty list, but there's a way you can change that by using Back in Time's T.I.M.E portal and visiting the North Pole. Do this while Santa and the Elves are checking on the reindeer, but make sure you do it before the clock hits 45 minutes, or you might be placed on the naughty list forever. Another great adventure for little kids is The Fate of Agent Smith, where you travel back in time to find an agent who went missing.
7. Quest Room — Redondo Beach & Hollywood
Ages: Best for kids 13 and up
Number of players: 2 to 6 players
There are seven thrilling and adventure-themed escape rooms to choose from, with Red Giant and Warlocked being the most family-friendly of the bunch. I absolutely love all the details and special effects that really enhance the experience. In Red Giant, you are an ambitious archeologist on a quest to find the most valuable ruby in the world. In Warlocked, you'll be transported to a magical kingdom where you and your friends try to save a wizard and his entire kingdom from destruction at the hands of an evil Warlock. All rooms are private, and you can also celebrate birthdays here.
RELATED: Best Trampoline Parks in Los Angeles and Orange County

Take family game night on the road. Photo courtesy of 60 Out Escape Rooms
Escape Rooms in Mid-City and Beverly Hills
8. 60 Out — Melrose
Ages: Best for ages 12 and up
Number of players: 2-6
These escape rooms are inspired by television shows and video games, but instead of watching the action evolve on a screen, you and your family actively participate and determine the outcome of your very own story. My favorite picks for family fun are Alice in Wonderland and Casino Heist. In Alice in Wonderland, Alice is about to endure a very unfair trial, so you'll have to make sure that she stays safe. Find a concealed treasure before the building gets demolished in Casino Heist. You can also celebrate a birthday party here—when you finish your escape there will be a birthday cake waiting for you and your winning team in a party room.
Ages: 13 and up, but kids 8 and older can play if accompanied by an adult
Number of players: Groups of 4 and more
This award-winning escape room is regarded as one of the best in the world. It's praised for its elaborate engineering, creative puzzles, and overall beautiful design. One of the most sought-after rooms (all are private) is Lab Rats, where giant rat scientists are experimenting on humans, studying their behavior, and testing their abilities to solve puzzles. You have one hour to complete the tests and fulfill your goal of escaping from the laboratory. A new room, called The Ladders, is designed to be played multiple times—there are actually 7 separate rooms that you could venture into, depending on the decisions you make. Each time you play, it's a whole new adventure!
Ages: 6 and up. Kids under 14 need to be accompanied by an adult
Number of players: Teams can have up to 8 players
Break an elf's curse in Secrets of Wizardry, find Captain Morgan's lost treasure in Pirate's Den, or find Tutankhamen's tomb in Curse of the Mummy. In every room, there's an additional challenge besides finding the key to escape (such as finding your stolen wands or a hidden treasure). Players get a walkie-talkie to receive clues, and there's no limit to how many hints you get—yelp for help at any time! All of the games are private. You also have the option to host a party here for kids that are 6 and older. During the first hour, kids are outfitted with costumes and guided through the story by a Game Master while parents sit and relax in the lobby and watch the kids through cameras. The second hour is for celebration (birthday or other) with snacks and a surprise.