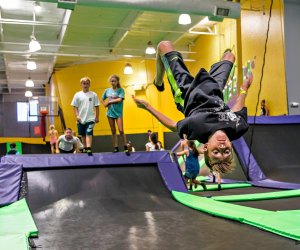 These 8 Trampoline Parks Offer LA & OC Kids Wall-to-wall Jumping
Bounce and repeat. What else do we need to say? Big kids, little kids, they all like to jump. Even Mom and Dad can occasionally enjoy trampoline time (though they might just prefer the trampoline park below that offers massage chairs on the sidelines). Bring a pack of kids for a birthday party, and they'll all sleep well afterwards; bring an antsy one on a rainy day, and watch the mood change for the better. Note that the 8 jumping gyms below can get seriously rambunctuous, but most offer special times or areas for toddlers and preschoolers. And if there's a stuntkid in your family, these are definitely addresses you need to know.
Sky Zone
Van Nuys, Gardena, Anaheim
This national chain has the routine down: wall-to-wall trampolines, a dodge ball court, ninja warrior courses, ziplines, and special events like Toddler Time and Glow-in-the-Dark Nights. Figure in that jumpers are not only required to wear socks, but specifcally Sky Zone socks, priced separately. Keep track of them to avoid having to purchase more on the next visit!
Sky High Sports
Woodland Hills, Camarillo, Valencia, Costa Mesa
Another national chain with multiple locations around the Southland, Sky High augments its sea of trampolines with dodgeball, basketball, foam pits, and a ninja warrior course—all of which are add-ons to the basic price. Cosmic nights feature blacklight dodgeball. Grip socks are required, but if you have some from another bouncing gym, that works. And a family pass, with multiple jumps on one card, can be used at any location.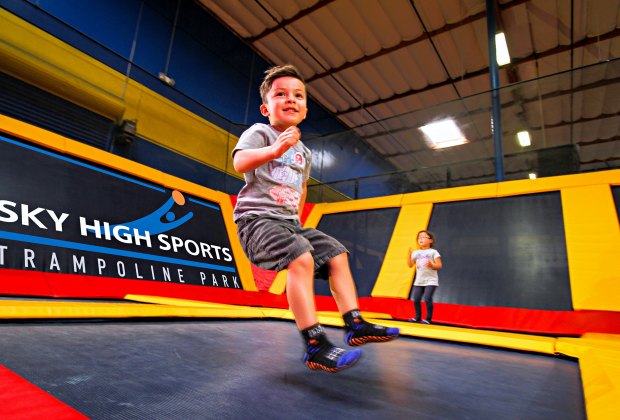 Photo courtesy of Sky High Sports
Get Air
Pomona, Huntington Beach
Loads of trampolines, obstacle courses, basketball, and foam pits keep everyone happy at Get Air. Jumpers are separated by height, in an attempt to avoid accidents, which does mean that very young visitors are limited to a smaller area to keep them safe from the big guys; but Toddler Time is a good solution for little tykes. Like Sky Zone, Get Air requires that you purchase socks there, even if you have grippy socks from another bouncing gym.
Big Air Trampoline Park
Buena Park
Like its competitors, Big Air lines the room with trampolines and adds to the fun with dodge ball, a foam pit, and basketball, as well as a lazer room and a battle beam. Disco nights and bubble time offer a fun twist on the average bounce. Toddler Time is a good deal for little ones, and special needs playdates are another great feature. Big Air even offers a summer camp program, for kids who can just never jump enough.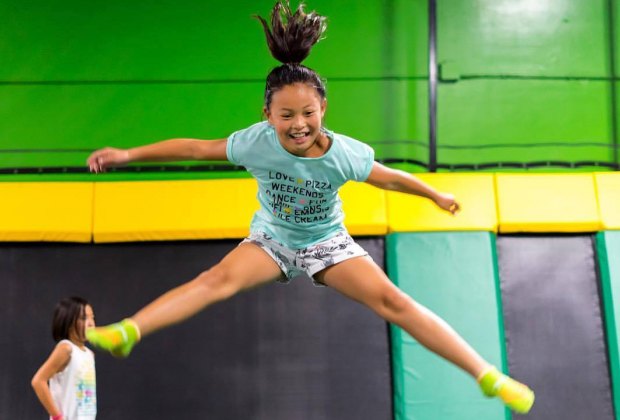 Photo courtesy of Rockin' Jump Trampoline Park
Rockin Jump Orange County
Santa Ana
As the name implies, the rock climbing wall here is almost as big a feature as the trampolines and the foam pit. Kids under 6 have their own area, which leaves bigger kids to go wild in the free jumping areas. But perhaps the best thing about this place is what it offers parents: massage chairs. Let the younger generation put strain on joints; Mom and Dad will be lounging on the sidelines getting a few knots worked out.
Dojoboom
Thousand Oaks
People love Dojoboom in Thousand Oaks. Unlike most trampoline parks, this one is a one-off, located in the popular Janss Marketplace. In addition to the usual bouncing activities, foam pit, and obstacle courses, Dojoboom also features aerial silks, slack lines, and trapeze—a true stunt playground. Mornings are for kids under 6 years old, and on family night the entire family can jump for one flat rate.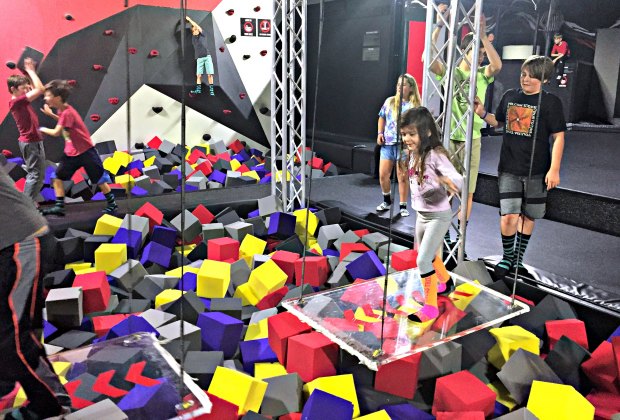 Circus Trix OC. Photo by Dana Zepeda
Circus Trix OC
Mission Viejo
Our Orange County writer, Dana, wrote a terrific review of her family's experience at Circus Trix. The short version? Her kids love this spot and can't get enough of the trampolines, foam pits, zipline, climbing wall, obstacle course, aerial silks, and flying trapeze. Like at some other gyms, socks must be purchased on site, and like at others, early mornings are reserved for the under-6 set.
Aerosports Trampoline Park
Corona
Another sea of trampolines, this spot in Corona also keeps things lively with a couple of dogeball courts and a foam pit. Unlike other spots, no special socks are required; some parents love that they don't have to shell out for socks they don't need, though others find the bare feet a little disconcerting. Prices are slightly lower than other trampoline parks, and there's a discount for special needs kids that has won Aerosports some very loyal fans.