Meri Cherry Drop-in Art Shop Is Here for Camps, Classes, and Making Tables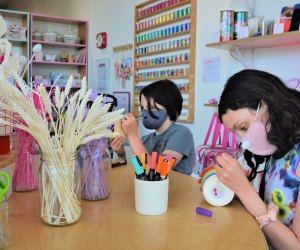 LA is such a vast city with so much to offer, which can be both good and bad. The good is that there are so many cool camps and classes. The bad is that it's hard (impossible?) to commit to driving all the way across town for a daily or weekly camp or class. So when I heard that Meri Cherry (who hosts incredible art camps for kids) was opening a brand new store in Encino where anyone could drop into and make art, I was thrilled. No commitment, no appointment, just walk right in and start creating. I took 5 kids (of varying ages) with me to test it out and every one of them gave it a rave review. It's perfect for those days when you just suddenly need something to do that keeps kids occupied, creative, and air-conditioned.

Just walk in and start creating. Perfect for last-minute boredom busting!
A Place Where Kids Can Just Create
For years I've admired Meri Cherry from afar. (Thanks Instagram!) I love her approach to making art and have long wanted to sign my kids up for her amazing camps or classes. Alas, the drive from the other side of town has always been too overwhelming to commit to making on a daily basis, so my appreciation has remained long distance.
Meri Cherry (yes, Meri Cherry is the owner's real name!) has had a successful art studio in the valley for five years, but the store is brand new, and had been open for less than a week when I recently filled my minivan with kiddos (half of whom were not mine!) and we made the trek over the hill. I found a parking spot right out front, we all unloaded from the party bus and walked up to the glass storefront only to see a sign that read: Closed During Camp. My heart dropped. The kids were bummed. Then an art teacher came to the door and informed us that the shop was actually a few storefronts down and that our GPS had led us to the art studio. Hooray! The day was saved: My van full of artists would indeed be creating today. Word to the wise: double-check the address before visiting.
We all skipped down to the shop where a smiling staff member welcomed us and quickly found us seats around a large, round table filled with gorgeous materials that the kids oohed and aahed over. She explained the project of the day, then she just let the kids at it!
Meri Cherry's creative empire is built around the concept of "Process Art." Simply put, that means that the process of making is where the value in art lies. Process Art isn't about perfection or copying a particular style, it's about allowing children to explore textures, color, and materials and then letting their imagination take care of the rest.

At Meri Cherry Shop, you can buy art supplies like candy!
A Willy Wonka Factory for Art
At the Meri Cherry Shop, visitors can purchase all sorts of creative inspiration (in the form of everything from brightly colored vases to fanny packs) as well as art supplies (like all shapes and sizes of beads and doodads that are kept in clear glass candy jars). It's reminiscent of a candy store, but without the cavities! My crew was drawn to the take-home art projects which are complete kits to DIY at home. (Note to self: this is the perfect place to buy a unique birthday present, now that birthday parties are happening again!) But the absolute best part of the Meri Cherry shop is that smack-dab in the middle of the store is the Making Table, an alluring space that beckons the inner artist. This is, after all, why we came in the first place.
The Making Table has monthly revolving art materials for kids to create amazing art. If you need help there is an assistant for support, but for the most part, it's all about that Process Art. All supplies are neatly laid out, offering an open invitation for kids to dive on in and create in whatever way, and for however long, they desire.
The shelves of wondrous art finds inspire kids to get making.
My crew each took very different approaches to their art and yet, in the end, every single one of their pieces was uniquely them, and uniquely stunning. On the day we dropped in, the Making Table provided supplies for Dried Flower Planters, and the kids made one for each of their dads as a Father's Day present. (If you've ever felt stuck for homemade gifts for relatives, your solution is right here. Bonus: no prep or clean up for you!) The flower offerings were all sorts of vibrant colors and a plethora of textures. There were unique options that went far beyond the scope of what a traditional craft store would carry; the materials were obviously mindfully sourced for maximum inspiration. The kids meticulously scoured their many options, then chose each stem one by one which they arranged with precision into their planters.
The kids loved that they could go at their own pace and choose from so many interesting materials. They were proud of their final projects and excited to gift them. As a mom, I loved that I could drop in without an appointment and didn't need to stress about hitting traffic or the baby's nap going late and making us miss a class. The kids had an absolute blast and I loved watching them work and think. We even ended up with fantastic handmade gifts for Father's Day.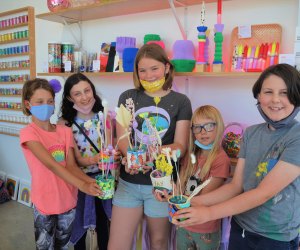 With so many materials to choose from, everyone's final art pieces came out looking uniquely theirs.
We all want to go back next month to experience a totally different Making Table. Remember, the Making Table is at the new Meri Cherry Shop, which is located at 17034 Ventura Blvd. in Encino. Drop-in craft projects at the Making Table range from $10-$35 per person to use all the materials you like, and stay until your project is finished. The craft project changes each month.
Right down the street at 17060 Ventura Blvd., Meri Cherry Studio hosts art classes, birthday parties, toddler art playgroups, summer camps, adult craft nights, and workshops.
All photos by author