15 NYC Birthday Party Spots to Celebrate at Right Now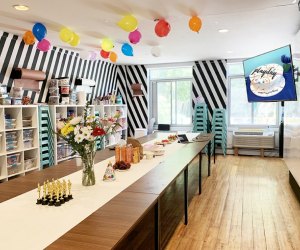 2/14/21
- By
Diana Kim
With some light finally emerging at the end of the tunnel, families can now start looking beyond Zoom parties to celebrate birthdays. While many of our favorite indoor spaces still aren't open, more and more play spaces and venues are opening their doors for small-group celebrations while taking all necessary COVID-precautions. But, time marches on, and you need a place to celebrate now. We've rounded up 15 unique places citywide where you can host birthday parties now, both indoors and out.
Remember to keep your group small and wear masks. If you're still not keen on venturing indoors, check out our roundup of virtual birthday party ideas and the best virtual party performers, and find more party inspiration in our Guide to Kids Birthday Parties.
Editor's note: All these venues require guests to wear masks and have implemented COVID health and safety regulations. Make sure to check their websites for the most up-to-date information about pricing, availability, and protocols when you're planning.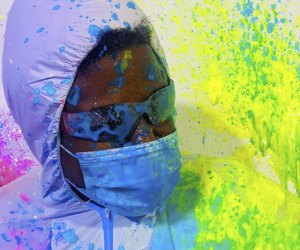 If you can't Beat the Bomb, you're in for a colorful surprise at this party.
255 Water Street
This immersive, social video game company recently reopened its Brooklyn location and hosts birthday parties for 2-6 kids. Part escape room, part immersive theater, players have 1 hour to take on Hack Attack, Laser Maze, Echo Chamber, and the Floor Grid before reaching the bomb room to deactivate the bomb. If they don't, a wild paint explosion awaits! All players wear hazmat suits, protective hoods, and masks. Reservations must be made, and all rooms are sanitized thoroughly between games. Parties start at $45 per person; $55 for premium packages. Online games are also available for groups, and Beat The Bomb can bring games to your home.
9 Shore Road
Horseback riding is a great option to celebrate a child who loves animals. The Bronx Equestrian Center is open and offers birthday packages that run around $300, and includes the party room for 2 hours, plus 1 hour of pony rides. The maximum number of kids allowed is 15, and you can bring your own food. Hayrides, trail rides, and lessons are also available at an additional cost. Currently, Riverdale Stables and Jamaica Bay Riding Academy are only providing private riding lessons.
RELATED: 30+ Free Ways to Celebrate Your Child's Birthday at Home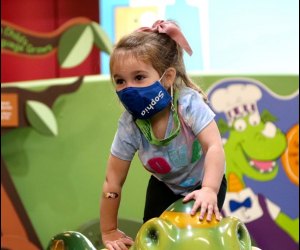 Have the run of two floors of CMOM fun for your toddler or preschooler's next birthday.
212 West 83rd Street
Little birthday guests go crazy for a party at CMOM. Book a private adventure at this amazing kid's museum for up to 25 people (including kids and adults). You'll have exclusive use of two exhibit floors for 1 hour, 45 minutes. Museum educators lead art, movement, and storytelling activities. Each child receives a personal activity kit. The experience is open to members to book and costs $500. Call 212-721-1223, ext. 295 or email guestservcies@cmom.org to schedule.
If you're looking for something outside-the-box for an outdoor birthday, how about an exotic animal show? Nature Nick travels to all five boroughs and offers a 45-minute presentation and 15-minute meet and greet where kids can touch animals, including an owl, baby alligator, toucan, and hedgehog. Nick does all his shows wearing a mask and compact microphone. Nick also offers the option to host shows over Zoom. Email for pricing.
RELATED: 10 Great Birthday Party Favor Ideas For Kids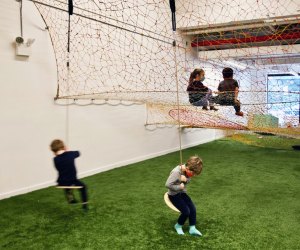 Cocoon's nature-inspired play space makes a cool backdrop for a birthday party.
5. Cocoon – Tribeca
316 Greenwich Street
This "pandemic-ready" membership-based play space/social hub opened last November and offers 18,000 square feet of open indoor space and 2,000 square feet of outdoor patio space with a specially-designed HVAC system. Its goal is to provide families with a safe space for playing, learning, and socializing with its expansive program offerings. For birthdays, you can rent the entire space or one of its uniquely-designed rooms for your group; no membership required. Families can be as involved or hands-off as they want in planning. Choose from a wide range of themes and activities: obstacle course and field games, sleepover pajama dance party, tea party picnic, fairy tales and friends, and more. You can bring in your own food that has been individually wrapped and prepared. Pricing starts at $600.
RELATED: 16 Great Parks and Playgrounds For NYC Kids' Birthdays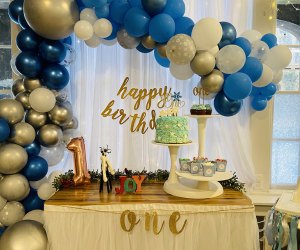 Let House of Playful Soul handle the decor and details while you party.
5 Station Square
This nurturing play space with custom-built structures offers several birthday party packages, which include exclusive use of its space for 2-4 hours. You'll share the space with up to 10 guests (adults and children are included in that count). The House Party package includes a basic, pre-decorated table, pizza, and cupcakes packaged to-go, plus balloons as favors. If you're not quite ready for all that indoor action, consider its drive-by party package. HOPS sets up right outside its front doors with a custom display table and cupcakes to-go, plus a 10-foot balloon arch, custom message board for family and friends, and five gift bags, so you can greet guests at a safe social distance.
Ice (or roller skating when the weather warms) is a great birthday party option. At the LeFrak Center at Lakeside Prospect Park, you can host a birthday party with up to 10 kids outside in a roped-off area in front of the Bluestone Cafe. For about $525, the package includes skating admission, rentals, pizza or chicken fingers, plus drinks, cupcakes, and goodie bags.

Princesses and knights can play dress-up before enjoying a birthday tea at Let's Dress Up. Photo by Colleen Sturtevant
Thank you!
345 East 85th Street
Your child's inner princess or prince will have a ball at this dress-up place. Let them be transported with dresses, tiaras, jewels, high heels, knight costumes, capes, and all the necessary accessories. Indulge in a Perfect Princess Tea Package, which includes a maximum of six children for $520. The 2-hour party package includes a choice of theme, exclusive use of the magical castle, assorted tea party snacks, and a group photo.
9. Movie Night – Multiple Locations
Movie night has always been a classic way to celebrate a birthday. Even though theaters are still shuttered, there are a couple of outdoor options. The Skyline Drive-in offers both traditional drive-in-style parking and socially distant outdoor seating. For older kids, celebrate their birthday by having a movie night with a couple of friends in a heated igloo at the 230 Fifth Rooftop Bar. Make reservations ahead of time for 4-6 people and choose from one of 15 movies. The $75 per person ticket price includes a choice of one entree, drink, and popcorn. Since this is a bar, children must be accompanied by their own parent.
RELATED: Birthday Party Freebies Where Kids Eat Free and Nab Gifts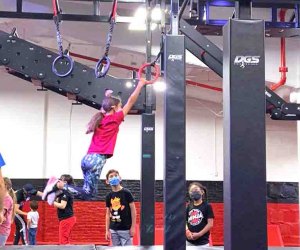 New York Ninja Academy parties include plenty of action-packed obstacles.
625 West 55th Street
Let your kids unleash their inner ninja at the NY Ninja Academy. For birthday parties, 15 kids are allowed and train on the ninja warrior obstacles with professional staff. Kids must be 5 or older, and drop-off is preferred. Party room use is included, but you must supply food and cake. NY Ninja Academy has instituted strict capacity guidelines, plus thorough sanitation between groups on the obstacle course. Its HVAC system is outfitted with HEPA filters, and the garage door can be opened on fair-weather days to increase air circulation. Parties last 90 minutes and cost about $750 depending on the number of guests.
11. Playday – Multiple Locations
537 51st Avenue, Queens
269 Baltic Street, Brooklyn
This creative micro-school offers a variety of options for imaginative birthday parties, in-person or over Zoom. For in-person parties, you have exclusive use of the space for 2 hours and two instructors to lead party guests in customized creative activities. Food and drinks can be brought in. The cost is $550 for 10 children. If you prefer to have a party at home, Playday offers creative birthday party activity kits. Choose from a wide selection of art activities, including tie-dye, jewelry design, build a city, paint on canvas, and watercolor world. A $250 kit entertains 4-6 guests. Another option to include a large group of family and friends safely is the Broadcast Your Party option, during which your child completes an activity with a Playday instructor while connecting with family and friends through Zoom for $450.
RELATED: Five Birthday Party Themes You Can Pull of in a Small Space

Active kids can appreciate a parkour-themed birthday party in a city park.
This parkour academy's mission is "to teach how to enjoy movement by exploring opportunities for play in your everyday life." Birthday party packages are available and occur outside throughout the city, in a park, or at a playground. You can customize a birthday package to your child's comfort level. Parties begin with a lesson on parkour fundamental skills and techniques followed by gameplay and team-building activities and challenges. Parties cost $500 for 1 hour and include two coaches. Currently, the maximum number of participants is 14.
13.SASKIA Jewelry – Industry City, Brooklyn
51 35th Street, Building 5
Located in the Maker's Guild section of Industry City, jewelry designer Saskia de Vries started making DIY kits during the pandemic for kids and adults to give them a creative outlet. Now she holds jewelry-making workshops and hosts birthday parties for 6-8 kids and tweens. For a DIY option, buy the kits ($10-30 each) and do them in-person with Saskia at Industry City during her FREE Saturday workshops or at home online with the accompanying videos on her website. For a custom birthday party with the jewelry designer, prices start at $250. There are several projects to choose from, including elastic bracelets, rainbow or freestyle necklace, charmed necklace, or a short and sweet choker.

Waterfront dining makes for a stunning birthday photo op.
78 South Street
While indoor dining is just starting to reopen, many restaurants have creative outdoor dining options like igloos, yurts, and tents. For a slightly larger group, host a birthday dinner in a heated "glasshouse" with great water views at Watermark's Winterland located at Pier 15. These accommodations fit up to 10 people. Make a reservation, and you can order a la carte or opt for a birthday package. Classic movies play on the projection screen.
467 Marcy Avenue
Learning to fly through the air hanging on a bar is a unique way to celebrate a birthday. While the Trapeze School of New York is not currently offering birthday packages, you can host a group for a private flying trapeze session for up to seven participants for 90-minutes. To book a session for your group, book all seven available spots under the same name. Kids must be age 6 and older.
Photos courtesy of the venues