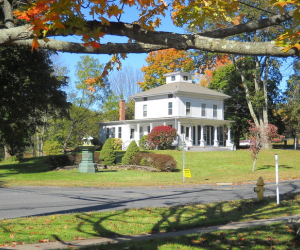 25 Things To Do With Kids in Trumbull
Trumbull, CT. located in Fairfield County, without question, is a bedroom community. But that doesn't mean the only option for residents is to bounce out to neighboring towns for something 'to do' -- there are plenty of hidden treasures, and several parks for you and your family to enjoy. We've made a list of 25 fun things to do with kids while in Trumbull!
For visitors to town, however, the huge catch with the parks at least, is parking. They require a resident parking sticker year-round. We've avoided those places on this list.

1. Many Fairfield County residents trek out to Trumbull to check out the Pequonnock River Trail. There's nothing like it for miles. You can push a jogging stroller or ride bikes as a family along the path that runs from Tait Ave. in Trumbull to Monroe.

2. Teenagers get a kick out of swimming in the Pequonnock (and jumping off the rocks). Follow the sound of youthful exuberance in mid-July to find your way to the right spots.

3. Kite flying or letting little ones run and play on the open fields at Kaechele Park.

4. Art, play and nature are a package deal at the Trumbull Nature and Arts Center (go figure). They also host cute, little family events, and have a playground great for 3-8 year-olds.
5. Visit the animals at Trumbull Agriscience and Biotechnology High School. Spring is a real treat with the baby animals romping around.

6. Launch stomp rockets on the artificial turf soccer field or grass fields at Indian Ledge Park (While this is a resident park, you're right next to the parking lots should an officer come by. There is rarely anyone up here unless a team is practicing).

7. Golf, tennis, and a playground at Tashua Knolls (those without a sticker should park right of the clubhouse).

8. Everyone needs to know where to find the ice cream in a town. Option #1: Sunny Daes.

9. … and the other option, fro-yo at Go Greenly.

10. Music Together of Newtown-Monroe-Trumbull offers classes for the preschool set at Trinity Episcopal Church.

11. Marie's Sandwich Shop is a fixture — a reliable, lunch counter type of place you thought no longer existed. It's nestled into 'Town Center' at 920 White Plains Rd.

12. Chip's is the new (and popular) kid on the block, making their famous, ridiculous, fantastic pancakes.

13. Around May/June check in with the American Legion off Whitney Ave. and Teller Rd. to find out the date of their annual kids fishing derby. Newbies welcome!

14. Take in a practice or BMX race at Indian Ledge Park!

15. Have a gymnast in the house (or a kid who likes to jump on the couch a bit too much)? Enroll for classes or open play sessions at top-notch Next Dimension Gymnastics.

16. The Lakewood-Trumbull YMCA offers classes and camps for members and non-members year-round. Part of the Central CT Coast YMCA.

17. Imagine enrolling the kids in a team sport league or camp, and grabbing a Sam Adams onsite while you wait. The newly refurbished 100,000+ sq.ft. Insports Center meets the criteria. They also offer open play for toddlers three mornings a week, with all sorts of playstuff for the kids to choose from -- awesome.

18. Hot on Insports heels and right next door, is Zero Gravity trampoline park set to open by summer 2014.

19. Anytime, anyway the apple cider donuts at Plasko's Farm on Daniels Farm Rd. Not to be missed, however, is Plasko's Fall Festival — scarecrow making, corn maze, hayrides, pumpkins and naturally, MORE apple cider donuts.

20. Catch a movie at the Bowtie Cinemas on Quarry Rd.

21. Trumbull Day roared back with a vengeance in 2013 after a long hiatus. Look for it again June 28, 2014.

22. Annual concert at Indian Ledge Park. Many big name acts have come through the tiny town, making for a fun night of food and friends.

23. The Trumbull Mall. There's a Target attached to the mall. Who doesn't eventually need that lethal combination?!

24. Dance instruction galore at the Performing Arts Center of Connecticut (PACC).

25. Santa on the LED-covered firetruck. If you aren't fortunate enough to see this truck rolling through town all lit up, swing by the Long Hill Fire Department on Madison Ave. You'll get the picture.
OUR LATEST VIDEOS
Originally published 4/15/2014.