25 Fun Things To Do with Kids in Millburn, New Jersey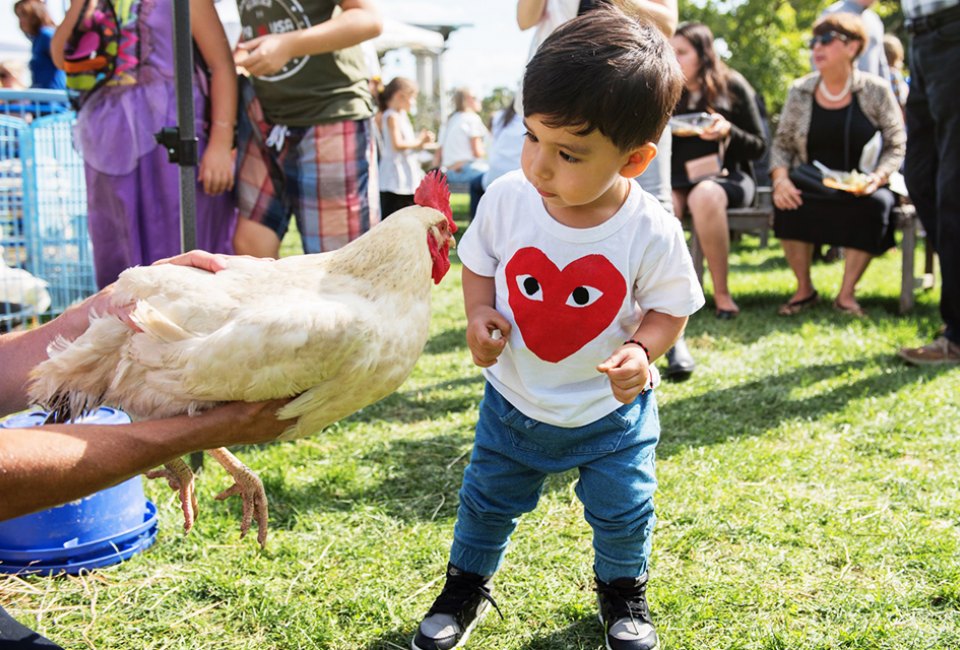 2/10/19
- By
Dore Duhaime
Millburn may be known for top-notch schools and swanky shopping at its Short Hills mall, but look a little closer and you'll find a vibrant town packed with family fun.
The heart of downtown, where Main Street and Millburn Avenue meet, is dotted with shops and restaurants and is home to the town's annual street festival. Kid-friendly activities in Millburn range from swimming and theater classes to storytimes and live performances. Creative play spaces, charming cafes, gardens, and parks round out the fun.
Located less than 20 miles from New York City in Northern NJ, Millburn is a great bet for an easy day trip any time of year. Spend some time exploring all the arts, recreation, food, and fresh-air fun that Millburn has to offer.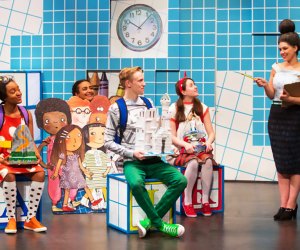 A fun new musical based on the book Rosie Revere, Engineer is coming to the Paper Mill Playhouse. Photo courtesy of the production
1. Take in a show at the renowned Paper Mill Playhouse, with star-studded mainstage productions such as Beauty and the Beast, and daytime children's shows including Junie B. Jones, Henry & Mudge, and the new musical, Rosie Revere, Engineer. Aspiring performers can enroll in the theater school for classes in acting, singing, and dancing.
2. Sponsor a bee or woodland creature at the Cora Hartshorn Arboretum, or bring your flashlight for a night hike. Outdoor adventure classes and summer camps are offered for kids of all ages, along with conservation programs.
3. Nature-lovers can spend hours exploring South Mountain Reservation, which spans Millburn, Maplewood, and West Orange. Don't miss the whimsical Fairy Trail!
RELATED: Fun Things To Do with Kids in Montclair, New Jersey

Visit Greenwood gardens to stroll on the grounds or attend a special event. Photo courtesy of Greenwood Gardens
4. Grab some binoculars to birdwatch in the lush trees, flowers, and plantings at Greenwood Gardens, or visit during a special event such as a dance performance, jazz picnic, or the autumn Bees, Birds and Butterflies Festival. Check out our tips for visiting Greenwood Gardens.
5. Stroll through Taylor Park in any season. Its tree-lined paths are shaded and the fenced-in playground is perfect for active little ones. During Winter Walk, from late November through January, gaze at the twinkling lights and snowflakes adorning the trees, then head into town for hot chocolate.
6. Pull up a chair at the Millburn Public Library for toddler storytimes, Legomania, family movie nights, homework help, and science programs.
7. Spend an afternoon walking around downtown Millburn, ducking into quaint shops, sipping coffee, or grabbing a sweet treat.
8. Pick up fresh tomatoes and corn, flowers, and Jersey honey at the Farmer's Market every Tuesday, June through October, at the corner of Main and Essex Streets.
9. Grab some fresh popcorn and check out the newest family-friendly flick playing at Millburn Cinemas Bow Tie movie theater.
RELATED: The Best Museums for Kids in Northern New Jersey

Drop in to Genius Gems for a STEM-based play session. Photo courtesy of Genius Gems
10. Build rainbow-hued towers and pyramids with thousands of Magna-Tiles at Genius Gems, Millburn's new STEM-based play space. Don't miss the interactive, back-lit magnetic wall!

One River School of Art + Design offers classes for kids and adults. Photo courtesy of the school
11. Sculpt, paint, and draw at One River School of Art + Design, an exhibition space and art studio offering classes for children, teens, and adults.

Check out the Busy Bee, Millburn's newest indoor play space for the 5-and-under set.
12. Romp, climb, and tinker a morning away at The Busy Bee, an indoor play space for little ones that features a large playhouse, grocery store, construction zone, and more.
13. Browse the shelves at The Book House, an independent book store downtown. Kids can participate in afternoon book clubs, and toddler storytimes are held monthly.
RELATED: New Birthday Party Spots for New Jersey Kids

Indigo has a massive selection of books, a cafe, and an area for kids to play. Photo by Elaine Quilici
14. If you can't resist the lure of luxury shopping at the Mall at Short Hills, don't miss the newest addition, Indigo, a department store–sized book shop with an amazing kids section, gift shop, and cafe.
15. Tie on an apron for the "Little Cooks and Storybooks" class at Kings Short Hills Cooking Studio, where pro chefs pair a classic kids' story with a simple recipe. Think Cloudy with a Chance of Meatballs served up with pasta, turkey meatballs, and "cloudy" cake pops.
16. Lace up your sneakers for indoor sports fun at The Sports Academy. Basketball, baseball, soccer, softball, lacrosse clinics, tournaments, and birthday parties are offered year-round.
17. Pamper your tween with a mani/pedi or ear-piercing at The House Spa, or get your little dude a snazzy buzz-cut at Original Sharp Barbershop.
18. Choose from Italian, Japanese, Mediterranean, or American-style dining downtown. Kids will love the wood-fired pizza at Fiamma and the classic brunch at The Hills Tavern.
19. Recharge with a steaming latte at Rockin' Joes, or take home a pound of freshly roasted beans from Coffee Mill Roasters.
20. Energize with a vitamin-packed elixir at Green Nectar Juicery, where fresh-pressed goodness awaits.
21. Grab a spoon and dig in to a creative frozen combo at Boston Ice Cream Company, where Emack & Bolio's famous flavors are served.

Try candy sushi and many more tasty confections at Chocolate Works.
22. Sample the sweet morsels at Chocolate Works, where kids can taste everything from candy sushi to chocolate dipped fruits.
23. Indulge in a sugary treat at Splurge Bakery. Just follow the aroma of fresh-baked cupcakes and pastries.
24. For a more savory snack, tear off a hunk of perfectly chewy, crusty sourdough at Liv Breads. Sandwiches on brioche buns, salads, cookies, and coffee round out the menu.
25. If gluten's not your thing, stop by the Squirrel and the Bee and feast on a variety of GF muffins, cookies, bagels, and scones.
Sign up for the Mommy Poppins Newsletter today!