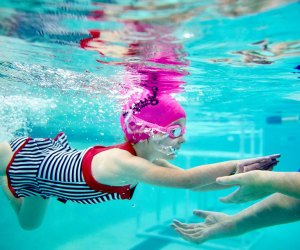 Three New Swim Class Options for Kids in North Jersey
Looking for an indoor activity to keep your kids fit this winter? Head to the newest pools in town.
Not only is swimming a fun, year-round sport; it's a life skill that can keep kids safe. So whether your child is an infant dipping his or her foot into the water for the first time or a high-schooler wanting to work on competitive strokes for swim team, these three new options in North Jersey are welcome additions. In may be cold outside, but inside these swim centers kids will no doubt feel the fun of summer.
Looking for more lessons? Check out our Guide to Classes and Enrichment Programs for NJ Kids, including a roundup of swim classes throughout the state.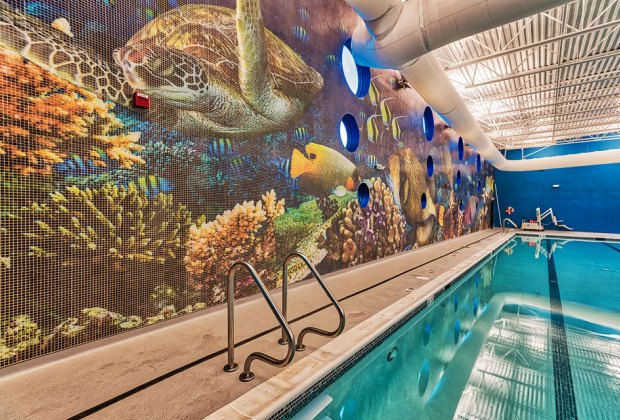 SwimQuest's sea life decor makes it a unique and fun space.
SwimQuest – Millburn
With two other New Jersey locations (in Tinton Falls and Whippany), SwimQuest opened its newest facility in Millburn earlier this month. Group lessons and private lessons are offered to kids 6 months old and up. Each child is evaluated and progresses according to his or her individualized skills. Programs are session-based, but swimmers can join at anytime during the session.
To keep kids comfortable, the water is a steady 90 degrees, and the pool deck is likewise warm. Parents can observe from the pool deck, or head to a windowed waiting area that's less warm.
The decor here also keeps kids engaged. A fun sea life mural with porthole windows that look like rising bubbles flanks the pool. Fish tanks and other aquatic touches, including a winding waterway with bridges to cross, also make the space unique.
SafeSplash Swim School – Cedar Grove (coming soon)
SafeSplash, which has five other North Jersey locations, is prepping to open in Cedar Grove's Pilgrim Plaza on March 16, 2019. The brand-new facility will have a warm-water pool, small class sizes, and certified instructors whose teaching style is matched to each child.
SafeSplash caters to all skill sets with 10 different class levels (an online tool helps you determine your child's appropriate placement). Special needs and adult classes are also available. Registration is now open, though rolling start dates allow kids to begin at any time.
To monitor progress, the school offers monthly Splash-N-Tell sessions, where parents can watch from the pool deck during the last 10 minutes of class. Kids get to show off their skills, and parents can ask the instructor questions and discuss their child's progress. Curriculum handout sheets are also available to parents to keep abreast of what's going on.
In addition to regular classes, SafeSplash will offer private lessons, swim camps, and birthday parties.
RELATED: Swim Lessons and Classes for New Jersey Kids

Goldfish Swim School offers group lessons, daily clinics, technique classes, and more.
Goldfish Swim School – Denvile
Goldfish opened its seventh New Jersey location in Denville this past December. Play-based classes target all abilities, and kids 4 months to 12 years are welcome to register.
The facility offers a variety of swim instruction. Drop in or call in advance for a one-time casual lesson, sign up for weekly group lessons, fast-track learning with daily clinics, take a technique class, or join the recreational swim team. Family swim time and parties are also offered. There is a large glass viewing area where parents can sit and watch.
The four-foot-deep water is a balmy 90 degrees and the air temperature is 92, ensuring a comfortable transition from pool to changing room. Before and after lessons, families can change in a private room and have access to showers, hair-drying stations, and swimsuit dryers. There's also a snack bar to refuel.
Photos courtesy of the swim schools