Easy Day Hikes Near NYC for Families to Explore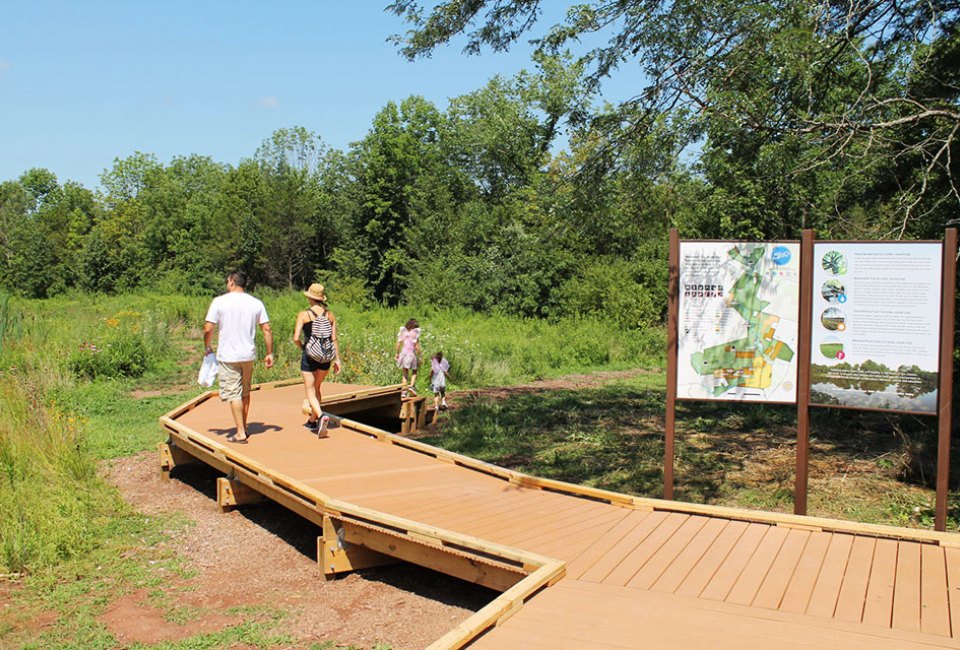 9/5/19
- By
Louise Finnell
When the weather is fine, there are few things New Yorkers like better than a day outside with the family. Although NYC has incredible parks and playgrounds to explore, sometimes it's worth taking a day trip outside the city limits.
So pack a cooler and a picnic blanket and find your new favorite kid-friendly hiking destination among this list that takes you to the Hudson Valley, New Jersey, Long Island, and even some memorable parks within the five boroughs. Each of these hikes has something special to offer, and best of all, they are kid-tested and kid-approved!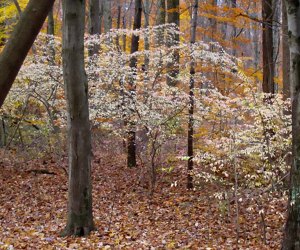 Explore acre upon acre of secluded nature in the Institute Woods, or picnic nearby at Mercer Oak. Photo courtesy of NJ Trails
New Jersey
Drive an hour south of NYC and you end up in Princeton, New Jersey. Along with a rich history, this town has excellent hiking possibilities. One of the best is the 589-acre Institute Woods. The land is not technically public, but the Institute for Advanced Study allows access to trails and land. Park at the Princeton Battlefield on Mercer Road. Start your hike with a romp around the gorgeous, open green space, or have a picnic near the famous Mercer Oak. Walk past the historic Clarke House on your left and see where George Washington marched with his troops during the Revolutionary War. Continue into the woods, and you will eventually cross over Stony Brook on a (safe and well-maintained) swinging bridge. If you're into a woodsier walk, try the Pipeline Trail, which takes you to the adjacent bird sanctuary. You'll find a viewing platform overlooking a quiet, serene marsh. Kids will love looking for birds from this hidden spot.
Our sister site in New Jersey is filled with more suggestions for local hikes, including Palisades Interstate Park, just over the GW Bridge, a modest fairy trail in the South Mountain Reservation, and the wooded boardwalks of Great Swamp National Wildlife Refuge. There are also A Dozen Easy Fall Hikes for families to enjoy with small children all year round.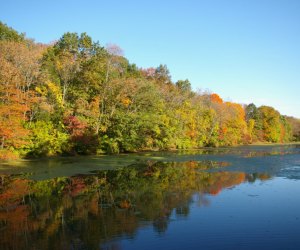 Mountain Lakes is a great place to hike for a family with younger children. Photo courtesy of Mountain Lakes
The quiet, meandering Mountain Lakes Nature Preserve just outside of downtown Princeton is another perfect hike for families. Though the preserve offers 75 acres of green space, there are multiple short loop hikes to enjoy. The hike and parking are both completely free, thanks to local organization Friends of Princeton Open Space. Pick your route based on the terrain you want to explore. For farm views, choose Stuart-Coventry Farm Trail. If you prefer a boardwalk to rockier terrain, aim for the Boardwalk-Tusculum Trail. My family is partial to the easy parking on Mountain Avenue for a walk around the lake on James Sayen Trail. It's only 1.2 miles long, and is relatively flat for the younger kids. There are also restrooms in the parking area, which is a huge plus. Mountain Lakes House makes for a perfect pit stop. This serene, lakeside cottage tucked in the woods is not normally open to the public, but it hosts special events throughout the year. Don't forget to keep an eye out for the Great Blue Heron that lives at Palmer Lake!
Down the road from Princeton in Pennington, New Jersey is Stony Brook-Millstone Watershed. This amazing nature center and reserve is a perfect place for small children and families to immerse themselves in the outdoors. The organization has trails throughout the nature reserve that wind through wetlands, farms, forest, and meadows. The hike is fun for kids of all ages. My 2-year-old had a blast running along the boardwalk looking for turtles. My family loved the Nature Center; it's a great stop before or after your hike for a close-up look at some of the critters found throughout the reserve. They have turtles, snakes, and fish, as well as educational resources to help kids learn facts about the things they see on their nature walk. There's even a butterfly house! Older kids might also enjoy Geocaching, which is available on the trails, as well. Parking and admission to the nature center is FREE. There is so much here, leave a whole day, pack a picnic, and pick your path!
RELATED: 13 Perfect Fall Weekend Getaways for NYC Families

Don't miss the waterfall and amazing scenic views at Croton Gorge Park. Photo courtesy of the park
Westchester & Rockland County
If you're inclined to head north of the city, check out Croton Gorge Park in Westchester. It has all the benefits of a classic woods walk, including waterfalls, diverse terrain, and scenic overlooks, but it also features a playground that makes a great pit stop for kids who need a hiking break. The trailhead offers easy parking that is FREE in the off-season. Keep in mind that the park is a popular destination in the summer, so it does get crowded. One of the best things about this area is that even before you've left your car, you drive right by a waterfall. It's a definite incentive to hike to the top, where you can walk across the waterfall and take in the awesome scenery.
A shorter drive away is Old Erie Path, a hike that is steeped in history. Railroad beds, a cemetery, and views of the Hudson River are all highlights of this diverse hike from Nyack to Piermont. Park at the Depot Square parking lot to walk the Old Erie portion of the trail, or check out the Joseph B. Clarke Rail Trail, which intersects at this point (and is paved, for those of you with strollers). The 3.1-mile Old Erie Path eventually intersects with the Raymond G. Esposito Trail. If you follow the Raymond G. Esposito Trail for another mile, it ends at a playground with an inviting picnic area.
Find more great hikes and parks to explore as a family in Westchester and Hudson Valley.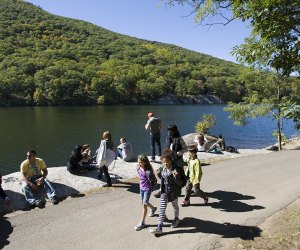 Bear Mountain offers hiking, swimming, and gorgeous views! Photo courtesy of Bear Mountain
Bear Mountain is a tried-and-true family destination that lives up to the hype. You don't even have to leave the parking lot for some great views, but try the short Bear Mountain Loop Trail for some exceptional scenery (considered "moderate" difficulty). Since it's a mountain, some of the trails have tricky inclines, but there is a stroller-friendly walk across the Bear Mountain Bridge that is safe for young children. Aside from hiking, there's plenty to keep smaller children busy, including a carousel and zoo. This is a great destination to choose your own adventure, and you can decide to do as much or as little as you want as soon as you arrive. Just beware of going during peak season—it's a popular spot! For that matter, peak season isn't the only time of year to take a great hike in Westchester with your kids.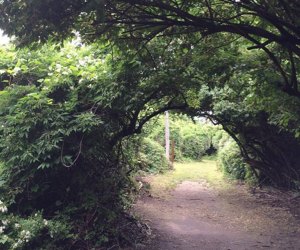 Sands Point Preserve offers shady, pretty trails through a variety of habitats. Photo courtesy of the preserve.
Long Island
Sands Point Preserve is a short one-hour drive from Midtown, and features six well-marked trails through 216 acres of woods, fields, and water, including a stretch of beachfront trail along Long Island Sound. Two historic houses on the same site, which was once a Guggenheim family estate, are not the kid-friendliest, but the preserve is home to plenty of family fun including parent-and-me yoga in the parklands, guided nature walks, and the Dino Trail, a short walk through the woods complete with dinosaur footprints. You can bring the family pooch, too: Leashed dogs are welcome.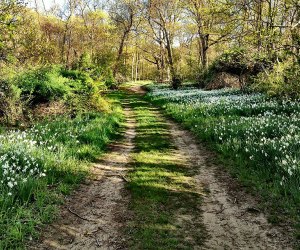 Meander along the lush trails at Caumsett State Park Historic Preserve. Photo by Mommy Poppins
A little farther east, on its own peninsula extending into Long Island Sound, beautiful Caumsett State Historic Park Preserve is well worth the trip for its sweeping water views, lush woodlands, salt ponds, and well-marked trails through 1,750 acres. Because of its unique location and variety of habitats from salt marsh to dense forest, Caumsett Park is known for its excellent birdwatching, so grab one of the park's printed bird checklists and keep an eye out for woodpeckers, hawks, and cardinals.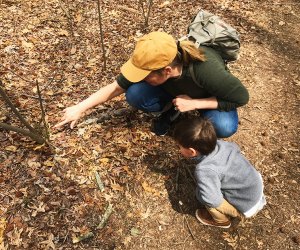 Walk along the trails in Latourette Park on Staten Island. Photo by the author
Staten Island & Queens
We went to Staten Island looking to hike High Rock Park, but ended up in adjacent Latourette Park without even realizing our mistake! We parked by the Nature Center and found our way to the well-marked trail, that is coincidentally the best Greenbelt trail for younger hikers. There are plenty of walks to choose from in this awesome green space smack dab in the middle of Staten Island. Parking was easy and abundant, but the day we went, the nature center was closed. Our toddler found lots of logs and boulders to climb on, and enjoyed looking for spring greenery starting to sprout. We only hiked for about 30 minutes, and that felt like enough for the little ones. The trail is flat and wide, and will definitely be gorgeous once there are leaves on the trees. I couldn't believe we were just 20 minutes from Brooklyn!
RELATED: 9 Kid-Friendly Hikes on Long Island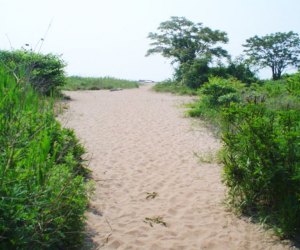 For a beach hike head to Great Kills Park on Staten Island. Photo courtesy of the park
Staten Island is also home to a kid-friendly hike at Great Kills Park. We drove down Buffalo Street and were able to easily park in the off season. There were lots of joggers and cyclists enjoying the quiet park road that snakes along the coast. Bathrooms and parking were relatively simple. The trailhead to Crooke's Point requires about a half mile walk from the parking area. There is a gate that makes the path appear closed, so we hesitated to venture down the dirt path and ended up walking along the beaches and enjoying the beach-adjacent playground. However, locals suggest skipping the marked trails altogether and walking down Crooke's Point Road until you reach the parking lot. There is a sandy path next to the restroom building that takes you on a lovely, kid-friendly hike to the beaches (altogether about 1.4 miles). I'd love to give the hike to Crooke's Point another try in warmer weather—there's nothing better than a hike on a summer day with a dip at Great Kills Beach to round out the day.
A version of this post was published in 2018; it is updated annually. Suzanne Cort contributed additional reporting.
Click Here to Sign Up!
i