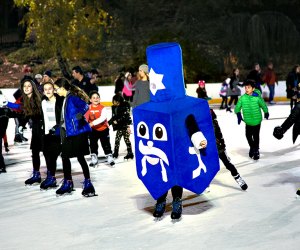 Hanukkah Celebrations and Menorah Lightings for NYC Families
New York City knows how to celebrate the holidays, and Hanukkah (or Chanukah—did you know there are more than 20 different spelling variations?) is no exception. The Festival of Lights arrives late in 2019, with the first night on Sunday, December 22. However you spell it, we've rounded up 20 ways to celebrate this wonderful Jewish holiday, and many of them are free.
Of note this year: there's the brilliant Menorah on the High Line, and the South Street Seaport District's awesome Hanukkah Party. We also have the annual mainstays, from the World's Largest Hanukkah Menorah Lighting to Chanukah on Ice and Bright Lights, Big Menorah.
As always, click through for time, price, and more event details.