Drive-In Movie Theaters in the Hudson Valley for Retro Family Fun
Despite some chains' efforts to spruce up their movie theaters, there is still nothing quite like a drive-in movie experience—a summer tradition for our family. Perhaps it's nostalgia—or the fact that my 4-year-old can chatter throughout the movie without bothering anyone (except his older brother). Before the show, kids play Frisbee and tag in front of the monstrous theater screen, and since the movies start on the later side (it must be dark, after all), half of them are clad in pajamas.
The Lower Hudson Valley is home to several drive-in theaters—a real treat, as these theaters are rapidly diminishing across the U.S. We've got details on theaters in our area, as well as useful tips for enjoying the drive-in with kids.
Looking for more ways to spend your summer? Take a look at our Event Calendar and follow us on Facebook!
Warwick Drive-In Theater – Warwick
$11 for adults, $8 for ages 4-11; kids under 4 are FREE
A family favorite of ours, the Warwick theater has three screens, all of which show double features seven days a week in the summer. Credit cards are accepted for tickets. The snack bar offerings include burgers, fries, nachos and mozzarella sticks, as well as candy, popcorn (of course!) and ice cream. Pets are welcome, though be sure to keep them on their leash when outside. Note: The bathrooms are tiny here, and there's often a long line just prior to the show—give yourself extra time.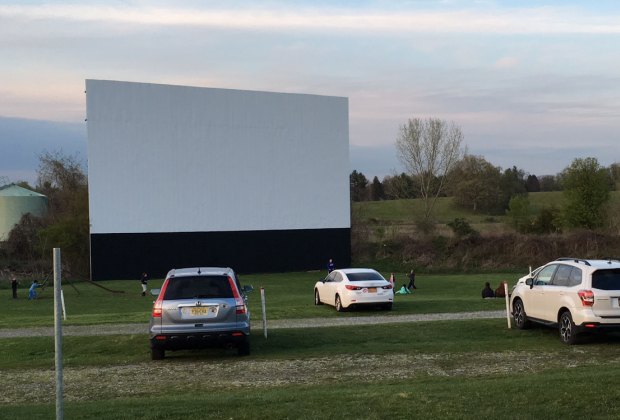 Prior to the show, many kids can be found running around in front of the biggest screen at the Warwick Drive-In. Photo taken by the author.
Overlook Drive-In – Poughkeepsie
$10 for adults; $7 for ages 5-11; kids under 5 are FREE. $7 flat rate on Mondays.
The Overlook has just one screen, but it's massive—approximately six stories high! Double features are shown seven nights a week, rain or shine. You can use credit cards to buy your tickets, as well as at the concession stand. The stand has typical offerings—candy, popcorn, burgers, dogs, pizza and funnel cakes. Dogs are welcome as long as they're leashed. Discount ticket books are available (a good option if you plan on becoming a regular).
Hyde Park Drive-In – Hyde Park
$10 for adults; $7 for ages 5-11; kids under 5 are FREE. $7 flat rate on Tuesdays.
Although this theater is owned by the same people as the Overlook and has many of the same amenities, it does show different movies. If you purchase one of the discount books, you can use the tickets at either theater.
Fair Oaks Drive-In Theater – Middletown
$9 for adults; $6 for kids ages 5-11; FREE for kids 4 and under
The Fair Oaks Drive-In Theater features two screens, both of which show double features. (Screen 1 is the larger of the two and typically screens the newest blockbuster.) This theater is open rain or shine seven days a week during the summer.
Four Brothers Drive-In – Amenia
$11 for adults; $8 for veterans and seniors; $6 for ages 5-10; FREE for kids under 5
Opened in 2013, the Four Brothers Drive-In in Dutchess County is truly unlike the other theaters on this list. It kicks things up on the food front in a big way with locally sourced food and such items as Nutella shakes, homemade ginger beer and even a cocktail menu. Snacks and drinks can also be delivered to your car, an on-site food truck is in the works, and the Four Brothers Greek restaurant is located on site. Most screenings are double features with new films; classic films are screened on Thursdays in honor of #ThrowbackThursday (occasionally as part of a triple feature). Four Brothers also regularly hosts live music and events with face painting and other kid-friendly activities—plus, there's even a playground. The venue can hold approximately 125 cars.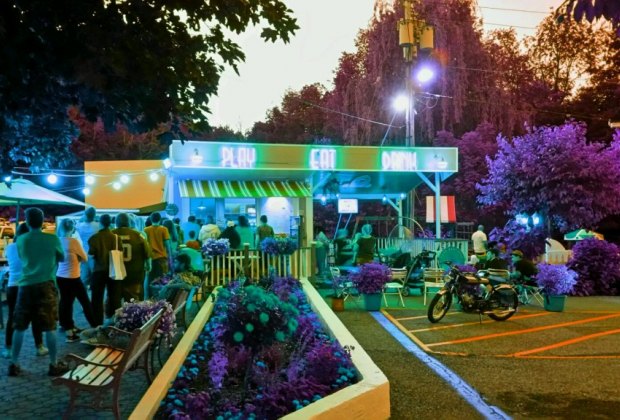 It's not just popcorn and Red Vines at the Four Brothers Drive-In. Photo courtesy of the venue.
Things to know before you go ...
Get there early. This might go without saying, but it's better to be early and let the kids expend some energy than to get stuck in a terrible location (or shut out completely). Some theaters skip the previews entirely, so be prepared for the movie to begin on the dot.
You get one spot—and that's it. Theaters cram the cars in side-by-side, so you can't "claim" two spots by putting a blanket down beside your car. Once the lot begins to fill, you'll be asked to move.
Big goes in back. Don't park your SUV, minivan or truck in the first few rows as these are reserved for cars. Likewise, if you plan to back in and open the hatch, you'll have to tie it partially down so you don't further obstruct someone's view. Most places have string available.
No screen switching. If you're staying for the double feature and want to see the first movie on one screen and the second on another, you'll have to do it on two different nights.
Plan ahead for bathroom breaks. Bring glow sticks or flashlights for middle-of-the-movie bathroom breaks, and don't forget the bug spray.
Take care of your battery. Rather than running your car the entire movie, keep your key in the accessory position (turned back) in order to hear the sound through your radio. To prevent a dead battery, wait until the movie starts. If you're staying for the double feature, start your car in between movies. If it does die, see a theater employee for a jump; they're used to this kind of thing.
Support your stands. While some places will look the other way if you bring your own snacks, don't completely ignore the concession stands. Drive-ins make a significant percentage of their revenue from the snack stands, and your support can ensure they stay open.
This originally posted in 2015 and has been updated for 2017.
Top photo taken by the author.