Fly Back in Time at the Old Rhinebeck Aerodrome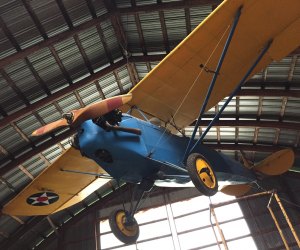 No trip to the Rhinebeck area is complete without a visit to the Old Rhinebeck Aerodrome, a museum and performance arena celebrating aviation from a century ago. My family has been three times and will surely go again. The static exhibits, period enhancements and airborne theatrics offer an entertaining experience and provide amusement suitable for all ages.
Read on for a first-hand review, and be sure to consult our guides to nearby Hyde Park and Poughkeepsie to round out a great family visit to Dutchess County!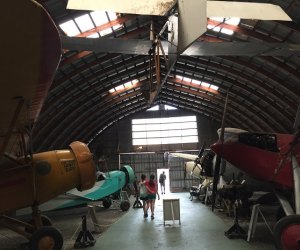 Browsing the exhibit.
The Old Rhinebeck Aerodrome, a non-profit organization, was founded by Cole Palen in 1958, beginning with a collection of six World War I planes that he restored to working order. The collection eventually grew to some 60 aircraft, as well as vintage cars, motorcycles and flight paraphernalia, and the mission is to share this slice of history in a fun, accessible way. These items are on display in the museum, which is managed so informally, there are no staff or barricades present. Visitors can just walk through at their own pace and take pictures, and the collection is well worth seeing.
Historic airplanes include the 1909 Bleriot, the oldest regularly flying airplane in the Western Hemisphere; the Fokker DR-I Triplane, the most famous fighter of WWI; and a precise replica of the Spirit of St. Louis, which was the first aircraft to fly NY to Paris in 1927.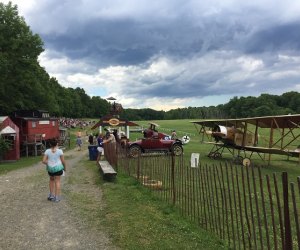 Arriving at the air-show runway.
Most weekends from June through October, the Aerodrome presents entertaining air shows. The History of Flight Air Shows feature aircraft of the Pioneer, WWI and Golden Ages of Aviation of the 1920s-1930s, while the WWI Air Shows highlight the first warbirds and include Pioneer and Golden Age machines. Commentary is provided by a narrator dressed in period attire from atop the "control" tower. The shows run approximately two hours, but if your family is restless, it's fine to come and go as you please.
My family recently attended the WWI show, which combines both aeronautics and light-hearted theatrics, featuring a cast of costumed characters whose love-triangle melodrama is depicted as a dog fight with some scenery and pyrotechnics. Percy Goodfellow, Trudy Truelove and the Black Baron of Rhinebeck make their entrances and exits in cars, bicycles and even a tank of the era, hamming it up and mugging for the audience to boo and cheer. Although the stunts in the air show don't go as far as loop-de-loops, one trick performed is a pilot dropping a roll of toilet paper from on high and then trying to fly through it to tear it in two.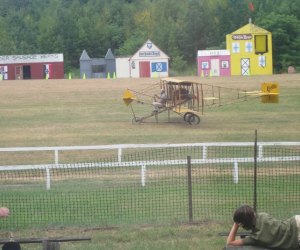 A young spectator watches the World War I air show.
A big enhancement of the fun lies in the costumes. All the show staff are dressed in period attire, and about half an hour before show time, women and children are invited to get in character themselves. An old train car is filled with clothing and accessories for the choosing. I dolled myself up in a flapper outfit and parasol, and my daughter and I, along with two others, were driven in a 1920s car to a stage area, where we paraded in front of the crowd. So fun, and a great family photo op!
More adventurous visitors have the additional opportunity of taking a 15-minute ride in a 1929 New Standard D-25 open cockpit biplane. The plane seats up to four passengers and cost $100 per person. Reservations are recommended, especially on show days when flights book early.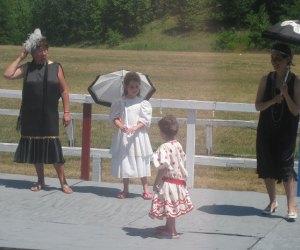 Getting in on the act in flapper attire.
What to Know Before You Go
Seating for the air shows is on benches made from cinder blocks and wood planks with no seat backs. They're fine, but you might want to bring your own. Grab a spot toward the back for maximum shade.
In 2017, the museum is open every day from May 1 through October 31, from 10am to 5pm. Air shows take place only on weekends, and pricing varies depending on the day of the week.
Shows start at 2pm and run until about 4pm. Arrive early to the shows to watch—or, better yet, participate in—period fashion shows. Meet at 1:30, choose an outfit and parade in front of the audience as you ride in an antique car.
Biplane rides begin at 10am and continue till dusk. These are weather-dependent. A lesser demand exists on weekdays, when shows aren't scheduled. Keep an eye out for the Kids Fly Free weekend in August (limited availability).
The snack bar offers sandwiches, burgers (beef, veggie and salmon), hot dogs, fries, muffins, ice cream, cotton candy and a wide selection of drinks. Tented picnic tables are available. Cash only. There is also no ATM available at the Aerodrome.
Consult the Events Page of the Aerodrome's website for special occurrences, such as the Antique British Car Show, Veterans Appreciation Weekend, Pumpkin Bombing & Fall Festival.
A gift shop sells t-shirts, aviator glasses, model-airplane kits and other themed items.
Restroom facilities include changing tables.
Parking is free in the adjacent lot.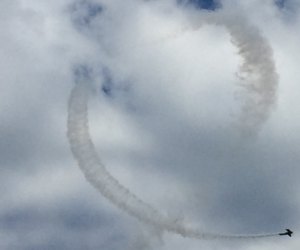 Letting off steam!
All photos by the author.