Preschoolers Get in on the Action at The Adventure Park's Pint-Sized Playground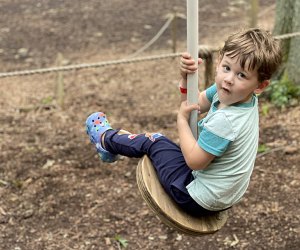 Ropes courses, adventure parks and zip lines abound for big kids near Long Island, but did you know there's a tot-sized destination perfect for preschool thrill-seekers? Located on the grounds of The Adventure Park at Long Island, you'll find The Adventure Playground, a miniature version of the action-packed attraction where kids ages 3-6 can scale ropes, traverse log bridges, and even zip line.
This destination is a step up from your typical toddler playground, and its location, nestled in the woods, lends it some cool cred, while allowing tiny climbers to safely explore. Read on for details on our visit and find more outdoor destinations in our Guide to Parks and Playgrounds on Long Island.
After parking, you'll go for a small trek through the woods, which isn't necessarily stroller-friendly if you're bringing along a younger sibling, but you can also travel along the road for a smoother ride. Once you check-in at the main building, the playground is almost directly behind it, surrounded by the larger treetop course for older climbers. Adults can enjoy watching their kids explore the playground while also people-watching the explorers above.
RELATED: Best Water Parks for Toddlers Near NYC

An enclosed rope bridge connects two playhouses at The Adventure Playground.
Several challenges await at The Adventure Playground, but most aren't higher than 24 inches off the ground. Caregivers can rest easy as they watch little ones wear themselves out. There are two large wooden structures, which contain rope floors for climbing up. Both have lofts, and they are connected by a netted bridge. One also has a tube tunnel leading to a landing and a tube slide. Kids can enter and exit either structure on its own, or go between the two by braving the net bridge. There is also a rope net for the children to climb here.
Along the perimeter of the playground, you'll find various bridges. One is made of spaced-out logs. Another is one long log, where children can work on their balance to find the best method for conquering the bridge. A hanging ropes bridge, where ropes dangle and kids must use their coordination to go from rope to rope is particularly challenging. It's like swinging monkey bars for their feet. A taught, netted walkway bounces as kids traverse it, giving the effect of a trampoline.
RELATED: Awesome Amusement Parks for Long Island Families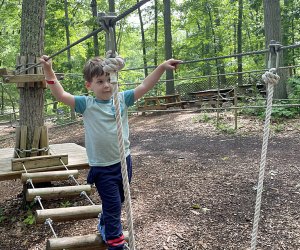 Preschoolers can test their balance on the log bridge.
Kids who love to swing are in for a treat, as The Adventure Playground has two swings you won't find at many playgrounds. The first is a netted roped swing, which more than one child ride at a time. The swing can move in all directions, side-to-side, front-to-back, and in a circle. The padding underneath soothes parents' worries. The second swing is similar to a zip line. Kids grab onto a pole, resting their bottom on a small seat. Once they push off, they'll zip down to the other side of the playground.
The wonderful thing about The Adventure Playground is there are multiple apparatuses for different skill levels. While some little ones might not be able to tackle something on their first visit, the more they come, the more they will build skills and self-confidence.
Unlike most local parks, there is an admission fee here: One visit costs $15 per child (adults are FREE), but it's just $25 for a yearly pass, good for 365 days from the purchase date.
Photos by author