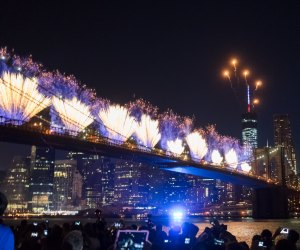 Macy's July 4th Fireworks 2019: Where to See Them in NYC
Every year, Macy's annual July 4th fireworks show in New York City is an unforgettable highlight of the summer. On Thursday, July 4, 2019, fireworks will light up the sky over the East River with the Brooklyn Bridge serving as the centerpiece: About 25,000 pyrotechnic shells will be launched from its span alone, streaming skyward and creating a cascading curtain of light below the bridge, too. The event celebrates its 43rd anniversary this Independence Day.
Spectators should be able to see the fireworks from many neighborhoods in Lower Manhattan as well as parts of Brooklyn. If you're hoping to watch Macy's 4th of July Fireworks live, it's never too early to start planning your viewing strategy. Tickets for paid viewing options like Fourth of July Fireworks cruises are already on sale and going fast.
Of course, you don't need to spend a penny to see the sparklers, but there are some important things to know before you go. We've got the scoop on how to find the best places to watch, when to go, and what to bring.
And don't forget, there are frequent fireworks shows in NYC during the summer, from Coney Island to Central Park. Read our roundup of where else to see cool displays this summer, including some Fourth of July competitors.
Sign up for our FREE newsletters to get posts like this delivered to your inbox.

There will be plenty of new effects in Macy's fireworks extravaganza! Photo by MommyPoppins
What You Need to Know About Macy's July 4th Fireworks
Macy's 43rd Annual 4th of July Fireworks will take place on the East River between the Manhattan Heliport and the Brooklyn Bridge. The show usually begins around 9:20pm and lasts approximately 25 minutes. In the event of rain, the start time could be delayed.
New-in-2019 effects include wolf whistles, little snakes, hidden happy faces, revolving dragons, and multi-color meteor mines, plus a stunning 1,600-foot-long waterfall of light showering from the Brooklyn Bridge. More than 70,000 shells, in a dizzying array of 28 different hues, are scheduled to burst forth—that's a lot of whizzes, bangs, and explosions, which some kids love...and some kids don't. This is a higher intensity show than most, so if your little one isn't a fan of fireworks in general, try to find a viewing spot that's not in the middle of the action, with an easy exit plan in case you need it.
Of course you need to claim your viewing spot long before sundown. Be prepared to stand or sit on the ground: The New York Police Department won't allow you into viewing areas with backpacks, lawn chairs, or other large items, and they often search bags.
If you're not up for fighting for a great spot, you can always watch Macy's fireworks live on NBC from your couch. Wherever you are, you can tune into 1010 WINS-AM radio to hear the synchronized soundtrack. This year is an ode to old Hollywood, celebrating some classic American movies like The Wizard of Oz, Star Wars, E.T., and Casablanca, plus the traditional patriotic tunes meant to honor America's service members.
RELATED: 100 Things to Do in NYC with Kids Before They Grow Up

Find a spot with unobstructed views to catch the fireworks show! Photo by Mommy Poppins
Best July 4th Fireworks Viewing Locations
There will be just four barges this year, plus the Brooklyn Bridge serving as a launch pad, with a viewing area concentrated around Lower Manhattan and Brooklyn Heights.
Macy's always lists official access points in Manhattan, though details haven't been fully released yet. Organizers recommend viewing from any spot with unobstructed views of the lower East River. Public access to the elevated portions of the FDR in Lower Manhattan will be available, though exact entry points have yet to be announced.
Brooklyn Bridge Park should offer prime viewing, too, provided it's open to the public. You might get limited views from parks along the Brooklyn waterfront a bit further north.
Battery Park won't offer views of Macy's fireworks, though you should be able to see Jersey City's fireworks just across the river.
Take note: It's possible some or all of these viewing locations will close. Remember, the police have the power to shutter any street or green space at any moment! So if you attempt to watch from an unofficial site, be prepared for possible disappointment. And wherever you go to see the fireworks, expect huge crowds, unless, of course, you have access to a private rooftop.
Because this information sometimes changes at the last minute, make sure you check the Macy's website before heading out the door, or call the store's dedicated fireworks hotline at 212-494-4495. Many streets will also be closed to traffic, so whatever you do, don't drive!
Paid Fourth of July Fireworks Viewing Options
If you feel like splurging, consider hopping on a boat. We rounded up some of the most family-friendly Fourth of July Fireworks cruises sailing out of Manhattan, Brooklyn, the Bronx, and New Jersey. There are also a number of venues around the city that host viewing parties, but many are just for those ages 21-plus, so it's only an option if you're turning the holiday into a date night. You can also take the kids to some pre-bedtime fun on the holiday, from Nathan's Famous Hot Dog Eating Contest to an afternoon Fourth of July-themed day of activities in Prospect Park. Check our NYC event calendar for more happenings in NYC on July 4, and chime in on Facebook to tell us where you'll be seeing the show!
A version of this post was published in 2018; it is updated annually. This post will also be further updated as 2019 details are released.