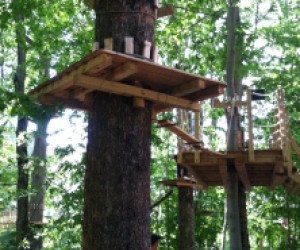 Day Trip to The Adventure Park at The Discovery Museum in Bridgeport, CT
We are generally NOT a family of outdoorsy folks. Our idea of connecting with nature is bird/critter watching, in the woods surrounding our home, from the comfort and safety of our deck. However, as my kids have gotten older, they've expressed more of an interest in "adventuring", as they call it, traversing through the woods, hiking, and the like. Even though a fellow Mommy Poppins writer wrote about ziplining at Catamount, as a bona fide city gal myself, I've balked and defaulted much of these activities to my husband. But, very recently, at the strong urging of my family, I found myself en route to The Adventure Park at The Discovery Museum in Bridgeport, CT, to enjoy a day of fun in the great outdoors. I had no idea just what excitement, thrill and fun I was in for. But I soon found out!
Situated on 5 acres of woods behind The Discovery Museum, The Adventure Park touts itself as an aerial forest ropes park. Essentially, there's a system of platforms installed in trees, at various heights, connected by bridges and zip lines. The park is divided into eleven different courses, starting with the lowest group of "elements" to the ground, appropriate for beginners. The difficulty, and height, of the elements increases right up to the expert courses, none of which any of our family came close to attempting.
Your adventure begins with a liability and release form signing process. We saved a good chunk of time by registering on the park's website, signing online, and bringing the email confirmation to the park. Then comes your safety briefing, during which they continually repeat the mantra, "ALWAYS ATTACHED", reinforcing the need for one carabiner to be attached to an element at all times. Safety is absolutely the priority of the park, from the time you receive your gear and gloves until the end of your visit. That quelled this Momma's fears a bit!
Finally, it was time to start our adventure. My daredevil daughter decided she was first. Off to the purple trail we went, and I'll admit, I was terrified. Every trail features a zip line, but there are other balancing bridges, swings, obstacles, and ropes courses that require a moment of fearlessness to attempt. The park's rules stipulated my kids, because of their age (they're 8) required at minimum, adult supervision, but we opted to accompany them instead of sitting on the platform, just observing. What a thrill to see my kiddos step across a bridge made of logs and ropes, then squeal with delight as they zipped across one platform to another! I may have squealed a bit, myself. Perhaps even a small scream. Still, it was a delight nonetheless.
Overall, the experience was incredible. The park is clean and well maintained, the staff answered any question we had, and our fellow park goers were respectful and amazing. There are a few, small important items worth mentioning before you plan your own visit:
Although the park rules state the easier trails are appropriate for kids ages 5-6, I'd be very careful with kiddos of that age on the ropes.
The gloves they provide are HUGE. You may want to consider bringing your own, since even the smallest size were enormous on my kids' hands.
Your ticket allows for three hours of park time, which seems like not much time, but my sore muscles tell me otherwise. In other words, pace yourself!
There isn't a spot to leave a bag, or backpack, so pack light and leave your extras in the car.
An outing for a family of four isn't cheap. But, oh so worth it!
Happy adventuring!
The Adventure Park at The Discovery Museum, 4450 Park Avenue, Bridgeport, CT 06604 203.690.1717